"You Can't Hurry Ribs" And Other Great Food Tunes You Can Burn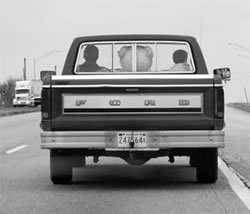 Here's a playlist of BBQ, food, drinking, and related tunes for playing while cooking. Burn them and play them on the road while you're lookin' for that great little rib shack. Feel free to click to download "You Can't Hurry Ribs", my theme song sung by my niece Natalie Longo to the tune of "You Can't Hurry Love" by Diana Ross. Just click the button below
Below are some of our favorite food tunes. Special thanks to the readers who have suggested additions to the list and offered wise cracks. Add yours to the comments section below. Red links take you to iTunes where you can listen to the tune and then buy it if you wish. Alas, many of the links are broken right now. Seems like Apple has moved them. Sigh.
But first, The BBQ Song
Here's a great song that does a pretty good job of describing the regional styles of BBQ by Rhett & Link (Rhett McLaughlin and Link Neal), a North Carolina-based comedy duo.
Smoker By Brandon Kinney
This guy loves his, um, cooker.
Not on iTunes at this time (2/7/2014)
Barbecue – Robert Earl Keen
Blessing of the Pork – Billy Ray Mangham
Chicken Cordon Blues – Steve Goodman
Eating Greens – Michael Tilson Thomas
Everytime I Eat Vegetables It Makes Me Think of You – Ramones
Watermelon Man – Jimmy Smith
Polk Salad Annie – Tony Joe White
A Fridge Full of Food – The Nancy Drews
Beer Is Good – PsychoStick
Barbecue Shoes – BBQ Pitt Boys
Skin and Bones – The Kinks
Caviar and Chitlins by the Atomic Fireballs
Mexican Radio – Wall of Voodoo (I wish I was in Tijuana, eating barbecued iguana)
Barbecue – Duke Tumatoe
Candy – Big Maybelle
I Want a Hot Dog for my Roll – Butterbeans & Susie
Memphis Women & Fried Chicken – Dan Penn
Fried Chicken – Rufus Thomas
Chicken Heads – James Cotton (& many others)
Too Much Barbeque – Big Twist & the Mellow Fellows
Angelina – Louis Prima
Related articles
Published On: 4/21/2012 Last Modified: 4/26/2021
Meathead - Founder and publisher of AmazingRibs.com, Meathead is known as the site's Hedonism Evangelist and BBQ Whisperer. He is also the author of the New York Times Best Seller "Meathead, The Science of Great Barbecue and Grilling", named one of the "100 Best Cookbooks of All Time" by Southern Living.

---