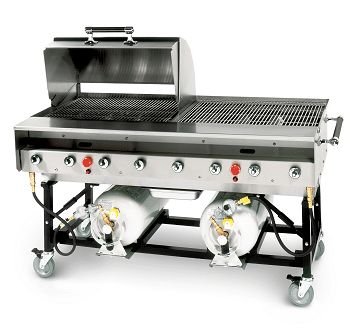 Since 1948 Belson has produced quality recreational facility and outdoor equipment. They sell outdoor picnic tables, park benches, trash cans, aluminum bleachers, playground equipment and some solid, commercial grade gas and charcoal grills.
The PG (Porta-Grill) SLP Gas Grill is Belson's basic model from which various configurations can be created. This heavy duty 8-burner gas grill made with high quality 304 stainless steel features commercial capacity and construction.
It comes standard with two 24" x 30" nickel plated grates, stainless steel upgrades are available. Stainless heat tents cover each of the stainless tube burners. Although Belson offers natural gas models, LP is by far more popular since most users need the mobility. Two 40 lb. propane tanks come with the grill along with two regulators and two ignition systems.
A solid powder coated aluminum frame folds up like a picnic table, allowing the grills to be stacked up to four high. 30" hoods are optional, as is a heat resistant, black enamel coated steel trailer.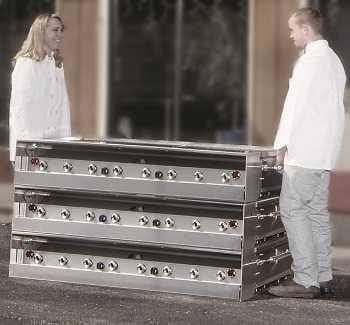 Fuel:
Propane Gas
Natural Gas Capable
Review Method:
Looked Closely At It
We have seen this product up close and we have also gathered info from the manufacturer, owners, and other reliable sources.