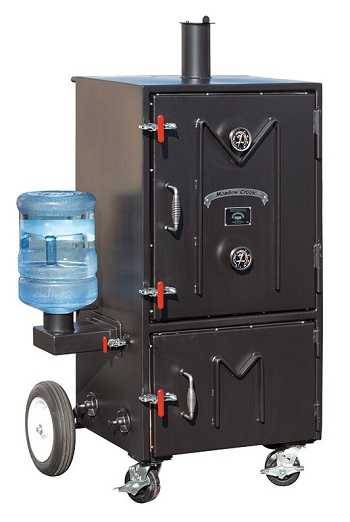 It is a real treat in a disposable world to see products this well built. Especially at these prices.
All Meadow Creek grills, smokers, and grill/smoker combos are made by Amish craftsmen in New Holland, PA, as they have been since the company was founded in 1980. As you might expect, their designs are simple, well thought out, their build is solid and the products are long lasting.
Most metal is seriously heavy 13 gauge steel, In 2012 they switched from stainless steel expanded metal grates to heavy wire mesh grates which we commonly refer to as stainless steel rod grates. This change reduced waste because the expanded metal grates were stamped out of stainless steel sheets resulting in tons of small diamond shaped leftovers. Stamping also created sharp edges which nicked some fingers before they smoothed out from usage. Finally switching to metal rods decreased the volume of metal surface on the grates, reducing conduction cooking and exposing meat to more smoke. Handles are stainless steel coils that never get too hot and are easy on the hands. Meadow Creeks are favorites among the competition crowd for quality as well as price. That metal will stand up to nature's fury, and as long as you have them covered and keep them clean, you should be handing these down to your kids. If they've been good.
Solid and super insulated with a gravity fed water system, Meadow Creek's reputation for thoughtful design coupled with quality construction and craftsmanship are on full display with the BX50 Box Smoker. A unique feature is the water replenishment system: a five gallon jug mounted to the left of the cabinet that feeds a removable water pan located above the coal. "Box" or Cabinet smokers provide good capacity with a small footprint, making them popular for residential, competition and commercial use.
The BX50 features 13 gauge double wall steel with 1 inch insulation. Smokebox and firebox doors are sealed with insulating strips and locking latches. A removable grease pan lines the bottom of the smoke box and four 18" x 22" stainless steel racks come standard. Smokebox height allows for six inch spacing between the four grates. Additional grates are available.
The slide out ash pan/firebox holds 20 lbs. of charcoal said to last 8 hours at 225⁰F. Two dampers at the firebox bottom flank a built in BBQ Guru adapter. This 625 pound cooker rolls on two large rubber wheels and two locking casters. BX50 is black, but you can choose red, green or blue for $200 more.
Where To Buy (Buying from these suppliers supports this website):
Review Method:
Researched it from Afar
We have researched this product from afar by gathering info from the manufacturer, owners, and other reliable sources, with our BS meters on high.