Important Weights, Measures, Conversion Tables, And Rules Of Thumb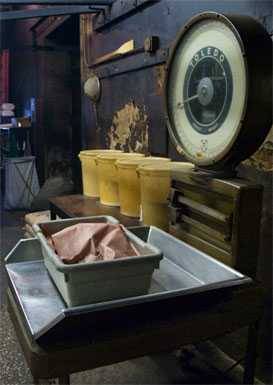 Below are some useful weights, measures, and equivalents that come in handy in the kitchen. Print it and tape it to your pantry door. On the right, you can type in amounts and they will be converted for you.
AmazingRibs.com Conversions Calculator©
Enter decimal equivalents for fractions. For example enter 3.5 not 3 1/2.
© 2010 by AmazingRibs.com. Created by Quincy Adams.
Contact Meathead
for permission to use it on your blog or website.
Beware! Ounces can be used for measuring both volume and weigh and they are very different. An ounce of water by volume will weigh MUCH more than an ounce of flour by volume.
It is OK to measure wet ingredients by volume, but dry ingredients are better measured by weight. When measured by volume, dry ingredients can be way off because they contain a lot of air. Some flours are ground into larger bits than others, and they will have more air between grains than finely ground flour. The same is true for salt. Morton's kosher salt has almost twice as much air than the same volume of table salt because Morton's kosher salt grains are shaped like flakes while table salt is shaped like cubes, and cubes can pack together more tightly. That's why professional bakers always weigh flour and why I measure salt for brines by weight.
When ounces are called for in a recipe for liquids it means by volume as in a measuring cup, but when ounces are called for in solids it should, in a professionally written recipe, be measured by weight. So a recipe that calls for 4 ounces of grated cheese means by weight. If you grate cheese and pour it into a measuring cup to the 4 ounce mark, it will weigh only about 2 ounces.
A lot of these equivalents are approximate and that's what this symbol means ≈. When you see it, read it as "about".
If you can't find a conversion you need on this page, you might try one of these
Related articles
Published On: 10/9/2017 Last Modified: 3/23/2021
Meathead - Founder and publisher of AmazingRibs.com, Meathead is known as the site's Hedonism Evangelist and BBQ Whisperer. He is also the author of the New York Times Best Seller "Meathead, The Science of Great Barbecue and Grilling", named one of the "100 Best Cookbooks of All Time" by Southern Living.

---