"I don't think silicone makes a girl good or bad."James Caan
There are literally hundreds of 100% silicone heat resistant gloves available from various retailers. There are so many that we have reviewed them here as a separate category of gloves. You can also read our full review of all synthetic, leather, and fabric barbecue gloves here. Among 100% silicone gloves, some are lined with a polyester-cotton blend but most are not. Many of these grill gloves are actually clones and appear to be from the same manufacturer (see the note below following the reviews).
I tested a wide range of 100% silicone gloves by lifting hot roasts and racks of ribs right off the smoker or grill, as well as by handling hot pans, skillets and Dutch ovens, and by dipping the gloves in 350ºF deep-frying oil and in boiling water. I also tested how easy they were to clean. Then I slid a ThermoWorks Smoke probe inside each glove under the palm and placed a 500ºF (+ or - 4ºF) cast-iron skillet on the glove and timed how long it took for the probe inside the glove to reach 113ºF degrees, the temperature at which NASA deems metal to be too hot for astronauts to handle. Well, we're no astronauts, but if they can't handle 113ºF, we probably don't want to either!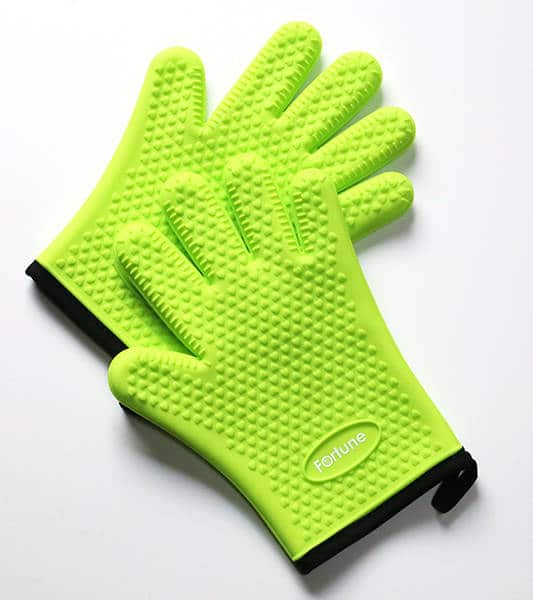 Fortune Grilling Gloves come in one size that "fits all" and a thin poly-cotton layer inside makes them fairly comfortable. They are 11" long x 7.5" wide, come in three neon colors (green, blue, and orange), and the manufacturer lists them as being safe to 425ºF. They are FDA approved as being 100% BPA free and are textured on both the front and back with heart-shaped silicone bumps, which supposedly help improve their grip. These gloves come with two very small "mini oven mitts," which are well-suited to making Kermit the Frog hand puppets, but not much else, as they are just too small for adult hands. Grabbing tongs with the gloves on proved to be no problem, however picking up a glass, or another slippery object is a bit tricky. Picking up a small paring knife or vegetable peeler is also a challenge, but once you pick it up, you can use a knife or vegetable peeler fairly easily. The gloves are dishwasher safe and can be hung to dry. They work fine in a deep fryer and in boiling water, picking up a cooked pork butt and ribs, and moving a hot grill and cast-iron pan or hot Dutch oven. Yes, you can handle all of these hot items without your hands getting burned. The gloves carry a 100% satisfaction guarantee, which will replace defective gloves or provide buyers a full refund.
Note that I also tested the SBDW brand, virtually an identical glove with almost exactly the same results.
Hot cast iron test (in minutes). 1:02.74 (SBDW 1:03.41).
Dexterity. Picked up and used tongs, but small paring knife was difficult, a little tight on the back of the knuckles.
Comfort. Of the silicone gloves we tested, they were the most comfortable.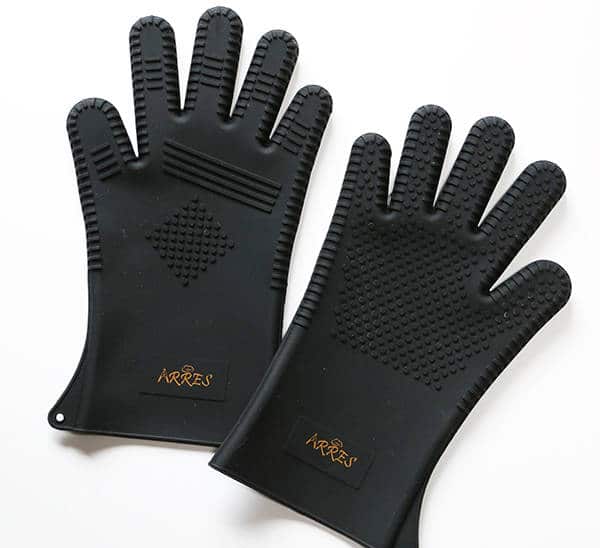 Arres XL BBQ Grilling Gloves come in two sizes: extra-large (13" long and 6.5" wide) and regular (9.5" long x 7" wide), are available in black only, and are constructed of a thick silicone material, and thus are not that dexterous. Plus, there is no inside cloth layer so they are very difficult to put on or "sticky" if your hands are wet or moist, much like the thin plastic gloves widely used for sanitation. Once the gloves are on, if you sweat at all, or your hands are moist or greasy, they are uncomfortable and your hand and fingers can stick to the inside. There is a different pattern on the palm than on the back of the gloves, which purportedly makes them non-slip but in reality makes using tongs and picking up and using a small paring knife difficult. f the knife is slippery, it is almost impossible to pick it up and use it. Despite the dexterity drawbacks, these thick gloves are good for handling large items such as pork roasts and whole chickens, can tolerate hot grease from a deep fryer and boiling water, and they are okay to pick up hot pans, grills or pots. But if the item you are picking up is small, you'd be better off using tongs. These gloves can be hand washed or tossed in a dishwasher and dry quickly. The gloves carry a "Risk-Free Lifetime 100% Money Back Guarantee."
Hot cast iron test. 1:04.17.
Dexterity. They fail in this category, as the gloves are too awkward to use on anything but large objects and roasts
Comfort. With your bare skin against silicone, the gloves tend to get sticky and uncomfortable. If they were lined, they would have scored higher.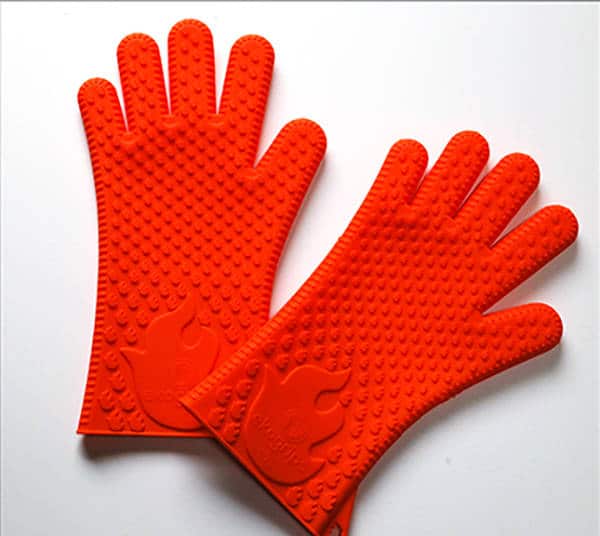 Ekogrips BBQ Oven Gloves come in One-Size-Fits-Most (for hands 7" to 9.5" long), L/XL (for hands 9" to 11" long), and XXL (for hands 13+" long). They are all approximately 6" wide and have a unique pattern of silicone bumps or buttons on the outside shaped like flames. On the inside, there are round bumps on the bottom 1/3 of the sleeve, which is probably what they are referring to in ads that say the gloves are "insulated," while the inside of the palm and fingers is smooth. Unlike other similar gloves, the webbing between the fingers is reinforced to prevent tearing. The silicone material is FDA-approved and BPA-free and the gloves are reputed to be stain resistant. I found them very uncomfortable, and my hands got very sweaty very quickly while handling some pots, a cast-iron skillet, several roasts, a chicken, and a hot bbq grill. I did pick up some charcoal briquets too, but wouldn't make this a regular practice. I did use the gloves with tongs, awkwardly, but never was successful at picking up or using a small paring knife. They are rated safe to 425ºF and can be washed by hand or tossed in the dishwasher then hung to dry. They come with a lifetime replacement, "no questions asked" warranty.
For similar products, see the near identical Charcoal Companion and the Steve Raichlen SR8183.
Hot cast iron test. :59.59 seconds.
Dexterity. They are okay for heat protection but are awkward to use unless with large objects or bbq meats.
Comfort. With your bare skin against silicone, they tend to get sticky and sweaty easily. If these were lined, they would have received a silver medal.

Silicone Gloves on the Internet, An Interesting Revelation
I discovered something of interest while investigating these all-silicone gloves at almost 100 websites online. It seems that there are over 80 "brands" that are extremely similar in their appearance and more than likely are of the same origin of manufacture. Since I reviewed two of these sets of gloves, which appear to be clones of the others, I wanted to point out that if you choose any of the gloves listed below, my review of the Fortune Grilling Gloves most certainly applies.
The definitive giveaway is the pattern of raised silicone hearts with an oval where most of the sellers have put their unique names. I'm not saying that there is anything wrong with this practice. After all, I reviewed the gloves not whose name is on them.
Keep in mind that some of the gloves listed here are insulated like the Fortune brand, but many are not. hat is a major difference from brand to brand. I assume all perform the same way, since they all appear to be made with the same thickness of silicone, have the exact same design, have virtually identical information listed on the selling page, and more than likely are just brothers and sisters of the Fortune family. The gloves are available in a variety of colors, but one word of warning: price vary greatly with the least expensive of these clones selling for $4-$5 and the most expensive going for an outrageous $94.99. The average prices listed for these gloves range from $15-$18. So caveat emptor!
Afafkaka
All-Natural Pantry
Amazonbasics
Aspire
AVirgo
BBQ Butler
BBQSafe
Big Time BBQ
Blinkeen
BlueSkyBos
Blouemads
BTS Youda
Casapro
cheerfultime
Cool Friend
Cuisinart
Cutequeen
Elleck
FanGo Gear
Firehouse Leisure Products
Fxesblin
GDealer
Geekhom
GF Pro
GoodThings:)
Grip Kings
Handiglove
HeatGrips
Holland Walker
Homar
Homdox
Hot Hands
HoTime
Housmile
iCooker
Innerneed
InspiraNova
iQualite
IYL
KisKis
Kitch Max
Kitchen Mastry
Kitchen Meister
KXCFCYS
LotFancy
LoveU
Magma Mitts
mAh
Mehome Kitchen
Mengo
Moost
Multifunctional Thicken
Niva
Nouvelle Legende
Oak Leaf
One Pair
PBKay
Pengxiaomei
Perfect Chef
PrimoChef
Sarah Alalen?s
SBDW
SFO
Silcony
SiliGrip
Sinide
Smart Grip
Smart Palms
Standard
StarVast
Super SWK
Targher
Tipeye
Toplus
Topoko
Topulors 2017
Toyofmine
TPK
TTLIFE
UShop
VRPDateChip
Whisso Tech
Winrida
Wloomn
X-Chef
Yibo
Yoheer
Yolala KinChi
Zvation