If you haven't tried it you will be surprised to learn that making pizza at home isn't all that hard, you can make them exactly as you like them, and nothing beats fresh hot pizza still crispy from the grill or oven rather than soggy from the cardboard box. The easiest and simplest tool is an honest to goodness pizza oven but you don't have to take out a second mortgage to make great pizza on the grill. As I discuss in my articles on pizza elsewhere on this site, for most grills you don't need any special devices other than a pizza stome or pan.
The difficulty with making pizza on the grill is simultaneous pizzagasm. It is really tricky getting the bottom and the top done at the same time. If the stone is too hot and the top is not, you can burn the bottom and serve undercooked sausage on the top. Or visa versa. You can turn the cheese to plastic and still have wet dough. Usually it is just a matter of experimenting with the number of coals and their placement, or the dial settings on a gas grill.
Here are my favorite tools to help you get it right, and one to avoid.

Bakerstone Is The One That Actually Works!
I think I have tried every pizza attachment for every grill known to man. Most have failed miserably, or cost way too much. I've even built my own (don't ask). I have only found one that really improves upon the process: Bakerstone.

 You can get to simultaneous pizzagasm with lots of practice, and I have made superb pies on a simple Weber charcoal grill and even inexpensive gas grills by fiddling with the dials and going through a lot of test pies. But Bakerstone really reduces the practice time and waste and makes both Neapolitan and Roman style pies in less than 5 minutes!
Bakerstone is a steel box that sits on a gas grill with the lid up. It is lined with cordierite and it has a simple airflow system that actually helps cook the top properly. In many ways it mimics the design of a real pizza oven. I have used mine to cook breads, too.
It works by allowing hot air from the burners flow into an opening in the bottom of the box, across the top of the pie, and out the front. To make sure the hot air is enough to cook the top you preheat the unit until the top and bottom stones are almost the same temp. I strongly recommend you invest in an infrared thermometer like the one below to determine what temps work best with your dough on your grill. You may need to fiddle a little with the dials to get it right. For example, I found that on one of my grills, a 4 burner, I need to turn the two outside burners on high, and the two center burners on medium.
You slip the pie onto the bottom stone (you need to get plenty of flour or cornmeal under the dough and practice the flick of the wrist that pulls the wooden peel out from under the pie) and watch. Depending on the type of dough, you will see the crust rise and bubble. Because it is hotter at the rear the back cooks faster, so you switch to the metal peel, slip it under the crust and turn it 45°. Be careful, there isn't a lot of overhead space and you don't want to stick your pie to the ceiling.
On grills with flavorizer bars covering the burners, you may need tp remove them. Also, the bottom stone will darken and even get black in spots. You can scrape any cheese or gunk off and ignore the black spots.
My only complaint? The protective plastic envelope that comes with it is a poor fit and rips easil. You don't want the stones to get wet in the rain so you might want to find a good place to store it between uses.
Dimensions: 23.2" long x 16.3" wide x 6.4" high, 29.5 pounds.
Click here to order the enameled Bakerstone on Amazon
Click here to order the stainless steel Bakerstone on Amazon
---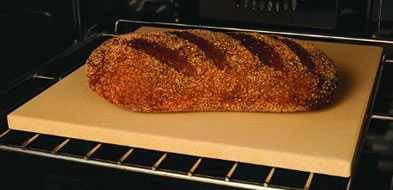 Pizzacraft 15" Square Cordierite Baking/Pizza Stone

 There are many pizza stones, and the best modern ones are made from a special heat absorbing refractory type material called cordierite. It is poured into a mold, not just formed from clay as in olden days. It can take more heat, hold it, transmit it to the pie, and resists cracking. This model is square but they also sell round and rectangle. You can also use it for bread baking. Even when I cook in a pan, I heat my stone and then slide the pie onto the stone to serve it and keep it warm.
Order the Pizzacraft 15" Square Cordierite Baking/Pizza Stone on Amazon
---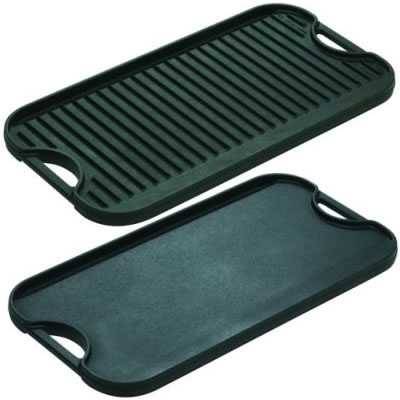 Lodge Logic Pro Cast Iron Grill/Griddle Can Do Pizzas And Much Much More

You need a good cast iron griddle for many cooking tasks, especially if you like fish, burgers, grilled sandwiches, home fries, or pancakes. It can also double as a pizza stone. One word of caution. You may actually need two griddles. If you use it for fish a lot, the flavor will remain on the surface, even after cleaning, so you won't be able to use it for pizza or pancakes. It is 20" x 10 7/16".
Order the Lodge Logic Pro Cast Iron Grill/Griddle on Amazon
---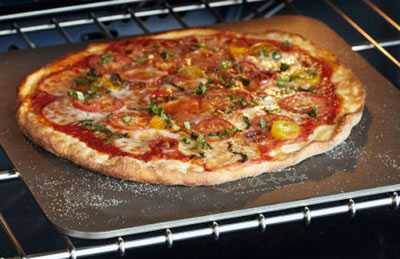 Baking Steel

 The Baking Steel is an expensive slab of specially formulated steel that heats rapidly and holds heat very well. In other words it is a steel pizza stone. In our tests it performed similar to a cordite pizza stone (above), cooking the bottom a bit faster than the refractory type material. Of course, in most cases, cooking the bottom is not a problem. On a grill the bottom tends to cook too rapidly. It has one advantage, it does clean up easily without absorbing water. But it is about twice the price of refractory type material.
Order the Baking Steel on Amazon
---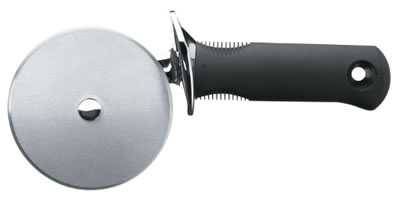 Easy Soft Grip Pizza Wheel

Next time you order pizza, tell them not to slice it. The liquid running down through the cuts only softens the crust. A good pizza wheel will keep your pizza crispy, and it comes in handy for home made pizza and even for cutting pie dough. You want a big wheel like this one. It has a a solid riveted axle to keep it from wobbling, a good hand guard, and the Oxo's signature comfy grip.
Order the Oxo Good Grips 4-Inch Pizza Wheel on Amazon
---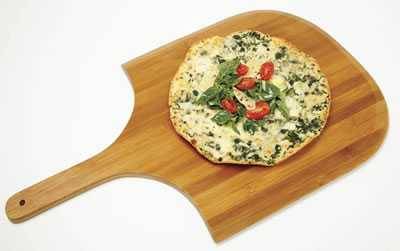 Wooden Pizza Peel Like The Pros Use

The pizza peel or paddle is the best way to get your pie in and out of the grill. You dust the top with flour or corn meal, which acts like ball bearings and adds nice flavor and texture. Then you spread the dough on the peel, top it, and slide it onto the pan or stone on the grill. It is important to not let the wet dough sit on the flour on the peel too long when you dress the pie or else the flour will get wet and glue the dough to the pdeel. That's why I prefer corn meal. It doesn't get wet easily and makes bigger ball bearings. You then use the peel to remove it. They come in all sorts of sizes and prices, metal and wood. I prefer wood for inserting the pie, and metal for turning the pie. Wet dough tends to stick to metal and makes it a little harder to slide off.
Order a Wooden Pizza Peel on Amazon
Here are some other Pizza Peel Options
---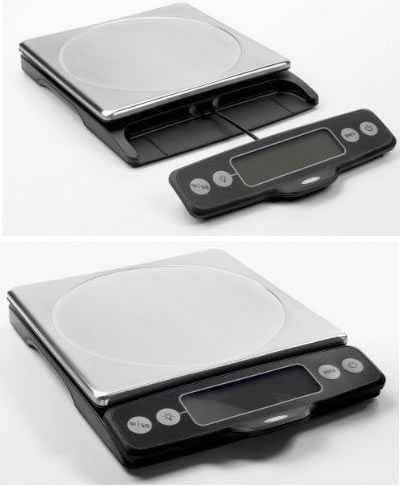 OXO Good Grips Stainless Food Scale with Pull-Out Display

I don't know how I lived without a good, accurate digital kitchen scale for so many years. It is so important. Look at salt for example. 1 cup of table salt has almost twice as much salinity as a cup of Morton's kosher salt because Morton's kosher salt has more air space between the grains. But a pound of all salts contain exactly the same amount of sodium chloride. Without a scale, making a brine requires a calculator.
Flour and sugar have the same problem. Packed flour or loose flour. Big diff. Ever try to measure a tablespoon of honey? Did you get it all into the bowl or leave a lot of it on the spoon?
My favorite scale is from OXO
. It can weight accurately up to 11 pounds as well as fractions of an ounce. Push a button and it converts to metric. Put the bowl on the scale and push a button and it zeros out so the bowl's weight is not included. The top comes off for easy cleaning. It will change your life.
Order the OXO Good Grips Stainless Food Scale with Pull-Out Display on Amazon
---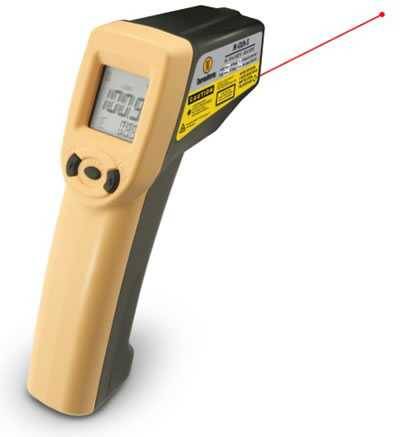 An IR thermometer is a biiiig help
When it comes to pizza, the temperature of the cooking surface is just as important as the air temp because that is what cooks the dough. The best way to measure the temp of your pizza stone or pan is with an infrared gun.
Click here to see our reviews and ratings of infrared thermometers
---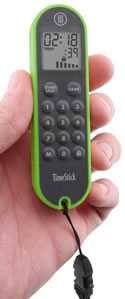 Thermoworks Timestick I Sooooo Much Better Than a Stopwatch

I keep a cooking diary. In it I write down vital info about every cook so I can learn what works and what doesn't. OK. So I'm anal. But being anal got me this gig. The two most important variables to track in any cook are time and temp. So I used to wear a stopwatch around my neck when I cooked. Click when I fire up. Click when it is up to temp. Click when the meat goes on. Click when I add more wood or charcoal. Click when I turn. Click when I sauce. Click when I take it off. But have you seen the new digital stopwatches? They are a real pain with faaaar too many features and bells and whistles. My last one sat in my desk between cooks and beeped every hour and the only way I could make it shut up was with a hammer. True story. Now I use the very simple user friendly Timestick.
It can count down or up and when a count down alarm sounds, the count up timer starts so you can see how much time has elapsed since your alarm. It's range is 99 hours 99 minutes and 99 seconds, there is a keypad lock so you don't accidentally screw things up, there's a lanyard so you can wear it around your neck, it comes in nine colors, it's splash proof, and it has a magnet on back so I can stick it to my grill, fridge, or oven. Operates between 32 and 104°F. Best of all, you won't need to read the manual. Love it.
Order the Thermoworks Timestick direct from the manufacturer
---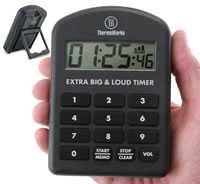 Thermoworks Extra Big & Loud Timer

If you prefer a bigger timer that can stand on the counter as well as stick to the fridge, with a keyhole mount on the back so you can mount it on a wall, and an alarm that you can hear in a noisy commercial kitchen or when you are downstairs doing laundry at home, this is the 110 decibel choice. Thank goodness you can adjust the volume. Other than that, it has pretty much the same features as the Thermoworks Timestick (above).
Order the Thermoworks Extra Big & Loud Timer direct from the manufacturer
---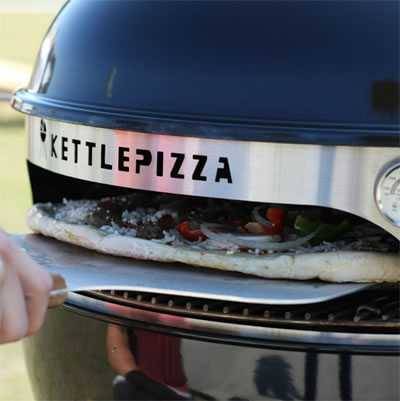 KettlePizza

 This is another one of those gadgets that got me all excited when I first heard about it. They make several kits ranging from $150 to $475 and there are 18.5" and a 25.5" models. They sent me their top of the line to test: The Serious Eats KettlePizza Special Edition Kit with the Prograte, Tombstone, Baking Steel, Wood, and Aluminum Peels and a10% Donation to Charity.
KettlePizza is a well made stainless steel ring that sits between the lid and base of your Weber Kettle, and a pizza stone. There is a big opening in the ring so you can slide your pizza in and out, just like a real wood burning pizza oven. The Special Edition has a tombstone shaped stone that sits in its own ring and is flush with the front of the kettle under the opening. There is space on the sides, and rear, and a pocket in the rear to hold wood chunks or small logs. Above the pizza is a heavy steel reflector.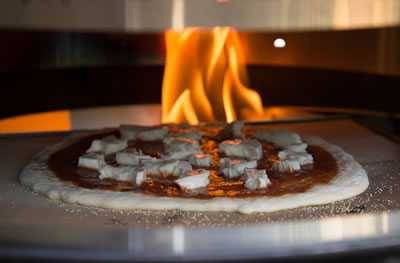 The idea is that the hot logs create flame that licks along the metal plate above the pie creating an environment similar to a real stone pizza oven. The problem with grilling pizzas in general is that the bottoms tend to burn before the tops cook so this arrangement is designed to solve that problem. In theory it sounds ideal, and it looks really cool!
I'll let Chef Ryan Udvett, our test kitchen director have the final word "This is a case of good intentions, great design research, and passion for pizza coming together and adding up to less then the sum of its parts. It just doesn't outperform a plain old kettle with a stone if you set it up properly. Then there is the price tag and the cost of fuel since it requires both charcoal and hard wood to function. And lastly it is a specialty device, a uni-tasker that needs a lot of storage space."