A Bacon Wrap Keeps Smoked Venison Backstrap Rich And Juicy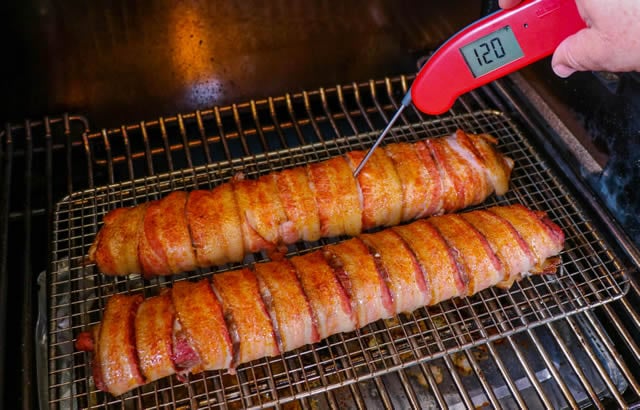 Bacon In The Wrapping and Bacon In The Stuffing!
It's time for my stuffed venison backstrap recipe. The backstrap is the loin of the animal; it's the tender meat sitting right along the backbone on each side. For this recipe I make a slit down the length of the backstrap to butterfly it. Then it gets stuffed with a mixture of cream cheese, bacon, mushroom, onion, and parsley. The whole thing gets wrapped in bacon to hold it together and to add a little fat because deer is incredibly lean meat. It takes about 30 minutes on the smoker to fully cook and you want to run the pit at 350°F to brown the bacon. It's best served medium rare so get it off the pit when you see the temperature around 125-130°F internal. I use a Thermoworks Thermapen instant read thermometer to check the internal temps. After a brief rest, slice the backstrap into steak size portions about 1" in width and enjoy.
Here's how to cook stuffed venison backstrap wrapped in bacon.
---
---
Makes:
---
Takes:
---
Fire up. Prepare a pellet smoker or any other bbq grill for indirect cooking at 350°F. On a charcoal grill, place one half of a chimney full of pre-heated charcoal briquettes on one side of the grill's charcoal grate in order to create direct and indirect cooking zones. Add your favorite wood to the hot coals for smoke flavor. In the pellet grill, I use a combination of pecan, oak, and cherry cooking pellets.

Prep. To prepare the stuffing, cook 6 slices of the bacon over medium heat, then drain on paper towels. Crumble when cool (you should have about 1/4 cup). Save 2 tablespoons of the bacon drippings in the pan.

Chop the onions, mushrooms and parsley. Then sauté the onions and mushrooms in the bacon drippings over medium heat. Stir them into the cream cheese, and fold in the crumbled bacon and parsley.

Trim excess silver skin from venison backstraps and cut a slit down the length to butterfly it open. Be careful not to cut through the entire piece.

Season with the AP rub and stuff with the cream cheese mixture.

Lay the bacon strips next to each other, then put the backstraps crosswise over the strips. Wrap the backstraps in bacon, place seam side down on a wire rack, and season with the BBQ Rub.

Cook. Set the rack on the smoker, and cook until the internal temperature reaches 130°F or your desired doneness, about 30 minutes. The bacon should be brown on the outside.

Serve. Cut crosswise into individual pieces for serving.
---
This recipe was adapted and shared with permission from howtobqqright.com. Photos courtesy of Malcom Reed.
Related articles
Published On: 10/23/2019 Last Modified: 3/27/2021
Malcom Reed

-

Malcom Reed is one of the most respected men in barbecue and his many videos make him a genuine YouTube Star.

A barbecue hobbyist, he started competing in 2002 and it didn't take long for it to develop into a full-blown addiction. His love for BBQ inspired him to build his website, his YouTube channel, and [...]

---