In a swath of Mid-South Carolina, from around Columbia to the coast around Charleston, BBQ sauce is yellow, not red, a byproduct of the region's German heritage. In Germany, pork and mustard go together like peanut butter and jelly.
It is a bit of a jolt to an outsider wandering into BBQ joints in the area and being served a pulled pork sammie mixed with a yellow sauce. Until you bite down. The flavor profile is similar to conventional red BBQ sauce, sweet tart, but the base flavor is mustard, not ketchup, and the sweetness is cane sugar, not molasses. But it works! In fact I prefer it to red sauce on pulled pork.
Here's a quick and easy classic South Carolina mustard sauce. Tangy and one of my favorites, you really need to give it a try. Try it on hot dogs or brats or anywhere that you might use bottled mustard. If you like it, try my Grownup Mustard Sauce. It's not traditional, but mighty good.
Columbia Gold Barbecue Sauce Recipe
Here's a quick and easy recipe for classic South Carolina mustard sauce. For those who are only familiar with traditional red BBQ sauces, yellow mustard sauce can be jarring at first -- at least until that first flavorful bite.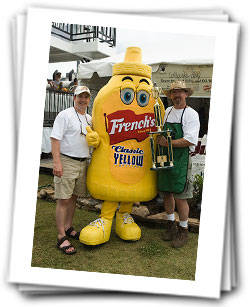 Course. Sauces and Condiments.
Cuisine. Southern. American.
Makes. A little more than 3 cups. Click here to calculate how much you need and for tips on saucing strategies.
Takes. 30 minutes.
Keeps. It can keep for months in the refrigerator.
Ingredients
2 cups prepared yellow mustard
2/3 cup cider vinegar
3 tablespoons tomato paste
1/2 teaspoon chipotle Tabasco sauce or you favorite hot sauce
3/4 cup sugar
2 teaspoons chicken bouillon granules or 1 cube
2 teaspoons dried rosemary leaves
1 teaspoon celery seed
3 teaspoons mustard powder
2 teaspoons onion powder
2 teaspoons garlic powder
2 teaspoons Morton's coarse kosher salt (read more about the science of salt here)
1 teaspoon freshly ground black pepper
About the mustard. To be authentic, use yellow ballpark style mustard, not Dijon. Besides, it just doesn't taste right with Dijon.
About the tomato paste. You can substitute ketchup if you wish.
Method
1) Mix the wet ingredients together in a bowl.
2) If you are using a bouillon cube, crush it with a spoon in a bowl or mortar & pestle and add it to the bowl. Crush the rosemary leaves and celery seed in a mortar & pestle or in a blender or coffee grinder and add it to the bowl. Add the rest of the dry ingredients to the bowl and mix thoroughly. Let it sit for a an hour in the refrigerator for the flavors to meld. No cooking necessary. Leftovers will keep in the fridge for a month or more.
"Dum Spiro Spero." It means "While I breathe, I hope."South Carolina motto
Published On:
04/17/2012
Last Modified:
01/11/2019