Italian Giardiniera, A Celebration Of The Season's Best Vegetables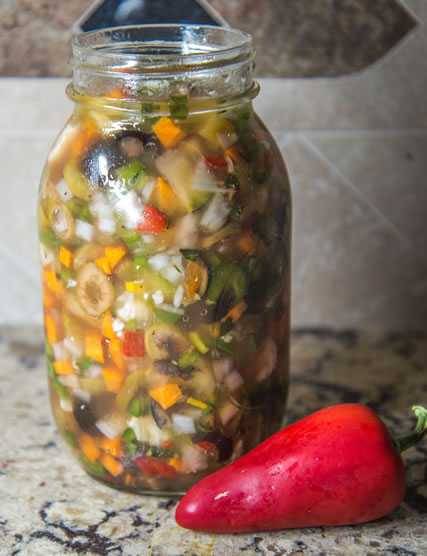 Fresh vegetables are the star of the show in this delicious recipe for giardiniera.
Giardiniera (the Americanized pronunciation is something like jar-din–yair) is an Italian word that means roughly "from the garden." It is a condiment made from fresh vegetables, chopped into small bits and used to top sandwiches and other foods. Technically it is a relish, but it is not at all like an American sweet pickle relish. And there are two basic versions: Italian-style, packed in vinegar, and Chicago-style packed in oil.
There is no single recipe for giardiniera. The exact ingredients and method vary from house to house and bottler to bottler, and it can be made from mild to hot with infinite grades in between.
In Chicago giardinera is extremely popular and can be found in all the hundreds of restaurants that serve Italian Beef Sandwiches and Italian Sausage Sandwiches where it is practically a required topping. It is in every grocery, and a jar of giardiniera can be found in the door of every Italian American fridge in Chicago.
In New Orleans it is used to top muffuletta sandwiches and on nachos at sports stadia. It can also be used on meatball sandwiches, mortadella, bologna, and practically any other sandwich. Some folks serve it straight with antipasto, straight as a salad, on a salad, in soups or in sauces. Rachael Ray puts it on pasta, and I know of people who use it on scrambled eggs.
There are basically two styles. This recipe is the Italian fresh from the garden version which is a simple jar of chopped fresh veggies with oil, vinegar, and salt. The other style is the shelf stable version like the process used for commercial giardiniera. It is made by salting the veggies aggressively overnight, rinsing, soaking in vinegar, rinsing, packing in oil with oregano, and sterile bottling with heat.
Think of giardiniera as more of a topping than a relish. Relish is too confining a term for this adaptable condiment. Below is my homemade recipe, heavily influenced by a recipe taught to me by my sister-in-law Theresa Tortorello. She is an accomplished Italian American home cook who learned her recipes at the aprons of her immigrant family's women. She makes a large quantity of her Italian-style giardiniera in August using the bounty of her garden.
A popular commercial Chicago brand, Dell'Alpe, is simply serrano peppers, celery, green olives, and spices. First they pickle everything in salt and vinegar, drain, submerge the pickled veggies in oil, and heat pasteurize to prevent botulism. The people who make Marconi brand and the giardiniera for the Portillos restaurants, famous for Chicago Hot Dogs and Italian Beef Sandwiches, use the same ingredients but they add cauliflower and carrots. Pagliaci adds capers. Some kick it up with hot peppers.
Theresa and I like lotsa stuff in it. I add onions, garlic, sweet bell peppers, zucchini, and fennel bulbs. You can increase or decrease ingredients to your taste. If you can't find fennel bulbs, skip them. Want more garlic, go for it. Love pain, add Scotch bonnets. I recommend you start with my recipe and then, after aging it a few days, you can add more ingredients if you wish. My recipe is more Italian-style. It uses vinegar to make sure it is low enough in pH (acidic) to discourage microbial growth. It can be stored in the fridge for several weeks. Packing in oil is risky because botulism loves this environment, and scrubbing the veggies is just not good enough to pasteurize them.
Giardinera can also be sterile canned if you know how. For more info on sterile canning go to the Ball jar company website FreshPreserving.com.
Add brightness to sandwiches, pasta, and more with this classic homemade giardiniera recipe.
Serve with: a sandwich, pasta, and more.
---
---
Makes:
---
Takes:
---
1

cup

canola oil

1/2

cup

red wine vinegar

3/4

cup

hot peppers

1/4

cup

sweet peppers

1/4

cup

green or yellow zucchini, or both

1/4

cup

celery stalks

1/4

cup

carrots

1/4

cup

cauliflower

1/4

cup

onion

1/4

cup

fennel bulb

6

ounces

pitted green olives

(or black)

1/4

cup

fresh basil

1/4

Cup

fresh oregano

1/2

teaspoon

finely ground black pepper

1

teaspoon

Mortons coarse kosher salt
About the oil. Canola doesn't get as cloudy and thick as olive oil when chilled.
About the hot peppers. If you want more hot chiles, go easy at first. You can always add more after you taste the mix. Use cayennes, jalapeños, or serranos. If you have an asbestos mouth, add some habaneros. If you don't want a lot of heat, remove the veins from the inside, that's where the heat hides. And wear gloves when handling them. Here's a good strategy: Buy an extra hot pepper or two. Make the recipe and if it's not hot enough after a day or three, andd more. Click here to read more about chiles and other peppers.
About the sweet peppers. Use a variety of sweet bell peppers, green, red, yellow, and orange. In Chicago the traditional recipe also calls for using some Melrose peppers, a long thin walled green pepper that is not hot at all. Melrose are hard to find so you can substitute any mild pepper, like banana peppers. Or just stick with the bells.
About the zucchini. If there are large seeds, scoop them out. The yellow squash is a bit firmer and crunchier.
About the basil and oregano. As a garden recipe, this calls for fresh herbs, but you can use dried. If you use dried, use 1/3 the quantity since dried is more concentrated. Click here to learn more about herbs and substitutions.
About the oil. You can use olive oil, but it will solidify and get cloudy when chilled. As soon as it warms to room temp it will clarify and flow. Canola oil will remain liquid in the fridge, but you can use corn oil or a salad oil blend.
About the olives. You have a lot of flexibility here. You can use kalamata olives or canned olives, green or black, packed in oil or brine, or all of them. Just be sure to get pitted olives.
About the salt. Remember, kosher salt is half the concentration of table salt so if you use table salt, use half as much. Click here to read more about salt and how it works.
Prep. Whisk the dressing ingredients together in a bowl and set aside.

Make sure all the vegetables are thoroughly washed. Remove the seeds and stem from the hot peppers and sweet peppers. Chop the peppers into 1/8-inch chunks. Chop the zucchini, celery, carrots, cauliflower, onion, and fennel bulb into 1/8-inch chunks. Slice the olives into rings and finely mince the garlic. Chop the basil and oregano.

In a bowl, mix the vegetables, olives, garlic, herbs, and pepper together.

Spoon the veggies into a very clean jar and top them off with the liquid. Make sure the solids are covered in liquid and use a kitchen knife to dislodge large bubbles. If you need it, pour in more oil and vinegar, about 2 parts oil to 1 part vinegar. Screw on a tight fitting very clean lid and refrigerate.

Serve. You can use it immediately, but you should give it at least three days to allow the juices from the veggies to come out and the flavors to marry. Then shake and taste and make additions as you see fit. It will keep for weeks in the fridge. If you know how to sterile can, you can put a batch up for use all winter. 
---
Related articles
Published On: 9/6/2013 Last Modified: 4/16/2021
Meathead - Founder and publisher of AmazingRibs.com, Meathead is known as the site's Hedonism Evangelist and BBQ Whisperer. He is also the author of the New York Times Best Seller "Meathead, The Science of Great Barbecue and Grilling", named one of the "100 Best Cookbooks of All Time" by Southern Living.

---