Twice Baked Potatoes With Cheddar Cheese Will Set You Straight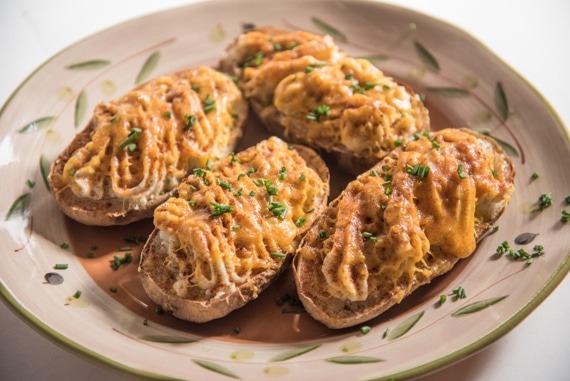 Baked potatoes are so good that they become even better by baking them twice!
Leaving the potatoes whole and baking them on the grill steams the interior, keeping them moist and fluffy. For this recipe, you then mash and mix the potato with spiced sour cream, top it with shredded cheddar cheese and bake it again. Twice baked potatoes = twice the flavor. Yum! If you prefer a firmer interior, try this recipe for Grilled Baked Potatoes.
This method bakes the potatoes whole on the grill and bakes them twice to make the interiors super fluffy. Sour cream and cheddar cheese takes them over the top.
---
---
Makes:
4 stuffed potato halves
---
Takes:
---
Prep. Mix the spices with the sour cream before you start cooking so the water in the sour cream has time to reconstitute the dried herbs. Refrigerate.

With a brush or scrubby sponge devoid of soap, rub the skins to remove all dirt, but not so hard as to remove the skins. Cut out any bad spots.

Fire up. Set up a grill for 2-zone cooking and shoot for 325°F in the indirect zone. 

Cook. Bake the potatoes whole over indirect heat at about 325°F for about 90 minutes or more, until they hit about 200°F in the center. 

Remove the potatoes from the grill, slice in half lengthwise, then scoop the meat from the shells and place in a bowl. Add the spiced sour cream and mix it in with a fork, leaving it a little lumpy. Don't use a blender or you risk making it too mushy (you get the sticky starches aggravated and you end up with a plastic like glue). Spoon the mixture back into the shells, sprinkle with the cheese, and put back on the grill over direct heat until the skin begins to darken and the cheese melts.

Serve. Serve immediately.
---
Calories:
177
kcal
|
Carbohydrates:
21
g
|
Protein:
5
g
|
Fat:
9
g
|
Saturated Fat:
5
g
|
Cholesterol:
24
mg
|
Sodium:
81
mg
|
Potassium:
500
mg
|
Fiber:
1
g
|
Sugar:
2
g
|
Vitamin A:
292
IU
|
Vitamin C:
6
mg
|
Calcium:
117
mg
|
Iron:
1
mg
Related articles
Published On: 10/16/2018 Last Modified: 4/15/2021
Meathead - Founder and publisher of AmazingRibs.com, Meathead is known as the site's Hedonism Evangelist and BBQ Whisperer. He is also the author of the New York Times Best Seller "Meathead, The Science of Great Barbecue and Grilling", named one of the "100 Best Cookbooks of All Time" by Southern Living.

---