"Spicy food and I have a close relationship—an obsessive one, in fact. If it's spicy, I want it. I want to sweat and shake and go half blind from the searing pain . . . which, now that I put it that way, seems really suggestive. But spicy stuff is addictive. That's a known fact of science."Maureen Johnson
Boring deep fried jalapeño poppers have got nothing on our smoked, bacon wrapped version!
When it comes to unappealing food names, Atomic Buffalo Turds (a.k.a. ABTs) ranks at the top of my list. However, when you cook these smoked bacon wrapped jalapeño poppers, they'll be gone faster than the last corndog at the county fair.
The ribs and seeds are removed from the jalapeños, so even spice weary guests can enjoy them. To personalize these irresistible BBQ and grilling appetizers, mix different cheeses into the stuffing or try blending in chopped bacon, smoked chicken, or perfect pulled pork!
Smoked ABTs Recipe, a.k.a. Bacon Wrapped Jalapeño Poppers
In this tested ABT recipe, whole jalapeños are cored then stuffed with cream cheese and cheddar before being wrapped in bacon and slow smoked to perfection. These poppers will be gone faster than the corndog at the county fair.
Course. Appetizer. Side Dish. Snack. Vegetable.
Cuisine. Mexican. American.
Makes. 12 ABTs
Takes. 15 minutes prep. 35 minutes cook time.
Serve with. Pale ale or IPA
Additional tools. Toothpicks. Jalapeño corer (optional). Jalapeño rack (optional).
Ingredients
12 medium jalapeños
1/2 cup cream cheese
1/2 cup grated cheddar cheese
6 slices bacon
Method
1) Fire up. Prepare a smoker for indirect cooking. Alternatively, you can set up a charcoal grill for 2-zone cooking by placing a chimney full of pre-heated charcoal briquets on one side of the grill's charcoal grate in order to create direct and indirect cooking zones. Adjust the smoker or grill vents to bring the temperature to about 225°F and add 2 to 3 chunks of your favorite smoking wood to the charcoal for flavor. On a gas grill, adjust the temperature knobs so that one half of the grill is off and the other half is heated enough to maintain a temperature of approximately 225°F on the indirect side.
2) Prep. Cut the tops off of the jalapeños. Remove the seeds and ribs from the interior of the jalapeños with a jalapeño corer. Or use the handle end of a small kitchen spoon to scrape the ribs and seeds from inside the jalapeños.
3) Combine the cream cheese and cheddar cheese in a medium mixing bowl and blend well. Stuff the peppers with the cheese mixture.
4) Cut the bacon slices in half crosswise. Wrap each one with 1/2 slice of bacon and secure the bacon with a toothpick.
5) Cook. Place the stuffed jalapeños into a jalapeño rack and set the rack on the cooler side of the grill. Or you can use a paring knife to cut a series of 1-inch by 1-inch Xs into an upside down disposable aluminum pan and insert the bacon wrapped jalapeños into the Xs. Cover the grill and allow the poppers to cook for approximately 35 minutes until the bacon is completely crisped.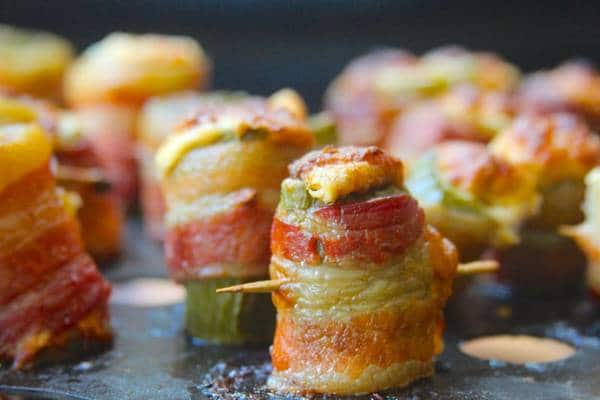 6) Serve. Plate the smoked bacon wrapped jalapeños and serve immediately.