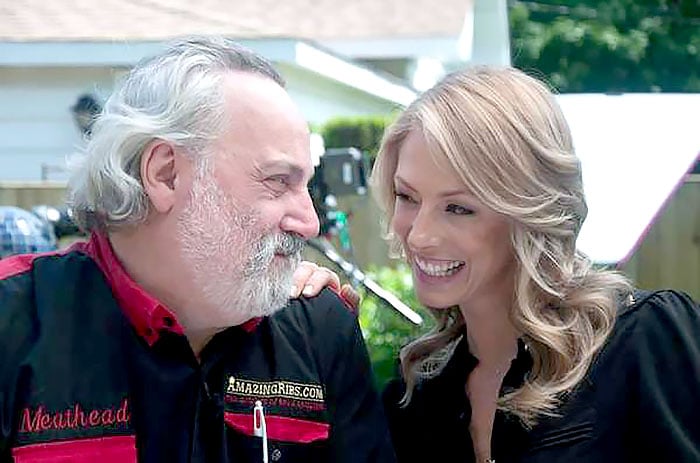 We have a lot of videos on YouTube. You'll find instructional videos teaching technique, and some of our best recipes have come to life in step by step videos. We also record the monthly live Fireside Chats with meathead (last Thursday of every month, 8:30 Easters). Then there's the Virtual Showroom of grills and smokers from Max Good, the world's only full-time tester of grills and smokers, so you can see exactly what that cooker you're thinking of buying looks like and cooks like. Please note, all the products you see in these videos are ones that we love, and none of them were charged product placement fees.
Here are just a few of them:
---
The importance of thermometers
In this video Meathead explains why thermometers are the most important tools a cook can own, for cooking outdoors or indoors, and he describes some of the different options available. Click here to see our buying guide to thermometers with a searchable database of nearly 200 rated and reviewed.
---
How we review thermometers
Here's Bill McGrath, the electrical engineer who tests, reviews, and rates thermometers for us, discussing how he does it.
---
Steaks, We Use Different Methods For Thick Or Thin Steaks
It is important to understand that the thickness of foods determines the cooking method and the cooking time (not the weight). Here Meathead demonstrates how to cook a thick ribeye and a thin flank steak.
---
Steakhouse Steakburgers Make Hamburger Heaven
As with steaks, we cook big thick burgers differently than thin burgers. If you do it right, you can serve them pink! Here's the video of the technique and the recipe. We have a LOT on burgers on this site:
---
Cast Iron Seared Salmon On A Salad Cooked On The Grill
Meathead shows you a great way to get succulent salmon, crispy edges and browned on the outside, served on a cool crunchy salad, and Chef Ryan shows you how to skin a filet of salmon.
---
Rockin Reubens On The Grill With Home Smoked Pastrami
There is only one sandwich better than a Reuben, and that's a Reuben made with Pastrami rather than corned beef. Here we show you how to make your own Close to Katz's Pastrami and then make a grilled Reuben sandwich. OMG.
---
Apple Cranberry Crumble in a Dutch Oven
Yes, you can make scrumptuous sweet desserts on the grill and nothing is simpler than a fruit crisp. Here's a video of how to make an Apple Cranberry Crumble with a Dutch oven but you don't need one, you can do it with a grill.
---
Texas Brisket, enough for a crowd

The ultimate barbecue challenge isn't all that daunting once you understand the concepts that we lay out for you in step by step detail and in an informative video. Learn how to select the right brisket, prepare it, cook it, and slice it.
---
The Secrets Of Bodacious Beef Roasts
Is there anything more luxe and festive than a big juicy beef roast? The secrets to success are a whiskey dark flavorful cruts, and an interior that is edge-to-edge the same beautiful color, with no gray meat! Click the link for a detailed recipe, the video, and related articles.
---
It's Time For The Ultimate Turkey
Every year scores of readers tell us this is simply the best turkey they have ever tasted! Click below for the recipe, video, the gravy recipe, and side dishes, how to spatchcock, and winners of our annual Pretty Bird Contest.
---
Perfect Pulled Pork
Everybody's favorite sandwich, juicy, succulent, seductivly smokey pulled pork. And it is surprisingly easy! Click the link for a detailed recipe, the video, and related articles.
---
A Tailgate Brat Tub With An Awesome Beer Sauce
Take your brats for a swim in some beer and make a rich sauce with the beer and some other not so secret ingredients. Click the links for a detailed recipe, the video, and related articles.
---
Grilled Grilled Eggplant Parmesan With Grilled Marinara Sauce
Eggplant parm does not have to be greasy and spatter up the indoor oven. If you grill the tomatoes and the ingredients for the sauce, then grill the eggplants, you will find the true flavors of this late summer delight. Click the links for a detailed recipe, the video, and related articles.
---
Last Meal Ribs
Everybody's favorite, the holy grail of outdoor cooking, the food that needs no forks, low and slow smoked ribs. Click the links for a detailed recipe, the video, and related articles.
---
About Charcoal, Wood, And The 2-Zone Setup
Here's a look at the different types of charcoal, their pros and cons, and why we recommend briquets. And just in case you are wondering, it was because we have been recommending briquets that Kingsford sponsored these videos, not the other way around. Watch the video to see why. Also there's a discussion of wood types, and how to set up a grill in the essential 2-zone system.
---
Meathead debunks beercan chicken in 2 minutes on the FoodNetwork
If you are unconvinced, read this.
---
Two Methods For Steak
Watch Meathead on WGN-TV in Chicago cooking a skinny steak using the afterburner method and thick steaks with reverse sear. And they were perfect! Whew!
---
Time Lapse Of Salt Moving Into Meat
And as long as we're talking about salting steak, here's a very short time lapse of how the salt dissolves and moves into the meat when you dry brine it.
---
Cooking Flank Steak Over Grapevines
And here's how I cooked a flank steak over grapevines for Bloomberg Business. To read the excellent article they did about us, click here.
---
Pitmaster Interviews
We have interviewed a number of experts exclusively for members of the Pitmaster Club. Here's an excerpt of one interview with Prof. Blonder on the importance of salt in cooking, and how it works its magic. Click here for more on the Pitmaster Club. Join us!
---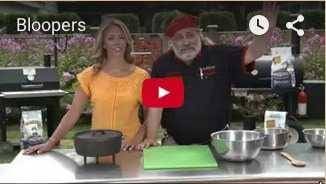 In this video Meathead demonstrates why he is not the next Food Network star.
---
Meathead talks outdoor ribs with the brilliant chefs at ChefSteps.
Our team vs. their team making ribs indoors.
---
---
---
Click here for an indepth interview of Meathead at Anderson's Bookstore in Naperville IL