Saber dubs their new Edge Grill "A Smarter Barbecue". This eye-catching, technologically advanced, high quality infrared gas grill will surely appeal to the tech/geek in us all. It employs an infrared burner system that is similar to other Saber models, but Edge leaps into the future by incorporating a real-time interactive grilling experience. Saber's parent company, Char-Broil, teamed up with DADO labs of Portland, OR to integrate DADO's proprietary platform into Char-Broil grills and smokers. Edge is one of the first offerings from this partnership.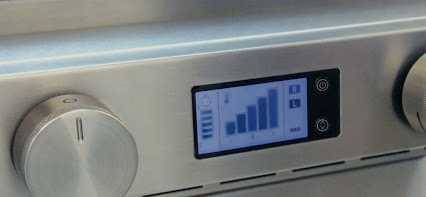 An LCD screen, (above), on the grill control panel displays approximate cooking temperature, fuel level, burner on/off status and battery life. A free app that may be used with Android and iOS mobile devices and tablets can:
Display Temperature
Display Burner On/Off
Display Fuel Level
Display battery life for Edge LCD Screen
Receive Alerts for Pre-Heat Readiness, Temp Changes, and When the Grill is Cool Enough to Clean
Access a Full Range of Recipes and Instructional Videos
Store Original Recipes and Share via Social Media
It does not provide thermostatic control. You have to set temps the old fashioned way with control knobs.
Saber's development team emphasizes Edge is a very consumer led design and vows to keep it that way moving forward. Saber and DADO banged around a variety of ideas for Edge and conducted extensive research utilizing focus groups to determine what features grillers truly want. They were surprised by the results. Many of their coolest, most beloved ideas were met with disinterest by the focus groups, while features like the check burner on/off function came straight from end user suggestions. Saber states, "Instead of a team of product development folks pushing features, we allowed the voice of the consumer to guide us in what features became part of the Edge platform".
The first units shipping in May 2015 will have selectable cooking programs that cannot be edited. These programs are based on USDA guidelines. If you follow the USDA's advice you will be 100% safe, but we strongly believe you will often have overcooked meat. Click here to learn more. Edge is so new, we're still learning some of the specifics, particularly about the app which sends alerts for when to flip and when the food is done. The programs are detailed, often requiring the user to select the recipe, desired doneness and meat thickness. Saber asserts their meticulous testing enabled them to create accurate "cooking profiles" that consistently produce meats cooked to USDA recommendations.
Meanwhile, for those who prefer to follow our recommendations, continue to use an accurate digital thermometer to set cooking temperature per our recipes and the AmazingRibs.com Food Temperature Guide to determine doneness. You can still use the app to get alerts, check fuel level, burner on/off status is constantly displayed, and you're connected to social media and Saber customer service. Saber plans for ongoing upgrades of the app. Users will be notified when upgrades are available and be encouraged to offer suggestions.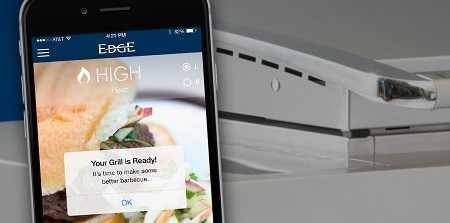 Saber came out swinging in 2011 and has quickly made a name in the premium BBQ grill market space. Their infrared burners are based on patented designs developed by Char-Broil, but Sabers are much more sophisticated and much higher quality than anything that bears the Char-Broil name. They get real hot, real fast, and can hit 700°F in about ten minutes. Heat is uniform across the entire cooking surface. It does not flare up and produces moist, juicy foods.
The low-profile hood and shallow firebox on a small cart create an appealing modern look, but required modification of Saber's unique IR burners to fit in the small firebox. Instead of a Saber tube burner cradled in a deep isolated compartment, Edge burners consist of racks of four thin tubes that lay almost directly beneath the grates. The eight thin burner tubes spread out from left to right distribute heat much more evenly than two large tubes would in this configuration. Only three inches of headroom exist between the cook surface and the lid. For large roasts that cannot fit under the hood, Saber recomends roasting with an open hood using their standard rotisserie kit. Infrared heat doesn't disipate with the hood open like convection heat, but heats the meat as the IR rays contact it. The hood can rest on the frame of the rotisserie to reflect heat down on the meat as well. This propped up hood method can be used even without the rotisserie spit and motor for thicker cuts like pork butt.
There are no heat tents or flavor bars covering the burners. The 304 stainless grates rest directly on top of an emitter or radiant plate. The patented design is meant to promote uniform radiant IR heat and move convection heat away from the cooking grate. Convection heat is hot circulating air that can rob food of moisture. The emitter plate has ridges that conform to the bottom of the grates. Rather than cast metal or steel rods, the grates are half-tubes of stainless steel that fit onto these ridges and create a series of hot air tunnels. A row of slots at the peak of each ridge delivers heat from the burners below into this tunnel. The heat then naturally escapes by moving out of the tunnel and dissipates through vents at the cooking area perimeter.
The Saber cook chamber is almost completely sealed off from the gas flame. In fact, you may have trouble seeing the flame when you first fire one up, (one quickly learns to peek through a small opening above each main burner). When grilling small items like shrimp and wings, there are no worries about losing food between the grates. This closed system is instrumental for generating radiant heat and preventing flare ups.
Despite the high heat, Edge is rated at only 15,000 BTU (remember, BTU is a measure of fuel consumption and is not directly related to heat any more than fuel consumption of a car has to do with speed). Each burner is rated at 7,500 BTU. Saber's fuel efficiency was rewarded by Hearth and Home Magazine with their VESTA 2012 Green Award for creating a grill that reduces gas consumption by 30 to 50%.
Edge is made of high quality 304 stainless steel with seamless welds and has an aesthetic appeal in league with many luxury brands. The pull-out LP tank, mounted on a sliding base inside the pedestal style cart may be accessed via a single door on the left side.  Fuel level is gauged by weight of the tank. Housings are built with solid construction that rivals many more expensive grills. The cart has two side shelves with tool hooks on four casters, (two locking). It has push button electric ignition at each burner and a warranty that exceeds many competitors.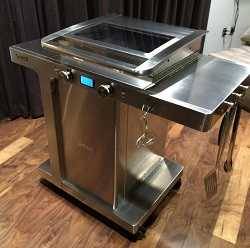 After the initial roll out, Saber plans to offer an upgraded model, (right), that has a Schott Glass Lid Insert so you can watch what you're eating, App-Integrated Meat Temperature Probe and Internal Halogen Light. They plan to keep it on the cart, so no drop-in models, but it can be set-up for use with natural gas with an optional conversion kit. The integrated meat probe is available now as an option that must be user installed.
In addition to The AmazingRibs.com Best Value Gold Medal, Edge won two 2015 VESTA Awards for Gas Barbecues and Best in Show/Outdoor Room Products.
Saber is not available in any big box chains and is sold exclusively through specialty retail stores.