Nowadays we are cooking and eating more and more meals outdoors. For many of us, the back yard has become a second kitchen, dining room, and living room. It's easy to understand why. Life is just more relaxed outdoors. Put a roast on the grill and play frisbee with your dog. Put on a slab of ribs in the smoker, take a short nap in the hammock. Put a bird on the rotisserie, mow the lawn. Dine with the birds or under candle light. How totally civilized.
Companies are now building a huge range of components for outdoor kitchens just like they build parts for indoor kitchens. There are special rainproof cabinets, countertops that will not crack when it freezes, drawer systems, grills big enough to land a jet on, pizza ovens fer cryin' out loud, dishwashers, refrigerators, special bar sinks, warming ovens, even outdoor TV and sound systems. Click here for my article on what you should think about installing in your outdoor kitchen and why I do not recommend drop-in grills.
So I contacted Todd Maltbie of the Wholesale Patio Store in Antioch, CA and asked him to tell me what people need to think about when planning an outdoor kitchen. He answered my questions in detail and supplied the photos of some of his installations on this page. Below is the storage cabinet he built for me.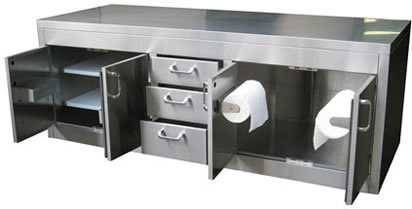 Q: Where is the best place for an outdoor kitchen?
A: If the outdoor kitchen will be entirely self sufficient, with running water, refrigeration, etc., you can put it anywhere. Otherwise, try to locate it as close to your indoor kitchen as possible so you can run to the sink or fridge quickly. Pick a spot that offers privacy, quiet, that does not pose a fire risk to the house or outbuildings. Consider prevailing winds, sun protection, overhead powerlines and trees. How stable is the soil? Does it need to be leveled? How will the surface drain? To where? How will the wind blow smoke?
Q: Will I need permits?
A: It depends on your community and what you are building, but you probably will need a permit if you are bringing in water, gas, or electric, or erecting a permanent structure. Check with your local building department before starting work. There may even be setback requirements. If it is close to the house make sure all fire codes are considered. If you're running separate utilities consider underground obstacles. Call your utilities company to make sure you don't cut a gas line!
Q: What if I want to run gas out to the site?
A: The gas line size and pressure are crucial. Natural gas should be 7″ water column. Bulk propane should be regulated to an 11″ water column. Make sure the plumber or gas technician has planned for the total BTU volume of all the equipment including firepits, sideburners, pool heaters, and patio heaters. A load test may be required.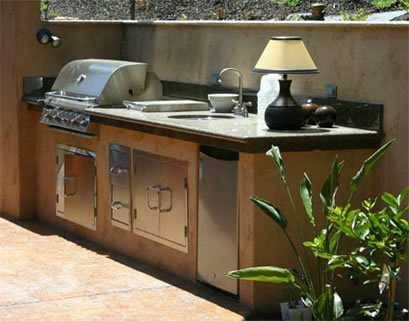 Q: What about water?
A: Water gets tricky. Hot and cold, or just cold? An undercounter water heater installed below the sink is usually less expensive than running hot water lines from the house and performs better. You need a shutoff valve and a drain, and winterization in cold climates.
You need a plan for waste water. Dry well (not recommended) or French drain? Connected to home's waste water lines? Tied into yard drainage (some areas allow gray water to be handled this way)? In some cases a simple sewage ejector pump can be installed to get waste water out to city sewer or septic in cases where the kitchen area is at a lower elevation than drain lines. Have a qualified plumber assess this for you and check the local building codes.
Q: Electrical?
A: Chances are you will need electricity. Outlets for the rotisseries and standard appliances like blenders should also be on a separate circuit. For these you'll want outlets above the counter and you'll need outlets below the counter for refrigeration, BBQ lights, BBQ ignition, water heaters and things such as these.
There are some very nice small refrigerators for the outdoor kitchen, and once you have one, you'll wonder how you ever managed without it. Be sure to provide a dedicated circuit to any refrigeration as they typically need more amperage. It is always best to install switches for any outlets that run refrigeration so that the units can be turned off without them having to pull them out to be unplugged.
If a TV is planned for the outdoor space, be sure to get an outdoor rated TV and provide conduits to run the cable lines and or HDMI cables from where the TV box will be housed. Also provide a waterproof storage area for the TV. Low voltage wire (telephone, cat 5 or cable) cannot run in the same conduit as 110 volt power which will be required to run the TV.
If you are considering high voltage (220 to 440 volt) patio heaters make sure that a dedicated minimum 50 amp breaker is used for this type of install and that a load test is calculated to consider all uses.
Don't forget lighting and consider fans, perhaps overhead.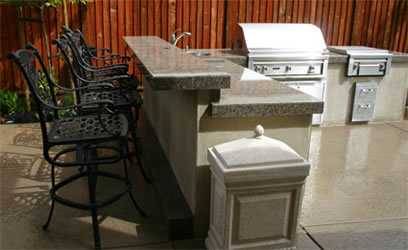 Q: Can I build right on top of my current patio or do I have to rip it out?
A: If you building an outdoor kitchen on an existing patio you have to make sure it has enough support for the additional weight. We always recommend that new islands be built with their own separate foundation rather than just over an existing patio, for a several reasons:
The weight of the island will typically be too much for standard 4″ thick patios.
If you ever want to replace or change your patio surface the island will be in the way.
To prevent water from entering into the island it's always best that the foundation for the island be at least 1/4 to 1/2″ higher than the surrounding patio.
If you build with wood you need an insulating liner to go under any combustible appliance. We always recommend that an island be built from galvanized steel studs or concrete block. Steel studs are typically faster and cheaper and also leave more room inside the cabinet as they are not as thick. If you do choose to use metal studs for the construction, it's also nice to install stainless steel sheeting on the inside of the island attached to the framing for cosmetic purposes. This way when you look inside the island its clean looking and leaves no room for little critters to nest. As you plan, remember that it's best to have all utilities stubbed through the floor of the island so they won't be seen on the outside.
Q: What do I need to know about counter tops?
A: When selecting materials and finishes, ask yourself if the counters, patio materials and veneers are freeze and thaw resistant. Ditto for planters and other accent pieces. Try to pick a counter material that will handle a hot pot and resist stains and grease. You need to ask if a sealant or surfacing material is necessary, and how often it needs to be applied, and what it costs.
Make sure to specify a solid brass faucet using ceramic valves or a solid stainless steel one. Do not use any zinc or pot metal materials in outdoor plumbing. The sink should be 304 stainless steel, plastic, or solid copper. If not, be certain it is suitable for outdoor use.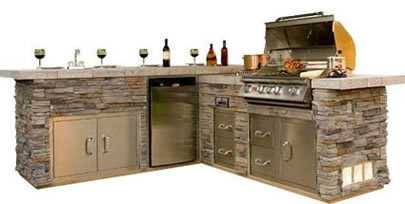 Q: When we designed our indoor kitchen we set up the classic kitchen triangle. Same thing outdoors?
A: I think of the outdoor space as having four functional zones: Cook, prep, plate, and serve. First decide if the bulk of the prep work will be done inside or out. Make sure no major traffic patterns intersect the primary work area. Then plan enough counter space for multiple people working in the kitchen if appropriate and minimum landing areas around each work center and appliance. If you or your guests have any accessibility requirements, such as wheel chair access, make sure to plan for them. And don't forget to allow for enough storage from kitchen and BBQ tools to cleaning supplies and towels. Think about where dirty dishes will be placed when the table is cleared.
Make sure to allow 24″ between seats and that counter or bar seating has enough knee room, 15″ for counter height and 12″ for bar height. If there are more than four counter or bar seats, you should curve the counter or place seats around a corner to aid conversation. Try to design so that the cook will feel like part of the party, perhaps by putting seats in the cooking area.
Then ask where folding tables and chairs will be stored. Where will cushions and pillows be stored?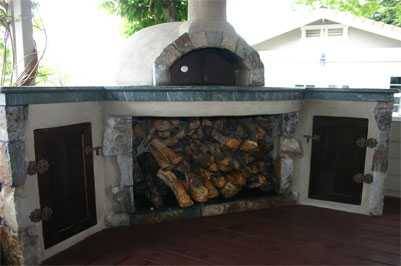 Q: What kind of specialized equipment do I need?
A: Well, you need a grill. AmazingRibs.com has the best guides to buying grills and smokers available. But you need to think about the kind of foods you like to cook and the number of people you cook for. Are you a fancy cook or do you do a lot of basic grilling fare, like burgers and steaks. Do you do low-and-slow smoking? Wok cooking and stir fry? Pizza and breadmaking? Lobster, fish, crab boils? Frying? Do you need wine storage or beer on tap? Just you and your spouse? Lots of kids? Huge extended family on the Fourth of July? There is equipment available for all this. Make sure the grill NSF certified. You would be surprised how many are not.
You absolutely must think about ventilation to manage smoke, soot, and food particles from the grill. You might want to think about a hood with a power ventilation system but consider the noise level of fans. Consider a remote fan rather than one located in the hood. Make sure the remote fan is powerful enough to overcome length of pipe run and twists and turns in the piping, and that you can can conceal them.
Some refrigerators are rated for outdoor work, and you want to know if it can store things like raw chicken or if it is only for beverages. Maybe multiple refrigerators would be advisable. That's important because it needs to stay out in the elements 12 months a year. If you're in a hot or cold climate, you want to make sure it can maintain temps. Some have multiple settings. Have you included the ice maker in your winterizing plans? Does other refrigeration need to be switched off, unplugged, or stored indoors? Does the ice maker require a pump to rid itself of condensation moisture? Is there a drain for this?
We always recommend that all of your outdoor components be at least 304 grade stainless steel [click here to learn more about stainless steel]. Grade 430 stainless is widely used for middle to lower ends products. It may be sufficient in hot arid locations but it is absolutely not recommended for moist, cold or salt air locations.
Try not to mix and match appliances and built-in units where possible. Each manufacturer uses specific stainless whose differences can be noticeable when side by side. The exception would be where budget does not allow for the top of the line products for all uses. There we recommend purchasing the Grill as a higher end unit and then purchase all of the door and drawers at a lower price point.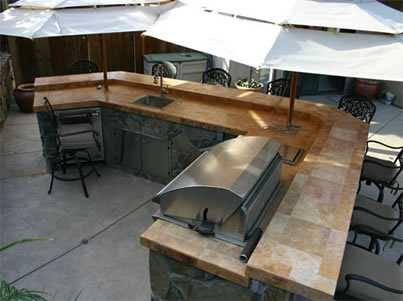 Q: What about the weather?
A: First of all you need to provide shelter from sun and rain for guests. You might even want to cover the prep area. And the cooking area. If you use the space at night, you need lighting. Make sure you can see the grill surface and cutting boards. If the counter will be exposed to direct sunlight, keep in mind that dark materials can get hot, and make sure you pick a material that won't fade. If it gets cool in your area, you might want to include gas heaters, fireplaces, or fire pits in your plans. If it gets hot you might want a misting system. And don't forget about bug and mosquito control.
Q: Are there safety precautions we need to take?
A: Another is fire. Make sure there is a prominent fire extinguisher and that you are not located under low hanging trees, parts of the house, or against flamable walls. You need a gas safety shutoff valve in a convenient location that is not behind or too close to the grill. Make sure there is a door to get to the switch and an appliance is not in the way.
Beware of sharp corners and edges. And make sure you install adequate lighting for walkways and steps. Take a look at Meathead's article on food and grill safety while you plan.