Designing Your Outdoor Kitchen, Q&A With An Expert
By: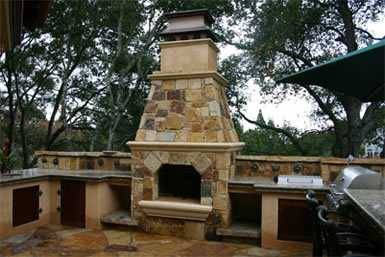 Nowadays we are cooking and eating more and more meals outdoors. For many of us, the back yard has become a second kitchen, dining room, and living room. It's easy to understand why. Life is just more relaxed outdoors. Put a roast on the grill and play frisbee with your dog. Put on a slab of ribs in the smoker, take a short nap in the hammock. Put a bird on the rotisserie, mow the lawn. Dine with the birds or under candle light. How totally civilized.
Companies are now building a huge range of components for outdoor kitchens just like they build parts for indoor kitchens. There are special rainproof cabinets, countertops that will not crack when it freezes, drawer systems, grills big enough to land a jet on, pizza ovens fer cryin' out loud, dishwashers, refrigerators, special bar sinks, warming ovens, even outdoor TV and sound systems. Click here for my article on what you should think about installing in your outdoor kitchen and why I do not recommend drop-in grills.
So I contacted Todd Maltbie of the Wholesale Patio Store in Antioch, CA and asked him to tell me what people need to think about when planning an outdoor kitchen. He answered my questions in detail and supplied the photos of some of his installations on this page. Below is the storage cabinet he built for me.
Related articles
Published On: 9/12/2016 Last Modified: 3/10/2021
Meathead - Founder and publisher of AmazingRibs.com, Meathead is known as the site's Hedonism Evangelist and BBQ Whisperer. He is also the author of the New York Times Best Seller "Meathead, The Science of Great Barbecue and Grilling", named one of the "100 Best Cookbooks of All Time" by Southern Living.

---