Grow your brand and make direct sales with this extremely popular site and its passionate readers
AmazingRibs.com is by far the most popular BBQ, grilling, griddling, and pizza website in the universe. Published by BBQ Hall of Famer, Meathead. There are more than 2000 free pages of recipes, product reviews, buying guides, technique, tips, hacks, science and myth-busting. Advertising on AmazingRibs.com is a great way to build your brand or make direct sales. You can also advertise on our Facebook page or in our email newsletter, Smoke Signals.
Analytics
Think about this: More than 12,000,000 users will come to AmazingRibs.com in a year while fewer than 4,000,000 attended baseball at Yankee Stadium in its best year. While here they will view more than 20,000,000 pages!
Demographics
We use Google Analytics to measure traffic and demographics. Here's a typical snapshot:
---

15% Female
77% Male

---

33% are age 45 to 64
53% are age 25 to 44

---

13% $0-30k
25% $30-60k
31% $60-100k
31% $100k+

---

84% Caucasian
5% African American
3% Asian
7% Hispanic
1% Other

---

53% No Kids
47% Kids

---

37% No College
46% College
17% Grad School

---

---
General terms of sale
1) Your site must be informative, accurate, original, well maintained, and well-designed. The identity of the persons in control must be clear and plain, and contacting management must be simple.
2) You must conspicuously post your privacy policy on your site and make it available to all visitors. Your privacy policy must comply with all laws and accurately disclose your collection and use of visitor information.
3) Your site or your advertisers must not promote pornography, hate, bigotry, libel, violence, discrimination, or illegal activity.
4) Your ad may include motion or animation so long as we do not consider it annoying. We accept jpg, png, and gif files. We discourage Flash and swf files.
5) All ads are subject to our approval. We reserve the right to reject any ads that we wish at our discretion without explanation.
Menu of ad options
We believe strongly in the wall between editorial and advertising so all our ads are sold by third parties. Here is how to select the spaces you want and how to contact the party who sells it. There are many location and rate options depending on your budget. Below is a tasty menu.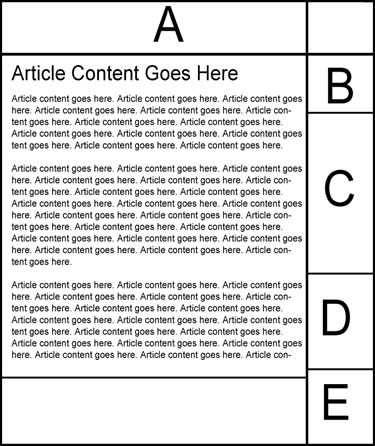 (Space A) Leaderboard 728 x 90 pixels
(Space B) Rectangle 300 x 250 pixels
(Space C) Skyscraper 300 x 600 pixels
Spaces A, B, and C are best suited for major corporations with significant ad budgets. You pay per 1,000 pageviews (CPM). Ads are run of site, meaning they appear on all 2,000+ pages. This means your ads enjoy maximum visibility and impact. You can buy for as long or short as you want, or set a dollar limit.
Questions?
To learn more about rates, analytics, or if you have any questions, click here to contact us.