A slow simmer in beer is the secret to the best beans you've ever experienced.
Steve Sando is the man behind Rancho Gordo, a great source of every type of bean imaginable, and my go-to-guy when I have a bean question. As I was working on creating a list of the classic American bean dishes, I asked him for feedback. He told me about one I had never encountered, and now it ranks among my faves. This is one of the best recipes with beer that I know.
He says "As baked beans are to an Easterner, out West a bowl of borrachos (which translates roughly to mean "drunks") is a comfort food beyond compare. Some of these beans, a good salad, and another bottle of beer to wash it all down is about all you need. The measurements and directions are very forgiving so don't be afraid to improvise and come up with your own tradition."
Here's a recipe to do them properly, one that will make the perfect BBQ and grilling side dish for your next cookout.
For more of Steve's his recipes, check out his book, Heirloom Beans:
Great Recipes for Dips and Spreads, Soups and Stews, Salads and Salsas, and Much More from Rancho Gordo.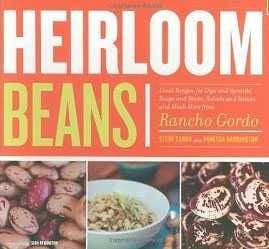 Frijoles Borrachos are a classic Western way to cook beans in beer and this tested recipe shows you how to do them right.
Serve with: a lager.
---
---
Makes:
---
Takes:
---
Ingredients
3/4

pound

dried beans

1

bottle

lager beer

2

slices good quality bacon

1/2

medium onion

3

Serrano chiles

1/2

pound

fresh crimini mushrooms

finely ground black pepper

Lime wedges for serving
Notes:
About the beans. Any of the pinto-like beans are in order here. Sando also likes Rio Zape, Red Appaloosa, or Anasazi. If you use dried beans, you should read my article The Science of Beans to learn how to prep them. Sando sells dried beans so that's what he wants you to use, but you can use canned beans. Just substitute 3 (15 ounce) cans of beans will cut the cooking time to 2 hours.
About the salt.
Remember, kosher salt is half the concentration of table salt so if you use table salt, use half as much. Click here to read more about salt and how it works.
Metric conversion:
These recipes were created in US Customary measurements and the conversion to metric is being done by calculations. They should be accurate, but it is possible there could be an error. If you find one, please let us know in the comments at the bottom of the page
Method
Prep. Dice the bacon. Coarsely chop the onion (enough for about 1 cup (127 g)). Press or mince the garlic. Finely chop the serranos. Slice the mushrooms.

Cover the dried beans with 2" (51 mm) of water over their top. Soak the beans for 12 hours at least.

Cook. Add the beans to a large pot and boil for 30 minute as in my article The Science of Beans. Drain them and leave them in the pot.

Add the beer and simmer for about 20 minutes.

Meanwhile, in an ungreased heavy skillet, over medium heat, cook the bacon until the fat is rendered. Move the bacon to some paper towels on top of some newspaper to drain them. Pour off all but 1 tablespoon of the oil from the skillet. Keep the flame at medium and cook the onion, garlic, and chiles in the bacon fat until they are soft and fragrant, about 10 minutes. Then add the mushrooms and cook until soft and wilted. Add the cooked bacon and stir.

Transfer this mixture to the beans, season with salt and pepper to your taste, add more water if you wish, and simmer for 10 minutes to allow flavors to blend.

Serve. Serve with warm corn tortillas and lime wedges.
---