Try this grilled meaty twist on Italian Caprese salad
Our Pitmaster Club members post recipes in The Pitmaster Club forum, and occasionally we ask for permission to share the best recipes with the public. Here is an outstanding recipe from Attjack that uses a nifty tie-off technique he learned at SeriousEats.com. Recipe adapted for publication by Steve Nelson.
Spotlight on our favorite products
Grilla Proves That Good Things Come In Small Packages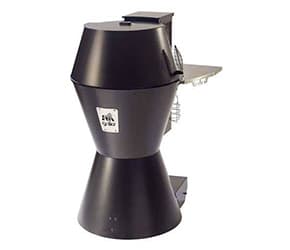 The small 31.5″ x 29.5″ footprint of the Grilla Pellet Smoker makes it ideal for use where BBQ space is limited, including on a condo patio. Click here for our review on this unique smoker.
– THIS IS NOT AN AD –
On a hot summer day, a simple Italian Caprese salad of sliced fresh mozzarella, tomatoes, and sweet basil seasoned with salt and olive oil makes a fantastic snack or first course. The combo is equally delicious with grilled flank steak. This recipe combines the two in a butterflied and rolled flank steak cut into pinwheels and grilled hot and fast. Salad, meet grill. Grill, salad.
Serve with: a burgundy.
---
---
Makes:
---
Takes:
---
Ingredients
1

flank steak

(approximately 3-4 pounds(1.4 to 1.8 kg))

finely ground black pepper

Olive oil to taste

Balsamic reduction to taste

(see note below)

8

ounces

halved cherry tomatoes

3

ounces

fresh basil leaves, stems removed

8

ounces

sliced fresh mozzarella
Notes:
About the balsamic reduction. To make balsamic reduction, simmer 1 cup (236.6mL) balsamic vinegar in a sauce pot over medium heat until it thickens and reduces in volume by about half (to about 1/2 cup (118.3mL)). You can add sliced garlic or herbs to flavor the reduction if you like. You can also buy balsamic reduction in some well stocked grocery stores.
About the salt. Remember, kosher salt is half the concentration of table salt so if you use table salt, use half as much. Click here to read more about salt and how it works.
Metric conversion:
These recipes were created in US Customary measurements and the conversion to metric is being done by calculations. They should be accurate, but it is possible there could be an error. If you find one, please let us know in the comments at the bottom of the page
Method
Prep. Trim up your flank steak to square it off, and butterfly it by cutting along the long edge with your knife parallel to the cutting board with your other hand on top of the steak. Don't cut all the way through to the other side. The idea is to open it up like a book. Once cut, fold out the meat and flatten it so that you end up with a nice big sheet of beef. Season both sides of the meat with salt and pepper or with your favorite seasoning..

Drizzle olive oil and balsamic reduction onto the meat to taste. Add the diced tomatoes evenly across the flank steak. Add the basil in an even layer. Then arrange the fresh mozzarella on top of the basil..

Now roll it up from long side to long side, keeping the roll as tight as you can. Tie it off with butcher twine, spacing the strings about 1-1/2 inches (2.5 to 3.8cm) apart. Push skewers through the roll with each skewer near the butcher twine. Then trim the ends of your skewers and remove any loose strings. Now cut between the skewers to create 1-1/2" (2.5 to 3.8cm) thick pinwheels. Each pinwheel should then be held together by the skewers and strings..

Season the pinwheels generously with salt and pepper on both sides..

Fire up. Prepare a grill for indirect cooking by placing a chimney full of pre-heated charcoal briquets on one side of the grill's charcoal grate in order to create direct and indirect cooking zones. Adjust the grill vents to bring the temperature to about 400°F (204.4°C) on the indirect side. On a gas grill, adjust the temperature knobs so that one half of the grill is off and the other half is heated enough to maintain a temperature of approximately 400°F (204.4°C) on the indirect side.

Cook. Grill the steaks over the direct heat side of the grill in order to sear and brown the meat quickly and seal in the cheese. Keep the grill hot. If your temperature is too low, the cheese will melt and ooze out. Flip the steaks and sear the other side until the meat registers 120°F (48.9°C) for medium rare or 130°F (54.4°C) for medium on an instant-read thermometer. If necessary, move the steaks to the indirect side and close the lid to finish cooking without burning.

Serve. Plate the pinwheels and serve immediately.
---