Kangaroo meat is becoming increasingly more available in the US and here's the recipe to maximize the flavor.
I have always been a sucker when it comes to trying new ingredients. When I came across ground kangaroo, I immediately "hopped" to the task of creating an amazing 'roo burger.
Low in cholesterol, high in iron, and 99 percent fat free, kangaroo meat is popping up on restaurant menus and at grocery stores across the U.S. But how does it taste? I was surprised at how much I enjoyed it and couldn't easily say that it tasted like beef or any other mainstream meat. With a complex and slightly earthy flavor profile, kangaroo meat already shines brightly on its own. Creating the perfect 'roo burger was a matter of finding flavors that complement the meat without overshadowing it.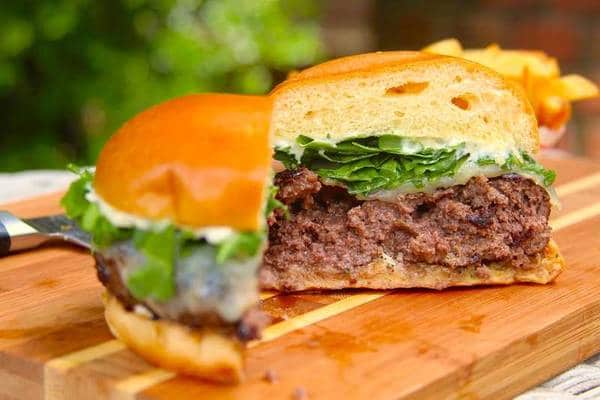 Fortunately, Durham Ranch has several ideas on the back of its package of kangaroo meat, including garlic, rosemary, juniper, pepper, and various fruits. Based on those suggestions, I rounded out my 'roo burger with a smear of garlic rosemary aioli, a handful of peppery arugula, and a slice of mild-flavored Havarti cheese. To bump up the richness (remember, kangaroo meat is extremely lean), I also stuffed each burger with a pat of unsalted butter. With that combination of flavors--and a soft, rich brioche bun--you're only a hop, skip, and jump from 'roo burger nirvana!
Butter-Stuffed Kangaroo Burger Recipe
I have always been a sucker when it comes to trying new ingredients. When I came across ground kangaroo, I immediately "hopped" to the task of creating an amazing 'roo burger.
Course. Lunch. Dinner. Entree. Sandwich.
Cuisine. Australian. American.
Makes. 4 burgers
Takes. 10 minutes of prep. 8-10 minutes to grill.
Serve with. Fosters (Australian for "beer").
Ingredients
Rosemary Aioli
1/2 cup mayonnaise
1 teaspoon finely chopped fresh rosemary
3 cloves garlic, minced
1 teaspoon Dijon mustard
Burgers
1 1/2 pounds ground kangaroo meat (I used Durham Ranch ground kangaroo)
4 tablespoons unsalted butter, cut in 1 tablespoon pieces
Morton's coarse kosher salt and ground black pepper
4 slices Havarti cheese
Baby arugula
4 brioche buns, sliced
Method
1) Prep. For the aioli, combine the mayonnaise, rosemary, garlic, and mustard in a small bowl and blend well. Refrigerate until ready to use.
2) Fire up. Prepare a grill for 2-zone cooking. On a charcoal grill, place a chimney full of lit charcoal briquets on one side of the grill's charcoal grate in order to create direct and indirect cooking zones. You want one side scorching hot and the other side at about 225°F. On a gas grill, adjust the temperature knobs so that one half of the grill is as hot as possible and the other half is approximately 225°F.
3) For the burgers, form the ground kangaroo into 8 thin patties. Lay one tablespoon of butter in the center of four patties then top each with another patty. Crimp the edges to completely seal the butter within the burger. Season the burgers on both sides with Kosher salt and ground black pepper.
4) Cook. Place the burgers on the hot side of the grill and cook for approximately until they reach an internal temperature of 160ºF, 4 to 5 minutes. If the coals flare up or the meat begins to char during the cooking process, move the burgers to the cooler side of the grill. During the last 2 minutes of cooking, add a slice of cheese to the top of each burger.
5) When the burgers are done, spread the rosemary aioli on the cut sides of each top and bottom bun. Set the burgers on the bottom buns, followed by the arugula and the top bun.
6) Serve. Burgers are best served immediately.
"Why does man kill? He kills for food. And not only food: frequently there must be a beverage."Woody Allen
Published On:
10/06/2017
Last Modified:
04/22/2020