Sandra Aylor is a barbecue expert in the quintessential barbecue town, Memphis (that's her and her husband Kyle, at right). She and Kyle compete (and win) on the barbecue circuit.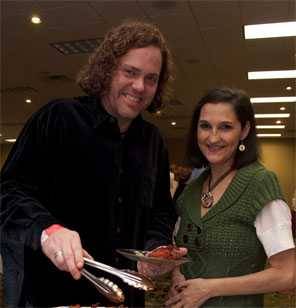 We both hang out online on the Smoke Ring mailing list. In a discussion of cocktail wienies (you know, those little thumb-sized skinless franks), I learned that there seems to be a basic core recipe that is popular everywhere, especially in the South. This is what Sandra says: "My mother taught this recipe to me when I was in high school in Batesville, MS. Everyone in our family (she has six sisters) has made it at one time or another for parties or pot lucks. My husband grew up in Memphis and says that his Mom taught him how to make them too. They are always very popular at parties, as you serve them in the slow cooker so they stay warm and guests eat them with a toothpick."
Cocktail Wieners Recipe
Yield. 24 wieners
Preparation time. About 15 minutes to assemble the ingredients and 1 hour to cook.
Ingredients
24 cocktail wieners
1 (8 ounce) jar grape jelly
1 (16 ounce) bottle sweet tomato based Kansas City style barbecue sauce
2 tablespoon prepared yellow mustard
Method
1) Warm your crock pot.
2) Dump in the grape jelly, the mustard and 12 ounces of the barbecue sauce. Stir until the jelly has melted and everything is blended well. Once this has warmed through, taste to see if you need to add the remaining 4 ounces of the barbecue sauce. It should be sweet and tangy. If you wish you can adjust it with a splash of vinegar or hot sauce or a pinch of salt.
3) Add the cocktail wieners. Stir well and simmer for 1 hour on low. Serve warm with toothpicks on the side.