Mayo is a blank canvas on which you can paint a huge range flavors
Talk about convenience. Mayonnaise is a condiment in practically every American fridge because it so conveniently moistens and flavors so many dishes. Mayo is simply an emulsion of oil and egg with a splash of lemon juice.
But one reason so many people prefer Miracle Whip (have you ever noticed that the world can be divided into two camps, mayo and Miracle Whip?), is because mayo can be a bit bland. In fact, when we make dishes with mayo, like potato salad, we usually add herbs and spices.
Mayo is also a great coating when grilling a variety of foods. It is about 70% oil with egg yolk which is about 2/3 fat and some protein), and acid, like white wine or lemon juice. So putting mayo on a fish doesn't flavor it much, but it does cling to the fish better than coating it with oil. That helps prevent it from sticking to the grill better than oil, and because of the protein, it helps prevent the meat from drying out, and it browns and crisps up nicely. Then you want to amp it up.
There are infinite ways to make your own signature mayo and never have to break an egg. Here are a few blends to try. As background for this recipe, read these articles, The Science of Herbs & Spices, The Science of Chiles, the Science of Garlic, and The Science of Salt.
Spotlight on our favorite products
The Undisputed Champion!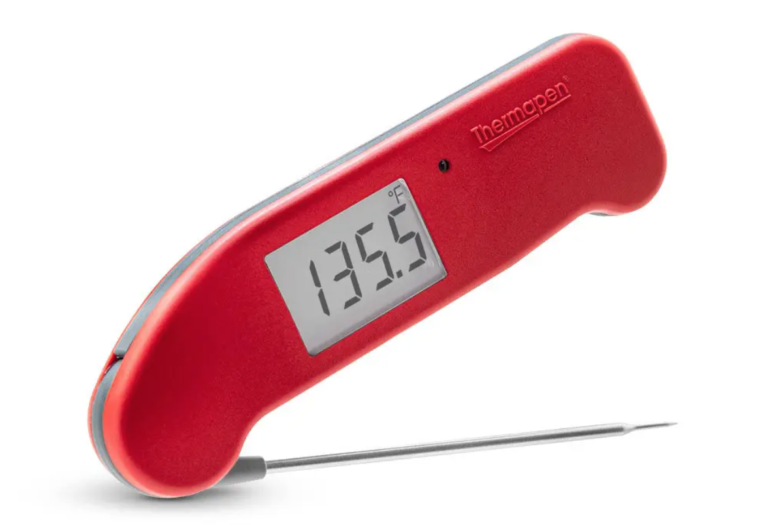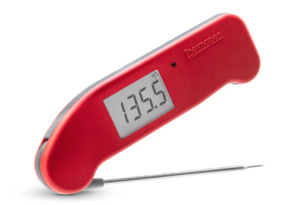 ThermoWorks' Thermapen ONE provides an accurate reading in one second or less. The ONE also includes features that are common on high-end instruments: automatic backlight, rotating display, and water resistant seals. Don't accept cheap substitutes.
Click here to read our comprehensive Platinum Medal review
– THIS IS NOT AN AD –
Use a Mayo With Mojo for grilling to coat fish, chicken breasts, pork loins, lobster, shrimp, zucchini planks, potato slices, and garlic bread. Speaking of bread, use it on your next grilled cheese sandwich.
I've used this blend mostly in potato salad, deviled eggs, egg salad, and as a sandwich spread. It can also be slathered on fish, chicken, corn on the cob, or potatoes before you grill! It locks in moisture and crisps nicely. Click here for my recipe for Potatoes With Mojo.
And then riff on the concept… 
Riff on this!
Make your own Mayo Mojo by mixing mayo with any of my rub recipes, with just a few drops of sesame oil (killer on chicken breast sammies), chipotle in adobo, whatever. Here are some ideas. There's a lot of room for creativity! Mix and match. Try chili and lime!
Anchovies
Avocado
Basil
Breadcrumbs
Capers
Chipotle in adobo
Chipotle powder
Chives
Cilantro and lime
Citrus juices and zest
Curry
Ground peppercorns
Honey mustard
Lemon juice
Lime juice
Mango chutney
Olives
Sriracha
Sundried or smoked tomatoes
Thyme
Wasabi
This mayonnaise recipe will definitely up your game and impress your family and friends. Once created, you can use your mayo with mojo as a coating, a topping, a spread or an ingredient in salad. This recipe makes enough for about pounds of Potatoes with Mojo.
---
---
Makes:
---
Takes:
---
Ingredients
2

tablespoons

dried onion flakes

(dried minced onion)

1

tablespoon

sweet red pepper flakes

1

teaspoon

sugar

½

teaspoon

mustard powder

½

teaspoon

ground black pepper

2

teaspoons

chopped celery leaves

½

teaspoon

dried thyme

1

cup

mayonnaise

⅓

cup

distilled vinegar
Notes:
Optional mix-in. I almost always add 2 teaspoons of sun dried tomatoes, minced fine, and 1 pinch cayenne or other hot pepper flakes. That's the red flakes in the photo above. About the onions. Don't use powdered onion. Go for those little onion chips. They have been de-fanged. They have a nice concentrated flavor without the bite. I often add fresh onions to my egg salad and potato salad. They add a different dimension. About the celery leaves. You can use 1/2 teaspoon celery seed instead. About the garlic. There isn't any! Just because there's onion, doesn't mean there has to be garlic. Resist the temptation.
Metric conversion:
These recipes were created in US Customary measurements and the conversion to metric is being done by calculations. They should be accurate, but it is possible there could be an error. If you find one, please let us know in the comments at the bottom of the page
Method
Mix. Mix all the spices in a small bowl. Now mix the spice mix with the mayonnaise and the vinegar.

Age. Cover and let it sit in the fridge for at least 2 hours. This is crucial. The flavors in the mix are oil soluble and mayo is 70 to 80% oil. In those 2 hours the flavors will work their way into the mayo and the dried flakes and seeds will suck in the mayo and soften.

Enjoy. You can now use the mayo as a sandwich spread, in potato salad, egg salad, tuna salad, whateverrrr. Try this: Spread it on skinless chicken breasts or mild white fish, and grill.
---