Well, the subject of this site is outdoor cooking, isn't it?
Meal, Ready-To-Eat (MRE) is just what it sounds like, a meal for eating in the field with minimal fuss. In case anybody might hope for a comforting taste of home, a label says it big and bold so there can be no mistake "Military rations are good performance meals."
There are scores of flavors of MRE entrees and side dishes. A typical combo might be crackers, peanut butter and jam, soup powder, orange drink powder, cookies, moist towelettes, chewing gum, napkins, a plastic spoon, salt free seasoning blend, tea, coffee, sugar, all in brown bags or pouches and all contained in a tightly sealed waterproof heavy duty plastic bag.
The main course is contained in a brown cardboard box labeled "Imitation Boneless Pork Rib". Within the box is an olive drab vacuum pack foil pouch enclosing a2.75″ x 5.75″ rectangle of 3.4 ounces of processed pork just under 1/2″ thick providing 300 calories needed for hauling your pack. The good news is that the first ingredient on the list is pork, with the rest of the many listings including tomato powder, sugar, flavorings, seasonings, color, and preservatives.
There is also a plastic packet with one ounce of thick dark "BBQ Sauce" and another 25 calories. It is made with water, high fructose corn syrup, distilled vinegar, tomato paste, modified corn starch, molasses, spices, and two preservatives.
Then there is a translucent green plastic bag labeled "MRE heater". It is just big enough to hold the food pouch. About 1″ from the bottom of the pouch are two black lines about 1/4″ apart and the big bold warning "DO NOT OVERFILL". Inside the pouch is an envelope about 4 x 5″ with powder in it. When the powder gets wet, it produces enough heat to boil the water and steam rises from the bag. What we have here is essentially a simple sous vide system.
As you might expect, the "ribs" are really a ground pork burger formed into a rectangular slab, similar to McDonald's McRib. After heating they smell vaguely porky and glow slightly orange, probably from paprika. One side is scalloped to conjure the look of pork bones, and if it fools any of our GIs, we're in deep trouble. The taste has nothing objectionable, but the sauce is a bit of a dud. One would hope they could do better with this condiment, if for no other reason than to disguise the meat. Personally, I'll take a McRib.
Here is the recipe, right from the pouch. Notice that the word "the" appears only twice.
Operating instructions
1) Remove MRE pouch from carton and save carton.
Spotlight on our favorite products
The Cool Kettle With The Hinged Hood We Always Wanted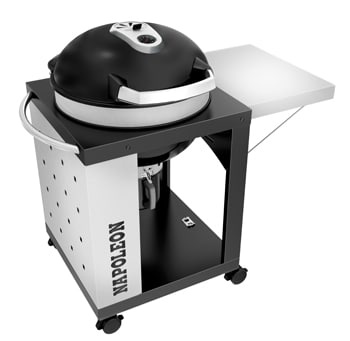 It's hard to beat a Weber kettle, but Napoleon holds its own and adds some unique features to make their 22″ Pro Cart a great alternative!
Click here for more about what makes this grill special.
– THIS IS NOT AN AD –
2) Tear off top of bag. Place MRE pouch in bag with heater.
3) While holding MRE pouch and heater above lines on bag, pour water into bag until it reaches a level between lines. Slide heater and MRE to bottom of bag and fold top of bag to side opposite heater.
4) Stuff assembly into carton with top of bag folded over top of MRE and heater underneath.
5) With heater UNDERNEATH MRE, hold carton level until heater feels warm or until one minute elapses.
6) To prevent water from escaping and to maximize heat output, always keep:
• HEATER located UNDERNEATH MRE;
• BAG folded OVER TOP of MRE; and
• CARTON INCLINED, with FOLDED END of bag UP.
After ten to fifteen minutes (depending on air temperature) top half of bag can be torn off and the MRE can be removed and eaten. Kneed MRE to ensure uniform temperature. CAUTION the contents will be HOT.