Blue Cheese Potato Salad Is Bold And Beautiful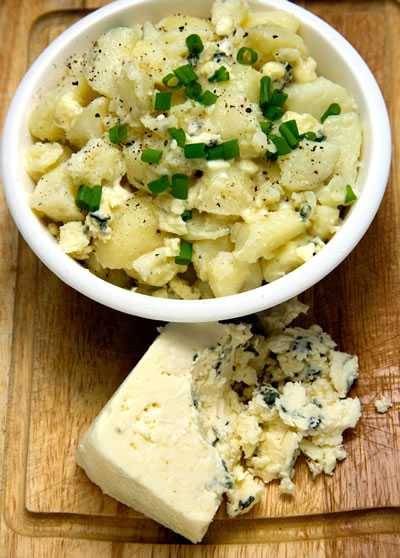 Take your boring potato salad and inject it with life thanks to the addition of blue cheese
People either love blue veined cheeses of hate them. If you love them, you probably consider them to be the king of all cheeses. Salty, creamy, pungent, complex, and crumbly, they are made by innoculating with Penecillium, a fungus.
This blue cheese potato salad recipe is so simple, so quick, and so tasty that it's sure to become your go-to grilling side dish. Why haven't you done this before?
If you're a blue cheese fan then you're going to love this recipe for a potato salad that highlights the complex flavors of these aged cheeses.
There are many kinds of blue cheese in this world, and many countries have their own signature variation on the theme. They are made by innoculating the curds with spores of the Penecillium mold. When the mold grows you get a cheese with blue or blue-green flecks or veins. In England, the signature blue is Stilton, made from cows milk. In Italy it is Gorgonzola, is also made from cows milk. In France it is Roquefort, made from sheep's milk (my fave). In the US, the most famous is Maytag from Iowa although my fave is from the Rogue River Creamery in Oregon.
---
---
Makes:
---
Takes:
---
Smush. Bring the butter and the blue cheese to room temp for about 2 hours. In a large bowl, smush them together with a fork until blended.

Prep. Peel the potatoes (or not), and cut them into bite-size chunks.

Cook. Boil the chunks until they are soft, but not mushy, about 10 minutes. Drain. Toss them in with the cheesy butter.

Chive me. Take the chives and bundle them like pencils. With a scissors cut them into 1/8" bits and add toss into the potatoes.

Serve. Add salt and pepper to taste and serve immediately.
---
Serving:
4
ounces
|
Calories:
105
kcal
|
Carbohydrates:
18
g
|
Protein:
3
g
|
Fat:
3
g
|
Saturated Fat:
2
g
|
Trans Fat:
1
g
|
Cholesterol:
7
mg
|
Sodium:
257
mg
|
Potassium:
528
mg
|
Fiber:
2
g
|
Sugar:
1
g
|
Vitamin A:
86
IU
|
Vitamin C:
10
mg
|
Calcium:
24
mg
|
Iron:
1
mg
Related articles
Published On: 8/12/2013 Last Modified: 4/16/2021
Meathead - Founder and publisher of AmazingRibs.com, Meathead is known as the site's Hedonism Evangelist and BBQ Whisperer. He is also the author of the New York Times Best Seller "Meathead, The Science of Great Barbecue and Grilling", named one of the "100 Best Cookbooks of All Time" by Southern Living.

---