Chicken Sausage Recipe with Simon & Garfunkel Rub That Will Have You Telling All That The Sky Is Falling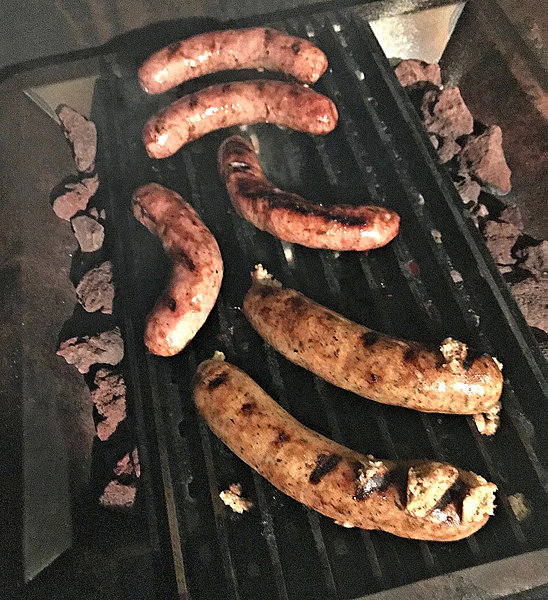 Store-bought chicken sausage has nothing on this flavorful homemade version featuring our signature Simon & Garfunkel rub. Yes, it includes parsley, sage, rosemary, and thyme.
This recipe makes a fine link, but it can also be crumbled and mixed in with a creamy pasta sauce, used as the topping for a white pizza, or made into meatballs for chicken soup. It may just cure all that ails you.
---
---
Makes:
---
Takes:
---
About the chicken. We recommend a blend of about 50/50 white and dark meat. Optional. About 6' of hog casings for making links.
Bone up. Before making sausage, please familiarize yourself with best practices as described in our article on The Science Of Sausage Making.

Prep the meat. Slice the chicken into cubes removing gristle and sinew. Chop the bacon into 1/2" lengths. Mix them together and place them on a plate or pan in the freezer, along with the grinder parts that will contact the meat. Leave everything there for about 20 minutes until the meat is firm but do not let it freeze. This makes grinding easier.

Make the sausage. Grind the firmed up meat with a 1/4" die. Finely chop the sundried tomatoes, basil, and garlic, and grate the zest from the lemons. Mix those with the ground meat, pepper, and salt.

Test it. Pinch off a small piece of the sausage and cook it in a frying pan, let it cool and taste to see if the seasoning is to your taste.

Shape it. Form the sausage into patties, meatballs, skinless tubes, or encase it in hog casings, or if you want smaller links, lamb casings as described in The Science Of Sausage Making.

Cook. You can then grill or smoke it, or store it in the fridge for about 5 days or in the freezer for about a month.
---
Serving:
5
ounces
|
Calories:
286
kcal
|
Carbohydrates:
5
g
|
Protein:
31
g
|
Fat:
15
g
|
Saturated Fat:
5
g
|
Trans Fat:
1
g
|
Cholesterol:
97
mg
|
Sodium:
592
mg
|
Potassium:
773
mg
|
Fiber:
1
g
|
Sugar:
3
g
|
Vitamin A:
198
IU
|
Vitamin C:
5
mg
|
Calcium:
23
mg
|
Iron:
1
mg
Related articles
Published On: 11/16/2020 Last Modified: 3/29/2021