David Joachim (sounds like rock 'em) was the editor-in-chief of AmazingRibs.com from  through 2017 through 2021. He is now the publisher of DigestThis.news, a newsletter about all food from farm to fork started by and sponsored by AmazingRibs.com, and the editor of WickedHealthyFood.com, the website for a hot plant based food company (and no, he hasn't gone vegan). He has authored, edited, or collaborated on more than 50 food books, four of them on barbecue and grilling and his Food Science column has appeared in Fine Cooking magazine since 2011.
His credits include The Food Substitutions Bible and The Science of Good Food, both winners of International Association of Culinary Professionals (IACP) Awards. The Science of Good Food also won a World Gourmand Award for Best Food Literature Book, a Cordon D'Or Award for Best Culinary Reference Book, and was a finalist for a James Beard Award in the Best Reference and Scholarship category.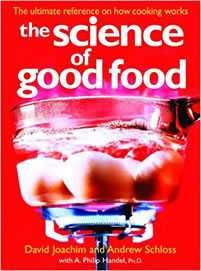 His "A Man, A Can…" series of books has sold more than one million copies (and no, they're not about beer can chicken). Among his many other titles are The Tailgater's Cookbook and Pure Pork Awesomeness, co-authored with Top Chef fan favorite Kevin Gillespie. His books Mastering the Grill, a New York Times bestseller, and the recent Williams-Sonoma Grill School were both co-authored with award-winning cooking teacher Andrew Schloss. He also helped edit the IACP Award finalist Meathead: The Science of Great Barbecue and Grilling.
Spotlight on our favorite products
The Pit Barrel Cooker May Be Too Easy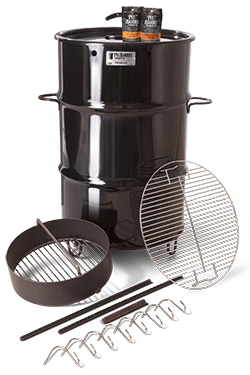 The PBC has a rabid cult following for good reason. It's among the best bargains for a smoker in the world. This baby cooks circles around cheap offset smokers because temperature control is so much easier. Click here to read our detailed review and the raves from people who own them.
– THIS IS NOT AN AD –
His writing and tips have appeared in national publications such as USA Today, Better Homes & Gardens, Cook's Illustrated, Relish, Prevention, Fitness, Self, Men's Health, Women's Health, and Bicycling. He has made numerous national appearances on television and radio.
Since high school, Joachim has also enjoyed a second life as a drummer in various blues and rock bands in the New York City and Philadelphia areas. He has performed in several New York City clubs such as The Village Gate, The Bitter End, The China Club, Le Bar Bat, and Mercury Lounge, among others.
Joachim is former food editor at Vegetarian Gourmet magazine, but please don't call him Potatohead.