According to James Bond, the perfect martini should be shaken, not stirred. But it should also be served in an elegant martini glass.
Martini glasses
 have become an art form. Some are quite elegant, whimsical, even spectacular. I have about 20, no two alike, so people can sit them down and remember which is theirs. No need to hang those little necklaces around them.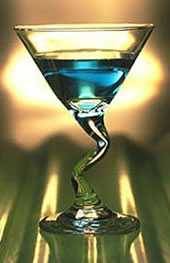 One of my favorites is The Peppermint Lounge "Let's Twist Again" Martini Glass. The "Pep," on West 45th Street between Sixth and Seventh Avenues in New York City, was the site where youth culture crossed generational and social boundaries in the early 1960s. Tennessee Williams, Merle Oberon and Noël Coward were regulars. Norman Mailer, Judy Garland, Elsa Maxwell, and Greta Garbo mingled with a young crowd from New Jersey. They did the Twist, the dance craze, to the music of the house band, Joey Dee and the Starliters, who had a number one record " Peppermint Twist" and starred in the movie "Hey, Let's Twist." The dance inspired a tall, 9 1/4 ounce martini glass, made thick and sturdy to survive the rigors of a Twist Party. They sell two per set.