Why is food cast so often in leading roles in film? Food facilitates conversation, making the kitchen and dinner table natural locations for advancing the plot, every bit as intimate as the bedroom. The action of preparing meals, feeding someone, and eating arouses audiences, and they make superb metaphors for pleasure and sex, wealth and excess, mythology and religion, family and friendship, dedication, and skill. Here are my favorite meals on reels. I have divided them into two menus, films where food is a lead character, and films where food plays an important supporting role. Tell me about the ones I've missed and start the popcorn.
Meals on reels in a starring role
Julie & Julia
The delicious film Julie & Julia is Nora Ephron's clever weaving of two memoirs, Julia Child's "My Life in France" and Julie Powell's "Julie/Julia Project". In 2004, at age 91, Child wrote of the time she and her husband Paul spent in France, from 1948-1954, during which she learned to eat and cook and began to shop around the idea of her cookbook "Mastering The Art of French Cooking." In 2002, Powell, a frustrated cubicle worker who knew little about cooking, attempted to make all 524 recipes in Child's book in just 365 days. She blogged about her tribulations in the kitchen, in her marriage, and in the rest of her life. Neither Child (Meryl Streep) nor Powell (Amy Adams) knew much about cooking, and both parlayed their relationship with food into careers. Ephron ("Sleepless in Seattle", "You've Got Mail", "When Harry Met Sally") juxtaposed the stories of the women, their struggles, their husbands, and their food. A fun story that shows the public the fascinating story of the great chef and how food gave her life meaning and how her recipes can reach across the decades to salvage the life of another young woman. Streep nails it.
Be sure to read my thoughts on Julia Childs at the end of this article.
Arsenic and Old Lace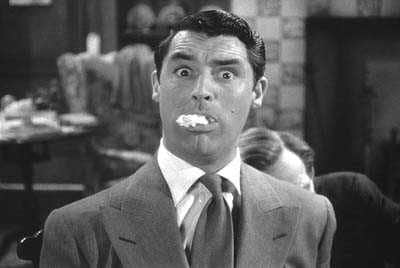 Directed by Frank Capra, 1944. Starring Cary Grant (right), Priscilla Lane, Raymond Massey, and Peter Lorre parody themselves in a non-stop laugh feast when Grant discovers his sweet old-maid aunts have been poisoning lonely old gentlemen with elderberry wine laced with arsenic. When his evil brother (Massey) and his scary friend (Lorre) show up with the body of a man they have murdered, they define madcap comedy. I can watch this movie over and over, and I have.
Babette's Feast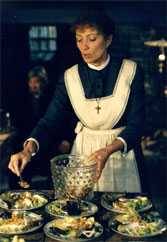 Directed by Gabriel Axel, 1987. Two religious sisters living a spare life alone in an isolated Danish village hire Babette (right), a French political refugee. Although she is an accomplished chef, she becomes their housekeeper and prepares simple meals to their taste. The message is that by being humble in this life they will be rewarded in the next. When Babette wins the lottery she prepares the most incredible feast of exotic foods from the outside world for her benefactors and the villagers. The meal is full of religious symbolism with cooking scenes that surpass anything on FoodTV.
Big Night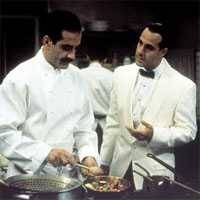 Directed by Cambell Scott and Stanley Tucci, 1996. Bankruptcy threatens the New Jersey trattoria even though the food is top notch. No, make that because the food is top notch and their market wants standard Italian American fare. The two Italian immigrant brothers who run the place Primo (Tony Shalhoub) and Secondo (Stanley Tucci, who 13 years later would play Paul Child in Julie & Julia) hear that singer/trumpeteer Louis Prima plans to come there for dinner. They plan a great meal centered around a spectacular dish called a timballo and invite all their friends to save their bacon. Good insights into family businesses, the restaurant business, hopes, and dreams. And the food looks scrumptious. Minnie Driver and Isabella Rossellini co-star.
Bottle Shock
Directed by Randall Miller, 2008. "Based on a true story" is on the screen at the beginning. The key word is "based". In 1976, the year the US was pumped up with patriotism celebrating the nation's bicentennial, Steven Spurrier, an Englishman and the owner of a wine shoppe in the Paris, invited some of France's top wine experts to a blind tasting of French and California Cabernets and Chardonnays. The results shocked the world. California won both categories. I was a wine merchant in a Chicago suburb at the time, and I carried the Montelena. I had two cases and I practically had to beg my customers to try it. In my newsletter a few months before the "Judgement of Paris", as the event came to be known, I wrote "This Napa Valley Chardonnay is as good as any white Burgundy and even though it is expensive at $6.39 a bottle, I think you will find it worth every penny."
The coverage in Time Magazine created a run on the winners, which were available only in a handful of stores around the nation. The LA Times had a cartoon of a cowboy pulling a bottle from his holster and shooting a Frenchman with beret in the heart with the cork. Before the Judgement of Paris, California wines were derisively called "domestic wines". Afterward they became American wines. I had most of my two cases left when the news broke in June. I sold out in a few days.
This film dramatizes the story of the Chardonnay producer, the Barrett family of Chateau Montelena, and a fictional relationship with Spurrier. At the time I knew all the real people involved, and trust me, a good deal of freedom is taken: The scouting for wine in California was done by Patricia Gallagher, Spurrier's partner, not Spurrier himself. The tasting took place in the Intercontinental Hotel in Paris, not in the countryside, and when they were invited, the judges thought they were tasting only California wines. The fact that French wines were included was not known until the day of the tasting. In the movie, Bo Barret was an observer at the tasting. Not true. But the biggest flaw was the omission of any mention of the role of Montelena's talented winemaker, Mike Grgich, an immigrant from Yugoslavia. He, more than anyone, was responsible for the wine's quality. But it's still a fun film with beautiful photographs of wine country and some insight into the impact of the event.
Chocolat
Directed by Lasse Hallstrsÿm, 2000. A single mother (Juliette Binoche) and her pre-teen daughter move into a small stuffy French village in the 1950s and begin making sinfully sensuous chocolates that they sell in their shop across from the church. The seductive treats cause a classic conflict of flesh vs. soul, and townfolk vs. outsider. Judi Dench and Johnny Depp co-star, and the score is delicately elegant, like chocolate.
Christmas in Connecticut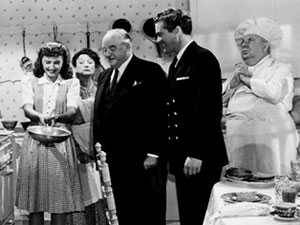 Directed by Peter Godfrey, 1945. Elizabeth Lane (Barbara Stanwyck) is a famous food writer and a farm wife. Not. She is really a stylish single New Yorker who can't boil water without burning the pot. Her boss decides she must host a Christmas party for a war hero on her farm, and her life begins to unravel, especially when she falls in love with the sailor. Food is not just a prop here, it is almost an obsession.
The Cook, the Thief, His Wife, & Her Lover
Directed by Peter Greenaway, 1989. Organized crime, adultery, liasons in the kitchen, voyeurism, mayhem, and cannibalism. A brutal but beautiful film contrasts the artistry of the chef with the grotesqueness of the wealthy criminal. A young Helen Mirren is magnificent.
Dinner Rush
Directed by Bob Giraldi, 2001. It all takes place in one night, and the director masterfully weaves together complex personalities and story lines. Louis (Danny Aiello) struggles with his hip chef and son Udo (Edoardo Ballerini) over the direction of their traditional family restaurant in NYC. Udo has made it a hang out for the glitterati with sophisticated cuisine, while his dad longs for the good old simple recipes. Meanwhile the mob is moving in on the place and then the snotty restaurant critic shows up. Beautiful dim-light photography and authentic kitchen scenes.
Eat Drink Man Woman
Directed by Ang Lee, 1994. A retired chef who is losing his sense of taste lives with his three modern daughters in Taiwan. They gather every week for traditional Sunday dinner and we watch them prepare intricate dishes that express their true feelings as they struggle to relate to each other and their differing tastes. It was remade in English in 2001 by Maria Ripoll rather nicely as Tortilla Soup starring Hector Elizondo as a Mexican-American restaurateur in LA.
Eating Raoul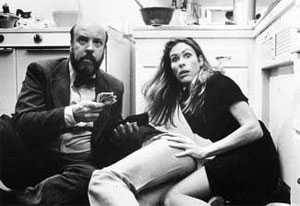 Directed by Paul Bartel, 1982. Paul Bland (Paul Bartel) and his wife Mary (Mary Woronov) dream of opening a restaurant, but they lack one thing: Money. Paul comes home from work to find Mary being attacked by a swinger who has rung the wrong doorbell. Paul knorks him with a frying pan, and they pocket his money. They have the bright idea that this could work again, so Mary begins running ads that attract sexually adventurous men, and after the frying pan treatment, they grow their restaurant fund (all this is pre-Craig's list). Their method of disposing of the bodies is appropriate for chefs in training.
Fried Green Tomatoes
Directed by Jon Avnet, 1991. Ninny Threadgoode (Jessica Tandy) tells the tale of Idgie (Mary Stuart Masterson), a head-strong young woman, her battered friend Ruth, and their Whistle-stop CafZÿ in Alabama the 1920s. We meet the hobos and poor black families they befriended. The food is great, but just don't eat the ribs.
The God of Cookery
Directed by Stephen Chow, 1997. In Chinese with subtitles, many of the jokes are aimed at the Chinese audience, and the story is full of Cantonese culture and history that went over my head. But there was pretty funny some stuff I got. A tale about the rivalry between chefs, The God of Cookery is a great title to earn, but hard to keep. Iron chefs with higher steaks.
The Harvey Girls
Directed by George Sidney, 1946. A tale of women who head to the wild west to open a wholesome Harvey House restaurant and their competition with the ruthless saloon owner. Judy Garland plays a disappointed mail order bride who becomes a Hardy Girl. With Angela Lansbury, Cyd Charisse, and Ray Bolger.
Home Fries
Directed by Dean Parisot, 1998. Sally Jackson (Drew Barrymore) works in a the drive through window of a fast food joint and she's pregnant. An Air Force fighter jockey takes a job at the burger place to see if she has been getting radio communication from his jet on her headset. You know what happens next. A formulaic romantic comedy with some funny insights into what happens behind the counter.
La Grande Bouffe
Directed by Marco Ferreri, 1973. Four good friends, a judge, a television producer, an airline pilot (Marcello Mastroianni), and a chef have decided that life is too bland for them and they will go out in style over a weekend of debauchery, with obscene amounts of food and sex. Cutting edge and creative at the time, it is an attempt at an allegorical cautionary tale about the dangers of wonderful things in excess and overindulgence, but after a while the sex and fart jokes become a bit, um, ham-handed.
Like Water for Chocolate
Like Water for Chocolate Directed by Alfonso Arau, 1992. A visual and gustatory feast, this magical Mexican romance is hypnotic with moments of hilarity. Tita (Lumi Cavazos) and Pedro (Marco Leonardi) are in love, but Tita's mother won't let her marry until her older sister does. So Pedro marries Tita's sister to be closer to his true love. Tita cooks the wedding cake and the guests are infected with her sadness and Tita learns that her cooking can cast spells. The ending redefines a scorching love affair.
Mostly Martha
Directed by Sandra Nettelbeck, 2002. This German film tells the all-too-true story of a driven chef in Italy with no personal life. Food dominates even her sessions with her therapist. Her life is upended when she takes in her orphaned niece. If it sounds familiar, it is because the story was reprised in 2007 by Catherine Zeta-Jones in No Reservations. As is usually the case, the original was better.
Mystic Pizza
Directed by Donald Petrie, 1988. The loves of three young waitresses, among them a very young Julia Roberts, in a pizza parlor in Mystic CT, where the fame of the pizza draws them in, mystically, from miles away. Then there's the snooty food critic who can't quite figure out what's in the sauce. He calls it splendid. I call it delightful.
No Reservations
Directed by Scott Hicks, 2007. Based on the fine German film Mostly Martha, which remains the better of the two. Kate (Catherine Zeta-Jones) is the domineering perfectionist neurotic chef at a trendy Manhattan restaurant driving everyone crazy, even the owner, who brings in a new chef, Nick (Aaron Eckhart), to help her, and perhaps replace her. "You bring in a sous chef from an Italian restaurant and I'm the one in therapy?" When her sister is killed, Kate takes in her niece and falls in love with her understudy and changes her personality. Right.
Night of the Living Dead
Directed by George Romero, 1968. Radiation from a satellite that has crashed to earth may have awakened the dead. And they're hungry. For human flesh. A ghastly black and white piece of genius that never crosses the line into pure camp, and manages to wrestle with such heavyweight issues as racism and the way technology is changing our lives.
Ratatouille
Directed by Brad Bird, 2007. A Pixar animated masterpiece. This time the star is a rat with a nose for fine French cuisine. He helps the cleaning boy, Linguini, become a famous chef and find true love. A cute story that attempts to pass along some messages about prejudice and dedication and the rat race of owning a restaurant, Ratatouille was written by people who clearly love food and spent time watching commercial restaurants work. Superb animation, and more than a few laughs. The bad guy is the restaurant critic, naturally.
Sideways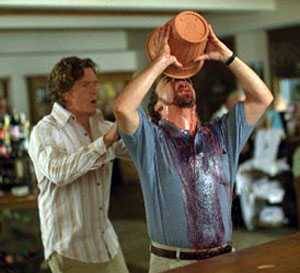 Directed by Alexander Payne, 2004. Jack (Thomas Haden Church) is getting married, so he and his buddy Miles (Paul Giamatti) head out to chase women and drink up as much of Southern California's wine country as they can on a final fling. Miles, a Pinot Noir devotee, tries to teach Jack, a heathen, about wine and food, while Jack tries to teach Miles about babes. They meet two women (Sandra Oh and Virginia Madsen) and things get complicated. There is a ring of truth to the story. Every wine lover knows a snob like Miles, and every woman knows a skirt chaser like Jack. The tasting room scene where Jack drinks from the spittoon is hysterical.
Soul Food
Directed by George Tillman Jr., 1997. For 40 years Mother Joe (Irma Hall) has served Sunday dinner and large heapings of love and laughter to her raucous family. The three daughters (Vanessa Williams, Vivica Fox, Nia Long) and their husbands (Michael Beach, Jeffrey Sams, Mekhi Phifer) clash, but young grandson Ahmed (Brandon Hammond) teaches them all the meaning of soul and food.
Soylent Green
Directed by Richard Fleischer, 1973. It is 2022, and New York City is in more chaos than usual. Forty million people are toiling there and eating only what they think is a soybean-based slop called Soylent Green. Thorn (Charlton Heston) is a detective trying to figure out who killed Soylent Green's manufacturer. Good twist ending.
Sweeney Todd: The Demon Barber of Fleet Street
Directed by Tim Burton, 2007. Based on Stephen Sondheim's smash Broadway hit musical, this gore gorged Gothic horror tale of Sweeney Todd (Johnny Depp), a revenge driven barber who murders his customers and his girlfriend, Mrs. Lovett (Helena Bonham Carter), who bakes them into meat pies. She sings "What's my secret? Frankly, dear, forgive my candor, family secret. All to do with herbs. Things like being careful with your coriander, that's what makes the gravy grander!" Sacha Baron Cohen almost steals several scenes as a rival barber.
Tampopo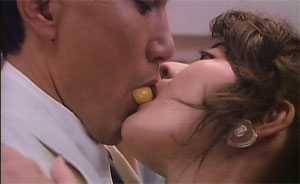 Directed by Juzo Itami, 1986. In Japan food is treated with religious respect, and ramen noodle lovers form a particularly devoted cult. Tampopo (which means Dandelion) is a young widow who runs a small truck stop. Goro, a trucker/noodle salesman with a cowboy hat calls on her account and they begin a quest to make the perfect bowl of noodle soup. In a sequence that may be the sexiest food scene ever, the two lovers teach us novel ways of using food, especially eggs. We also learn how to impress your boss by ordering in French, and of a dying woman's devotion as she cooks her family one last meal.
Tortilla Soup
Directed by Maria Ripoll, 2001. In an English remake of the delicate Chinese wonder Eat Drink Man Woman directed by Ang Lee, Martin Naranjo (Hector Elizondo) is a retired chef who has lost his sense of taste as well as his wife, and lives with his three beautiful, single, modern daughters. They cling to the tradition of an elaborate sit down dinner every Sunday. In fact, it is more than a tradition. It is a law. And don't be late. The food and the cooking is mouthwatering, and the spicy family problems are hashed out in the kitchen and dining room until things get complicated when Hortensia (Raquel Welch), takes an interest in Dad.
Volver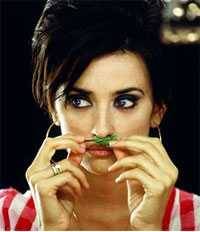 Directed by Pedro Almodovar, 2006. The great Spanish director takes Raimunda (Penelope Cruz) on a journey between present and past back and forth from Madrid to her childhood home, the tiny and windy village of Alcanfor de las Infantas. When a neighbor asks her to keep an eye on his closed restaurant while he is out of town, she reopens it and brings it, and the neighborhood back to life as she hires her friends. There is attempted rape, murder, mystery, comedy, an incredible color palate, and mysterious cookies. When her mother seems to come back from the dead, the viewer might get impatient with the direction of the story, but all is resolved cleverly and lovingly in the end.
Waitress
Directed by Adrienne Shelly, 2007. Jenna (Keri Russell), waits tables and bakes incredible pies. She knows the little tricks and hopes to win a contest so she can escape her abusive marriage. Then she gets pregnant, falls in love with her doctor, teaches him how to kneed the dough, and more.
A Walk in the Clouds
Directed by Alfonso Arau, 1995. Paul Sutton (Keanu Reeves) is back from WWII and meets a pregnant beauty in fear of her father's wrath when he finds out. To help her, Sutton decides to assist the family with the harvest of their vineyards in the California mountains before he goes off to college. Reaves is forgettable, but Anthony Quinn as the patriarch is brilliant. Beautiful scenery, spectacular, erotic photography, even of the grapes, and a sappy love story.
Who is Killing the Great Chefs of Europe?
Directed by Ted Kotcheff, 1978. A light-hearted silly mystery as we try to figure out why the great chefs of Europe are all being killed in a manner related to their most famous dishes. For example, the chef famous for pressed duck is found with his head smashed in a duck press. Robert Morley is perfect as the British food critic, and Jacqueline Bisset is luscious as the dessert chef famous for her bombe. George Segal must solve the mystery before the bombe goes off in his love interest's face. The story spotlights the competition between chefs and their hatred of critics. Score by Henry Mancini.
What's Cooking?
Directed by Gurinder Chadha, 2000. Four ethnically different families celebrate Thanksgiving in separate households in different ways. It sounds formulaic, but they pull it off with some genuine insight into what makes us different and alike. The treatment of the turkey and the meal is especially well done.
Willy Wonka & the Chocolate Factory and Charlie and the Chocolate Factory
Willy Wonka & the Chocolate Factory was directed by Mel Stuart and J.M. Kenny in 1971 and starred Gene Wilder. Charlie and the Chocolate Factory was directed by Tim Burton in 2005 and starred Johnny Depp. Both were based on the cautionary tale by Roald Dahl for greedy kids warning about the price for over indulgence, and both versions overflow with the brown stuff and other magical confections, as well as more than a taste of bitterness and creepiness to go with the sweetness. Each version has its strengths which far outnumber their weaknesses, but the Burton/Depp production has the advantage of digital special effects, always handy in a fantasy.
Woman on Top
Directed by Fina Torres, 2000. Isabella (Penelope Cruz) is a great chef in Brazil, but she has motion sickness and must be on top during sex. Her macho husband can't stand this and the marriage breaks up, so she moves to San Francisco where she becomes a popular cooking show host, and is pursued by bushels of men, including her ex. There's great music, Cruz is tasty, as usual, and she offers this bit of wisdom: "And the last and most important ingredient is to share it with someone you love."
Meals on reels in a supporting role
9 1/2 Weeks
Directed by Adrian Lyne, 1986. Art gallery director (Kim Basinger) and businessman (Mickey Rourke) practically empty the fridge on their bed. Food sex!
Animal House
Directed by John Landis, 1983. Food fight!
Annie Hall
Directed by Woody Allen, 1977. Neurotic Alvy Singer (Allen) and his girlfriend Annie Hall (Diane Keaton) have no clue on how not to cook lobster. At one point they drop it behind the refrigerator. "Annie, there's a big lobster behind the refrigerator. I can't get it out. This thing's heavy. Maybe if I put a little dish of butter sauce here with a nutcracker, it will run out the other side." At another point Alvy tells Annie "Two elderly women are at a Catskill mountain resort, and one of 'em says, 'Boy, the food at this place is really terrible.' The other one says, 'Yeah, I know; and such small portions.' Well, that's essentially how I feel about life – full of loneliness, and misery, and suffering, and unhappiness, and it's all over much too quickly."
The Blues Brothers
Directed by John Landis, 1980. There are two unforgettable restaurant scenes in this one. In one scene Jake (John Belushi) and Elwood (Dan Akroyd) manage to get seated at a posh French restaurant and disrupt the whole place, and in the other, they sidle up to the counter and place their orders with Mrs. Murphy (Aretha Franklin). Elwood: "I'll have some toasted white bread please." Mrs. Murphy: "You want butter or jam on that, honey?" Elwood: "No ma'am, dry." Jake: "Do you have any fried chicken ma'am?" Mrs. Murphy: "Best damned chicken in the state." Jake: "Bring me four fried chickens and a Coke." Mrs. Murphy: "You want chicken wings or chicken legs?" Jake: "Four fried chickens and a Coke." Elwood: "And some dry white toast please."
The Breakfast Club
Directed by John Hughes, 1985. It's detention for five high schoolers: The delinquent (Judd Nelson), the princess (Molly Ringwold), the brain (Anthony Michael Hall), the jock (Emilio Estevez), and the wierdo (Ally Sheedy). They have nothing in common, or so it seems. As they get to know each other and bond, a crucial scene is lunch, when their food reveals much about them.
Christmas Story
Directed by Bob Clark, 1985. Ralphie remembers his youth in the 1940s and his stunningly middle class Indiana family. One indelible scene portrays the unraveling of Mom's Christmas feast, which ends up in a Chinese restaurant.
Diner
Directed by Barry Levinson, 1992. Five 20-something guys hang out at a Baltimore Diner while life and love happens. Cast includes young Mickey Rourke, Ellen Barkin, Kevin Bacon, Steve Guttenberg, and Paul Reiser.
Dominatrix Waitrix
Directed by Stacy Goldate, 2004, only 45 minutes. A dominatrix human clone dressed in leather gets a job in a restaurant. All she is interested in is pleasure and pain. "Now give me my f*ing tip." Yeah, she waited on me too.
Falcon Breast
Directed by Wolfgang Gower, 1987. In this hard core X-rated comedy, adult film icons Nina Hartley and Peter North explore, in every way imaginable, the aphrodisiac properties of the wine made from Hartley's vineyard, Falcon Breast, a pun on the popular '80s TV prime-time winery-based soap, Falcon Crest. I don't think my wife knows that I own this on VHS tape. It was a gag gift, I swear.
Fatal Attraction
Directed by Adrian Lyne, 1987. When Michael Douglas breaks off his affair with the neurotic Glenn Close, she cooks him rabbit stew.
Five Easy Pieces
Directed by Bob Rafelson, 1970. A fine film having little to do with food except for one notable scene, when the young and rebellious Bobby Dupea (Jack Nicholson) orders an omelet with toast and coffee and is told they don't sell plain toast, just English muffins. They parry back and forth, and then he changes his order. "I'd like an omelet, plain, and a chicken salad sandwich on wheat toast, no mayonnaise, no butter, no lettuce. And a cup of coffee." The waitress replies: "A #2, chicken sal sand. Hold the butter, the lettuce, the mayonnaise, and a cup of coffee. Anything else?" Bobby: "Yeah, now all you have to do is hold the chicken, bring me the toast, give me a check for the chicken salad sandwich, and you haven't broken any rules." Waitress: "You want me to hold the chicken, huh?" Bobby: "I want you to hold it between your knees."
The Godfather (I, II, III)
Directed by Francis Ford Coppola, 1971-1975. So much blood, so much spaghetti sauce. There's a famous assassination in a restaurant, and Clemenza's advice on murder technique "Leave the gun. Take the cannoli."
The Gold Rush
Directed by Charles Chaplin, 1925. Chaplin is a prospector searching for gold, food, companionship, and love. The notable food scene is when Chaplin and another prospector, Big Jim, are starving in a cabin. For Thanksgiving dinner Chaplin boils one of his shoes and with great flourish, carves and serves Jim the tender upper part while he is left with the nail studded filet of sole. He twirls the laces like spaghetti and savors each bite as if it were prime, aged ribeye. Big Jim starts hallucinating, envisions Chaplin as a giant chicken, and attacks him. Chaplin is saved when a bear bursts in, joins the scrum, and is killed for dinner.
Goodfellas
Directed by Martin Scorsese, 1990. You can't have a mob film without lots of food. Killer cast with Robert De Niro, Ray Liotta, Lorraine Bracco, and Paul Sorvino. Murder makes these guys hungry. In this one there are numerous restaurant and dinner scenes, even a morbid discussion about food while digging up a corpse "Hurry up, will ya? My mother's gonna make some fried peppers and sausage for us." One of the best scenes is in the pen, when the boys get together to make pasta. Paul Cicero (Sorvino), uses a razor blade to slice the garlic so thin that it melts in the olive oil in the pan. In the pen.
Harold & Kumar Go To White Castle
Directed by Danny Leiner, 2004. A pair of stoners with the munchies set out for the White Castle. A modern version of a Bob Hope and Bing Crosby road movie loaded with gross out jokes, slapstick, and a few genuinely funny moments. Not many.
Indiana Jones and the Temple of Doom
Directed by Steven Spielberg, 1984. Indy (Harrison Ford) and Wilhelmina (Kate Capshaw) can't quite get down the feast's centerpiece, monkey brains.
Jamon Jamon
Directed by Bigas Luna, 1992. The incredibly beautiful Silvia (a young Penelope Cruz) finds herself pregnant by Jose Luis, the son of wealthy underwear merchants. They disapprove and hire the handsome Raul (Javier Bardem), who works at a cured ham producer to seduce her. The men fight it out with hams.
Lady and the Tramp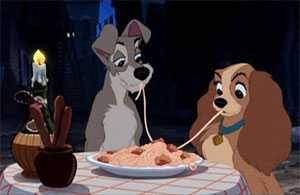 Three Walt Disney directors, 1955. One of Disney's best animations with unforgettable musical moments, among them the romantic dinner where the Lady and the Tramp dine on spaghetti to the tune of "Bella Notte" (This Is the Night) written by Sonny Burke & Peggy Lee (the siren voices several characters, most notably Peg, a very sexy dog). Sing along with me: "This is the night, it's a beautiful night, and they call it bella notte…"
Tom Jones
Directed by Tony Richardson, 1963. This bawdy romp is highlighted by a meal where eating becomes raunchy foreplay. Tom (young Albert Finney) and Mrs. Waters (Joyce Redman) attempt to sate one of their appetites by sucking on lobsters, slurping soup, lapping up chicken, gnawing on lamb shanks, and drinking the archetypical aphrodisiac, raw oysters.
Million Dollar Baby
Directed by Clint Eastwood, 2004. Maggie Fitzgerald (Hillary Swank), a trashy diner waitress who steals steaks from her boss, becomes a professional boxer under the reluctant management of Frankie Dunn (Eastwood), a curmudgeon in search of the perfect merengue lemon pie. Won Best Picture, Best Director, Best Actress, and Best Supporting Actor (Morgan Freeman).
Moonstruck
Directed by Norman Jewison, 1987. Loretta Castorini (Cher) is an aging but beautiful Italian American widow with a large family all under one roof. She is hoping to remarry, and she is engaged to the safe, but boring, Johnny Cammareri (Danny Aiello) when she meets his one-armed brother, the brooding baker (Nicolas Cage). Great romance and angst, often over meals and wine. A brilliant romantic comedy which won Oscars for Cher (Best Actress) and Olympia Dukakis (Best Supporting Actress).
My Dinner with André
Directed by Louis Malle, 1981. Two guys talk about their lives and the mysteries of life over a quail dinner in a restaurant. Sounds totally boring, but it will hold your attention.
Oliver
Directed by Carol Reed, 1968. In this toe tapping musical adaptation of the Charles Dickens novel about the orphans of London, Oliver Twist is sold to a gang of pickpockets after disrupting the orphanage by asking for more food. The song, Food Glorious Food, is one of many memorable tunes.
Pieces of April
Directed by Peter Hedges, 2003. Yet another Thanksgiving dinner for the parents doesn't quite go according to plan. Stars Katie Holmes.
The Silence of the Lambs
Directed by Jonathan Demme, 1991. Dr. Hannibal Lecter (Anthony Hopkins) is a man of vast appetites: "A census taker once tried to test me. I ate his liver with some fava beans and a nice Chianti." Yummmm.
Simply Irresistible
Directed by Mark Tarlov, 1999. Amanda (Sarah Michelle Geller) owns a struggling restaurant when she buys some magical crabs from a street merchant. Suddenly she is a great cook and meets the man of her dreams.
Vatel
Directed by Roland JoffZÿ, 2000. King Louis XIV is off to a three day party at the breathtaking Chateau Chantilly with his mistress Anne de Montausier (Uma Thurman) when the steward in charge of the festivities, a commoner named Francois Vatel (GZÿrard Depardieu), falls for Anne, and she for him. A grand spectacle.
When Harry Met Sally
Directed by Rob Reiner, 1989. The scene in Katz's Deli in NYC is a film classic as Meg Ryan fakes orgasm over a pastrami sandwich while Billy Crystal watches in disbelief and the lady at the next table (the director's mother) tells the waiter "I'll have what she's having." Go to Katz's and the actual table is marked with a sign commemorating the scene, which I am told diners often re-enact.
Suggestions from readers
Here are some additional films suggested by readers. I will add them as I screen them:
From Dave Pohl via Facebook: Also could have included Ang Lee's "The Wedding Banquet", "My Big Fat Greek Wedding", and "Joy Luck Club". Also, food and drink play a role in my favorite movie of all time, Bergman's "Fanny and Alexander". The Christmas Eve dinner scene is fantastic.
From James Michael via Facebook: "Monty Python's 'The Meaning of Life'. "I can't eat another thing!" "Oh, but they are waffer theen…"
From TeacherReaderCitizen via Huffington Post: There was a little movie called "The Bread, My Sweet" that was set in a Pittsburgh bakery owned by an Italian family. The movie's plot concerned a romance intended to make the family matriarch die happy, but the real star is the BREAD.
From LoreleiEve via Huffington Post: I just got back from the new Harry Potter and, as always, whenever the camera tracks lovingly down the length of those food-laden tables in the dining hall, I am amazed at 1) what those lucky students get to eat on a nightly basis, 2) whoever does the art direction/food prep (in all the Potter films), and 3) is it just me, or is there always something that looks like perky breasts in silver serving dishes? (In this one, they have whipped cream and a cherry on top.) What could the subtext possibly mean?
From Vickster via Huffington Post: How about Alfred Hitchcock's "Rope"? For those who haven't seen the film, it involves two young men who commit the perfect murder (or so they think), then celebrate by holding a dinner party, setting the food out on the chest that contains their victim.
From DemocraticVoter via Huffington Post: Another worth mentioning is The Last Supper.
From CARTERJ via Huffington Post: As Mildred Pierce (Joan Crawford) seats her guests at their table in her brand-spanking-new restaurant, named "Mildred's" of course, she hands them her menus and, as she takes her leave, casually remarks, "We have wonderful fried chicken". And then she walks. Earlier, reminiscing about those first horrible days as a waitress, but determined to make a life for her girls, including that rotten Veda, we hear Joan in a voice-over remarking, "I took tips and I was glad to get them."
From AlButerol via Huffington Post: You left out the French film "Delicatessen". This depicts a post-apocalyptic world where meat is very scarce and vegetarian terrorists roam the sewers. A butcher/landlord entices new tenants and then carves them up for sale as meat to the other tenants. As grisly as this sounds, the film is very funny and entertaining.
From David Nance via Huffington Post: I would like you to add two of my favourites to your list….Somethings gotta give!….and of course "Spanglish", absolutely a must see.
From LMPE via Huffington Post: What about "Stand By Me"? (barforama). There's also "Monty Python's Meaning of Life" (Mr. Creosote quite literally eats too much). A slightly less pleasant (but still worth seeing) one is "Ravenous", focusing on cannibalism.
From sexyrexy via Huffington Post: oh another great film.. THE RISE OF LOUIS IV.. by ROBERTO ROSELLINI.. loved it.. it captured the whole eating ritual at Versailles.. 14 courses, the norm.. no wonder they usually suffered from gout. where's Nora's own film about her marriage.. what's the title?? forget with likewise Streep & Jack Nicholson. oh yes.. HEARTBURN.. I must admit– it has the best recipe for SPAGHETTI CARBONARA.. I got fat testing it.. even my cat loved it. yummy!!!
From cemadi via Huffington Post: Another great film for food is "The Age of Innocence". It shows some of the best feasts I've seen on the screen.
From cminca via Huffington Post: I'd just add one–The Big Chill. Lots of scenes of eating, drinking, and talking around the table.
Special thanks to the Internet Movie Database from which I collected credits, cast information, and some quotes.
My memories of Julia
Seems like everybody who ever lifted a turkey by the wings has a Julia story. Here's mine:
In the 1961, when I was an undergrad at the University of Florida, I got a job at ABC Liquors and rapidly fell in love with wine. Then I fell for food.
In 1963, WGBH in Boston started broadcasting Julia's "The Art of French Cooking" on PBS. Between classes I would watch Julia in black and white. She had the only cooking show on TV at the time, and she was a hoot with her chirpy voice, playful demeanor on PBS, and her occasional hilarious forays onto Johnny Carson's Tonight show. She dropped things and caught her towels on fire. She made it OK to screw up which I did frequently.
She swept crumbs on the floor and added parenthetically in her "Oh, I can do that because they clean up after me, but you don't want to do it" and let loose with that otherworldly laugh all of which were famously and fabulously parodied by Dan Akroyd on Saturday Night Live in 1979.
Many years later, in the early 1990s, when I set up the Food & Drink Network (FDN) on AOL, at the time the most popular hangout for foodies online, Julia and her assistant were my guest in her first live online chat. It was a raging success, but sadly, my software failed to record a transcript of the evening.
She reciprocated by inviting me to her home in Cambridge, MA, for an evening with friends and associates. It was an unforgettable night. She and her assistants laid on countless hors d'oeuvres and finger foods accompanied by the newest rage, Jordan Cabernet and J sparkling wine from Sonoma, CA. But just being in the same room with her made me humble and giddy.
But she put me at ease instantly. I struggled to stifle the guffaws when she showed me the avocado green masonite pegboard walls of her kitchen where she often taped her shows. The pegboards were on the side walls, out of view of the cameras. Her pots and pans hung from hooks, and their shapes were outlined in marker so her staff would return them to their proper place. Just like my basement! I asked where she got the inspiration, and she said "it was Paul's idea, he said we should have matching workshops!" The whole kitchen has been re-assembled at the Smithsonian so you can see for yourself.
Much has been said about Julia's importance, and I can only gazillion the motion. She appeared on the scene after WWII, just about the same time television was becoming popular. She reminded former soldiers, who were becoming the nation's leaders, of the great breads, cheeses, and simple pleasures of the well herbed roasted chicken they had in Europe.
At the same time, the Boeing 707 made it fast and affordable for Americans to travel overseas, and many GIs returned and rediscovered the secrets of old world cuisine. Julia, the dishwasher, the emergence of American wine, and the Weber Kettle, all conspired to awaken our food consciousness and spark the gourmet revolution in the US: Cooking on TV, expanded food sections in newspapers, food magazines, culinary schools, great chefs, and fine dining for the masses. She influenced so many, among them this Meathead.
Julia stood 6'2″ tall and was an imposing presence, but she was really a giant.