Making the leap from hobby to business is crossing a huge chasm. Even if you don't go whole hog and trick out a food truck like this one in Seattle (photo courtesy of Wikimedia Commons). Many caterers start out with only a smoker and a grill loaded on a pickup truck.
No matter how well capitalized you are, you need to do it right. First of all, get a copy of the rules and regs for your state, county, and city. Each jurisdiction might have its own rules and licensing. And don't whine about government intrusion. I want them to make sure that the folks feeding me won't kill me. The food code is hard to understand so you might need to hire a consultant. Trade associations often have people who can help members, answer questions, and they often give classes. Join your state restaurant association to gain access.
Join the National BBQ Association. Their annual conference in February has numerous sessions on BBQ catering, cooking, competitions, and much more. It's also a lot of fun. I usually go. They also offer a mentoring program with students working for a few days by the side of a pro and their website has checklists and spreadsheets. The annual National Restaurant Association show in Chicago is a also good place to go to learn all about the food service industry. And this GrowThink has good info on its website and will sell you business plan and financial management templates.
To get licensed, your food preparation space must meet legal requirements. It will be inspected before your license is issued and periodically thereafter. The law requires you to take a food safety class. They are often conducted by ServSafe. The authorities can fine the heck out of you if you skip any of these steps.
This is a litigious society. If somebody gets sick, kiss everything you own goodbye. Even if your food wasn't the cause, a nuisance suit can cost a fortune. If a child touches your smoker and burns herself, you will be sued. You need a good lawyer and an insurance agent, and both should be experienced with food service issues. Your brother-in-law won't do. You should also form a corporation to separate your personal from business finances to limit your liability. You need general liability, products liability, automobile liability, and possibly liquor liability. You need contracts that guarantee you'll be paid and to protect you from last minute cancellations. Don't think about selling your first meal until you've done all this. Intelligent customers won't hire a caterer unless you can show you have proper licensing and insurance.
You need to locate suppliers. You can't make money buying your meat at the local grocery. You need to buy it where the groceries buy it, from wholesalers. You might need to establish credit with them if you can't pay cash for all the meat you need for the big graduation party.
You must buy professional grade tools and equipment that can take a beating and will not break down when you need them. And you need redundancy. If your cooker breaks down the morning of a client's wedding, you better have a backup. Fail to deliver on time and it's a guaranteed lawsuit. You can save money by buying used gear and there is a lot of lightly used gear out there since restaurants fail fast. But locating it takes research. You need cookers, cambros, chafing dishes, tents, fryers, trucks, refrigeration, storage, plates, first aid kit, utensils…
Security is an issue. Your pit is on wheels, and it may just decide to drive away in the middle of the night. How do you plan to prevent this?
Spotlight on our favorite products
Groundbreaking Hybrid Thermometer!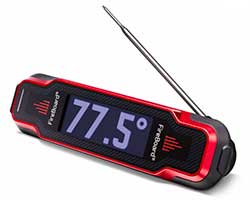 The FireBoard Spark is a hybrid combining instant-read capability, a cabled temperature probe, Bluetooth, and Wi-Fi connectivity. Couple that with high standards of design and workmanship and it's a "must own." Click here to read our comprehensive Platinum Medal review.
– THIS IS NOT AN AD –
You can't prep and serve a big party by yourself. You need employees. Finding talented and trustworthy people willing to work weekends is not easy. Theft of meat is a major problem is this game. They also need to pass safe service tests and be insured. Then you need a payroll service. A good accountant is a valuable asset.
You need a logo from a pro not a nephew, menus, a website, bizcards, marketing, uniforms, and promotion.
Remember, most restaurants cater, so you need to think about how you compete with them. Their brand is well known. They have a big building advertising themselves. Thousands of people eat there. How are you going to get customers? Pricing is crucial. Many businesses fail because they are not priced low enough to compete or high enough to make a profit. There are often ads for pricing worksheets and software in trade mags like Restaurant Hospitality magazine. Get them. Remember to price for paper, labor, mileage, and waste.
Another route to travel is the food truck or trailer. It is an expensive licensed mobile kitchen that you can park on street corners, at festivals, fairs, sporting events, or alongside the road. Of course you need permission for wherever you park and you may have to pay a percentage to the owner. You also need another place to store food and supplies and do prep.
You are often in a remote location. If you need more water, forks, charcoal, you might not be able to get them. You have to be self contained and self reliant. Are you willing to give the keys to your truck to the teenager helper to run to the store for charcoal? You have to know exactly what you are doing at all times.
Last, and least, is the food itself. Menu planning is an art. Sure your ribs are great, but do you plan to get to the site at 6 a.m. to cook from scratch for lunch, or should you cook the day in advance, chill them, and re-therm them on site? Do you know what re-therm means? What about a 12 hour brisket cook? You can't be pulling a hot smoker down the highway. Do you know where to get a whole hog? Can you cook one? That's a popular request. Is garlic bread on the menu? If you cook it at home base it will be a soggy mess when it is time to serve it. Can you handle a crowd of 100 that includes 20 children, 5 vegans, 3 gluten frees, 6 observant Jews, and 6 Muslims? And the smart aleck walking around telling everyone your pulled pork can't hold a candle compared to Cozy Corner in Memphis.
And heaven forbid you decide to open a brick and mortar restaurant! You the old gag, "How do you make a small fortune in the food business? Start with a large fortune and open a restaurant." If such foolishness should cross your mind, here is a great article titled  "Eight Things I Wish I Had Been Told Before I Opened A Restaurant."
I have just scratched the surface. There are numerous books and publications on catering with more detail. If there is a culinary school near you, visit the library. OnCue Consulting runs a series of classes on catering and restaurant business. Here is an article on the costs of opening a restaurant from Bankrate. They do a bang up job. Do your homework.
I'd wish you luck, but you need a lot more than luck.