The Food Lab, Better Home Cooking Through Science by J. Kenji Lopez-Alt
W.W. Norton & Co., 960 pages, 250 recipes, more than 1,000 photos and charts and illustrations
This is the best cookbook I own. It has also won the Cookbook of the Year from the International Association of Culinary Professionals, and a James Beard Award.
I am a huge fan of Kenji and you will find him cited many times on our pages. He went to MIT, worked in top restaurant kitchens, worked in the test kitchens of Cooks Illustrated magazine and TV, and is the most popular contributor to the extremely popular website, SeriousEats.com. This New York Times Best Seller is much like his SeriousEats articles: Funny, informative, fascinating, creative, and precise. Kenji understands food science and culinary arts, two specialties that rarely inform a single cook at the same time. A self-proclaimed nerd, you will want to make sure you have on hand a digital thermometer, a digital scale, and a sous vide machine will come in handy too.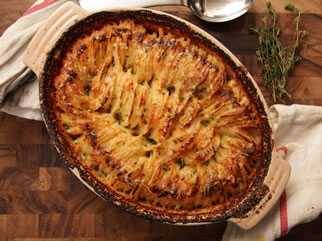 This huge volume can compete with any other all-in-one cookbook in my large collection. It beats Joy of Cooking, How to Cook Everything, The Gourmet Cookbook, The New Best Everything, La Technique, even Escoffier. He starts with explaining energy and heat transfer, covers pots and pans and knives, and all the basic tools of the trade. The chapter on frying alone is worth the price of admission. Then there are the recipes. He focuses on the beloved American classics and shows that often the traditional methods can be improved upon. His 2 minute foolproof Hollandaise sauce is a revelation.
"We all love potato gratin, correct? The creamy layered casserole of potatoes and cream with a crisp browned top. We also love Hasselback potatoes, those cute side dishes achieved by making thin, parallel slices almost all the way through a potato, stuffing butter and cheese between them, and roasting them until golden brown and crisp. What if I were to combine the two into one gloriously crispy, creamy, crunchy, cheesy casserole?" And so he creates the "Cheesy Hasselback Potato Gratin." I've done it. It. Is. Spectacular.
The book is organized a bit differently than normal. Instead of chapters on, say, chicken, beef, etc., they are sometimes organized by cooking method, sometimes by type of food. After you dive in you see his logic, he is teaching concepts, but I have found myself relying heavily on the index since chicken can be found scattered all over the place.
One of his strengths is his ability to explain complex physics and chemistry in lay terms. "Like grandmothers and movie theatres, some onions smell more than others."
If you have spent any time on this site, you will understand my admiration for Kenji. We approach food and cooking similarly. We both rely heavily on measuring things, we both do a lot of experimenting, we both take our own photos (seriously), we both have a corny sense of humor, and you will often see our dogs in the kitchen. We are brothers by different mothers.
My only complaint? The white cover is already covered in gravy stains and fingerprints. But that's on me.
Buy The Food Lab, Better Home Cooking Through Science by J. Kenji Lopez-Alt from Amazon