Available only at Cabela's stores or online, Cabela's Polar Ice Cap 40 Equalizer Cooler simply blew me away and excelled in almost every testing category.
From its freezer-grade gasket, barrel-shaped rubberized T-shaped handles that each feature integrated bottle openers, to the dual handle system, non-skid feet that reduce heat transfer, molded lock eyelets, multiple tie-down points, and large leak-proof drain spigot with its stainless-steel lanyard, this is a well-crafted and cleverly designed product.
When you close the airtight, lid you will hear a hiss of pressure which indicates a vacuum inside the cooler, and the handy pressure relief valve makes it easy to open, equalizing the inside and outside pressure. The pressurized interior is one reason this cooler did so well on the ice and heat retention tests. This cooler is also IGBC (Interagency Grizzly Bear Committee) certified against destruction by grizzly bears.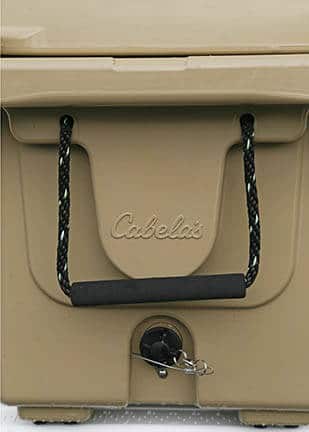 Test Details:
Ice retention. Absolutely blew away the competition, as there was noticeable ice in the cooler until the morning of Day 16!
Heat retention. Again led the pack, keeping the ham temperature safe for 4 hours and 20 minutes.
Leakage/Dropped Damage. Did not leak when turned over on its side or top, or dropped from pickup truck, and only suffered minor abrasions on the lid and one corner.
Hinges, latches and lid. Molded and poly cord. The T-handles can be tricky and take a bit of strength to open and close. The lid is comfortable and safe to either sit or stand on.
Drain efficiency and speed. Drained 100% of the water in :52 seconds.
Handles. The only dual system of handles on any cooler we tested, including both molded handles and rope handles.
Dimensions. 32"L x 18"W x18.5"H. 38 quart capacity.
Weight. 28.8 lbs.
Extras. Dolly pin latch retainer for use with the optional dolly.
Warranty. Lifetime Unlimited Warranty (you must keep your receipt).
Cost. Approx. $250
Country of origin. USA
Pitmaster Club Member Reviews
Cabela's All the Way!!! I love mine as a cooler and cambro. Field & Stream did a test vs Yeti and the Cabela's Polar outperformed all. Best cooler I have ever owned. – Mattcotool, club member