YOU ARE HERE >> AmazingRibs » Ratings & Reviews » Ratings Reviews And Buying Guides » BBQ Tools Toys And Accessory Reviews » Gloves Cut-Resistant » Cleanpower (4544) Safety Cut Proof Stainless Steel Metal Mesh Butcher Glove Review
Cleanpower (4544) Safety Cut Proof Stainless Steel Metal Mesh Butcher Glove Review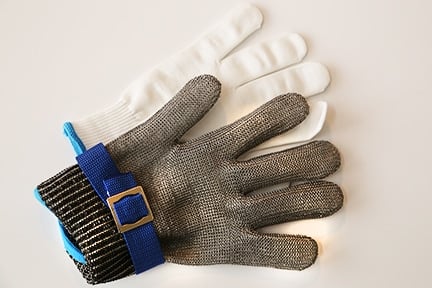 Add an extra level of safety when using knives with a quality cut resistant glove.
The Cleanpower (4544) Safety Cut Proof Stainless Steel Metal Mesh Butcher Glove is constructed from woven stainless steel wire mesh and comes with a white cotton glove for comfort and cleanliness.
It's cut and stab resistant, ambidextrous, and has a high protection grade of 5. The elastic cuff and adjustable wrist strap help the glove fit various hand shapes. Order one size smaller if you aren't going to wear provided white cotton glove underneath. This glove can withstand being chemically cleaned with cleaning products used for food processing equipment. It should be air dried. Caution: the glove will conduct electricity so be careful around power tools. Available in S, M, L and XL. Sold individually, not in pairs. Expensive.
Protection and Performance
Back-of-hand protection – Excellent, no penetration
Cut protection in palm area – Excellent, no penetration
Finger protection – Excellent, no damage
Puncture protection – Two chain links slightly bent, no puncture
Durability – Very durable
Grip
Wet – Very good
Greasy – Slightly slippery
Consistency – Able to grip strongly
Comfort/Fit
Overall comfort – Very comfortable with and without inner lining glove
Overall fit – Very good
Dexterity – Easy to use, no loss of dexterity
Published On: 9/27/2018 Last Modified: 4/26/2021
Rick Browne, Ph.B.

-

Rick Browne does product testing and recipes. A renowned TV cooking show host, photojournalist, and author of 16 barbecue books, he was the creator, host, and executive producer of public television's popular Barbecue America TV series, a cooking and travelogue highlighting the world's outdoor culinary landscape. It has aired on more than 230 stations.

Browne has [...]

---