One of the best known outdoor brands, Coleman offers a quality cooler for a fraction of the price of high end coolers.
The Coleman Xtreme Wheeled 50-Quart Cooler is perfect for most weekend or 1-2 day cooling needs. At one-quarter the price of our other reviewed coolers, the cost-to-performance ratio is more than adequate for many needs. With no latches and only marginal hinges, this is not a sturdy cooler.
In fact, it exploded water in the drop test. Surprisingly, it came near to matching one of the premier coolers in the ice and heat retention tests, despite costing an amazing 20% of several of them. This cooler doesn't have a ton of bells and whistles, isn't particularly sturdy, can't be locked, and is pretty slow to drain.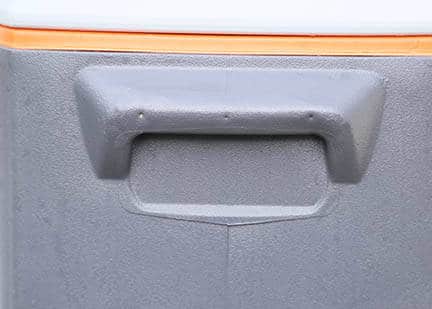 Test Details:
Ice retention. All ice gone in 7.5 days.
Heat retention. Ham temperature dropped to 145˚F in 2.3 hours.
Leakage/Dropped Damage. A flood of leakage, as there is no latch, so when the cooler was turned on its side or hit the concrete after being dropped from the truck, the lid flipped completely open, and the water exploded out. It suffered abrasions on top and one side.
Hinges, latches and lid. Hinges are screwed into the plastic body. There is no latch. Lid could be sat on but I'd hesitate to stand on it.
Drain efficiency and speed. Drained in 1:38 min., approx. 8 oz. water left after draining. Drain plug is attached with plastic tab.
Handles. Extending handle, as this is a cart, and molded handles.
Dimensions. 22.6"L x 17.6"W x 17.7"W
Weight. 12.1 lbs.
Extras. Four molded cup holders in lid
Warranty. One year limited warranty (Keep your receipt)
Cost. Approx. $65 to $75
Country of origin. Wichita, KS, USA
Pitmaster Club Member Reviews
I have the 2 Colemans in your pic, the rectangle one on top and the square one on the right (except mine are light blue instead of grey). They're no YETI OR RTIC, but for their price I like 'em just fine, especially when they're on sale at Walmart for $20 instead of $60. They keep my beer & groceries cold for my 3-4 day camp trips, even one trip when it was 93˚F and sunny every day still had plenty of ice left over. Had I spent hundreds on a YETI my ice would've still been there too, possibly more of it, but I couldn't have afforded the beer. —Huskee, Mgr., Pitmaster Club