Dan's passion is the science of food and the art of hospitality. As evidence, he is on a life quest to travel to learn 50 cuisines from around the globe. Over the past 20 years on that quest, Dan has attended 30 cooking schools in 20 countries, collecting nine different styles of BBQ grills, ovens, and smokers during his travels.
To fund his cooking hobby, Dan is a Senior Advisor at McKinsey and Company, focused on the future of food and restaurants. Dan is also an active angel investor and board member in food and restaurant tech, having previously been the Chief Commercial Officer of Focus Brands (6,000 restaurants in 60 countries) and Chief Marketing and Digital Officer of Arcos Dorados (franchisee of 2,400 McDonalds in 20 countries). Earlier in his career, Dan was a senior executive at Google.
Spotlight on our favorite products
Groundbreaking Hybrid Thermometer!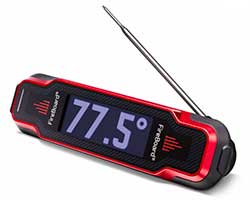 The FireBoard Spark is a hybrid combining instant-read capability, a cabled temperature probe, Bluetooth, and Wi-Fi connectivity. Couple that with high standards of design and workmanship and it's a "must own." Click here to read our comprehensive Platinum Medal review.
– THIS IS NOT AN AD –
Dan is a Fellow at the Culinary Institute of America, a Board Member of The Giving Kitchen (James Beard 2019 Philanthropist of the Year), and a Board Member of Zotea.org (a non-profit cooking school in a remote beach jungle of Colombia).
Dan also has a competitive streak: He played semi-professional rugby over a 15-year career in the top leagues in the United States, Brazil, and Chile and is now an avid Crossfitter. He lives in Atlanta with his wife, two daughters, and their dog, Dulcinea.