This one's for the pros who need to shred a lot of pork butts, briskets, turkey breasts or other meat on a daily basis. It's also great for making mashed potatoes quickly. In short, this is the Ferrari of meat shredders.
It consists of a 10" long stainless steel rod with a round disk on one end, through which six 1-3/4" posts protrude. You place the rod in an electric or battery-operated hand drill, tighten the chuck and then power your way to quickly shredded meat, poultry, veggies, or just about anything else with very little effort on your part.
I put a 10 lb. pork butt (slightly undercooked) in a food-safe bucket, inserted the shredder wand through some tin foil, then pulsed the electric drill for 10 seconds, moving it around the bottom of the bucket. When I looked under the foil, the entire roast had been shredded into perfect size shreds of pulled pork. 10 seconds!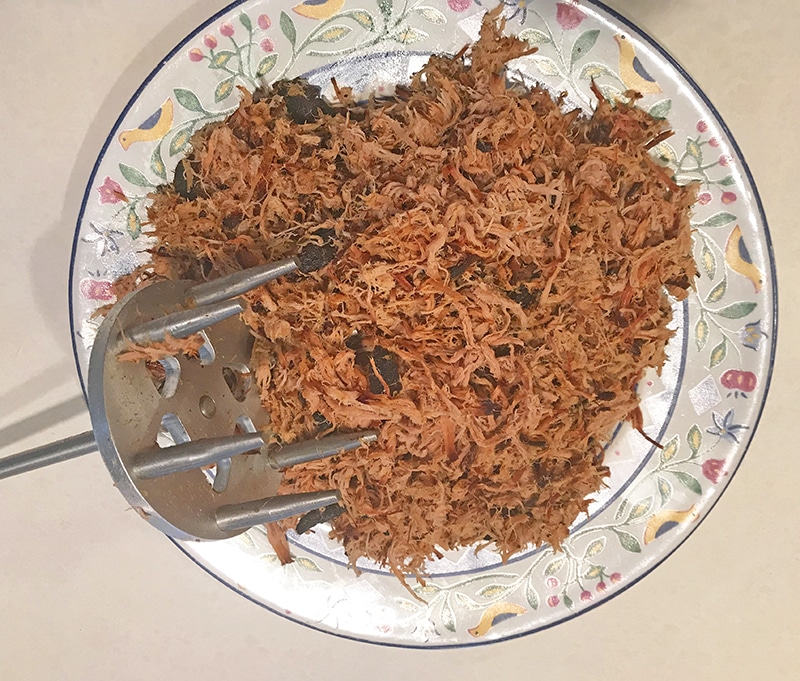 This solid steel unit seems indestructible, is easy to clean, and makes short work of a task that would take 100 times longer (and much more effort) with a hand shredder. There are several iterations of this device but I prefer the solid rounded posts versus another versions that use six blades instead of posts. Of course, this sort of shredding power comes at a cost that's significantly higher than plastic handheld models on the market.