The K1000HS is Kalamazoo's largest model with 1012 square inches of primary cook surface, four immense Dragon Burners and two Infrared Rotisserie Burners. All models were redesigned in 2012 for a sleeker, less industrial look. In keeping with their motto, "Never Compromise".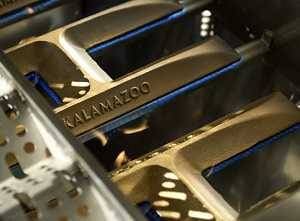 Kalamazoo continues to overbuild with top quality 304, heavy gauge stainless steel. The K1000 weighs over 600 pounds. The lid alone is about 75 pounds. At over 13 pounds apiece, new generation, lead free, cast brass Dragon Burners, producing 25,000 BTU each, (see right) replace the previous stainless steel bow-tie burners. Kalamazoo points out all BTU ratings are based on use of natural gas.
Gas fired temperatures range from 150F to over 700F. For James Beard award winning Chef, Rick Bayless, the Hybrid Fire Grilling Drawer is, "The feature that really puts Kalamazoo over the top". This drawer pictured below, which slides between the main burners and grates, is a bed of slotted heat tents. Empty, the tents radiate and disperse gas heat evenly to the grates. Loaded with charcoal or wood, they provide the best of both worlds with an extended temperature range of 150F to 1,200F. Our Heat Flux rating is based on use of the four main burners only.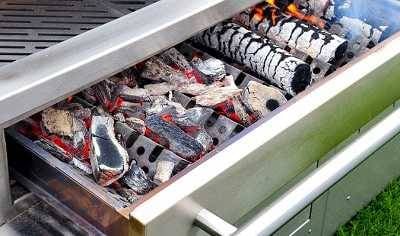 Buyers get a choice of cooking surfaces (below right). From stainless steel rods to 1/4 inch thick stainless slabs that are laser cut in different patterns optimized for meat, fish or vegetables. The meat pattern has large diagonal slots, and functions much like standard steel rod grates by producing sear marks where meat contacts metal and allowing maximum exposure to flame through the large open areas. The fish pattern is a series of thin, curved slots that imply fish scales.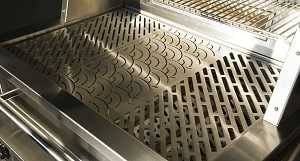 The vegetable pattern resembles the meat grates except the diagonal slots are much thinner. I expect performance and function of the fish and vegetable grates are similar with the difference being largely cosmetic. Both support delicate foods like fish while still allowing some exposure to the flame below. Both grill small items like shrimp and asparagus without the need for skewers or a grill basket. Both can be used for blackening, pan searing and stir frying. A combination of rods or meat pattern with fish or vegetable patterns is ideal for 2-zone cooking. Personalized initials, logos or other images can be custom cut for all three laser grates.
A stainless steel ignition burner runs from left to right to light the main burners. BTU rate varies with grill size. We couldn't get specifics, but we are told the ignition burner can double as a heat source for low and slow cooking in the 185F to 225F range. The ignition burner itself is lit by a hot coil ignition system hidden within the grill for protection against the elements. Infrared rotisserie burners also use their own hot coil electronic ignition. The whole system runs off AC power with a battery back-up.
All models include an internal, chain driven rotisserie with motor mounted inside the cabinet and infrared back burners. All have ambient control panel lighting and flip-up warming racks. You can choose natural gas or bulk liquid propane, but these guys suck up a lot of fuel so giving them a dedicated gas line is a good idea.
Unlike other built-in grills that are drop-in heads for permanent installations, Kalamazoo built-ins extend all the way to the ground to accommodate their signature, deep firebox pictured below. The deep firebox is meant to deliver more even heat to the grate and enhanced heat circulation for roasting and smoking. It extends downward in a funnel shape and terminates several inches above the cabinet floor. Ash, grease and debris funnel down to a large cleanout pan with handles. The hood extends upward with a height equal to the firebox depth, placing the grate precisely midway. There is an adjustable vent at the top to enable heat and smoke control for charcoal and wood BBQ grilling.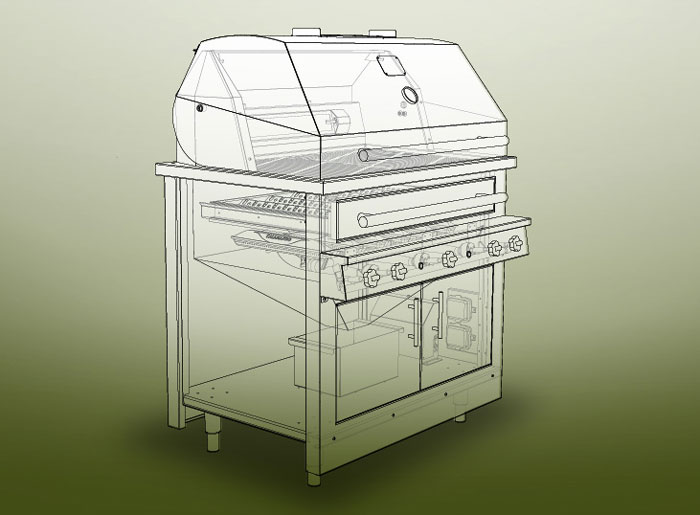 "We don't make drop-ins." declares Russ Faulk, VP of Marketing and Product Development at Kalamazoo. He views their grill cabinet not as a storage space, but as an integral frame to support his massive cookbox. Indeed, when Faulk joined Kalamazoo the firebox funneled toward the back of the cabinet to make way for additional storage. Faulk quickly redesigned the firebox to be symmetric with the hood and funnel down to the middle of the cabinet for better air flow. Faulk disdains bells and whistles, which he dismisses as gimmicks, and focuses on cooking performance. And the man can cook! He invited me to lunch recently and whipped up a feast of grilled octopus, pork, chicken and vegetables in about a half hour. I saw, felt and tasted the intense searing heat and sweet smoky indirect cooking capability of Kalamazoo. Furthermore, if you're looking for new recipe ideas, I recommend his book, Cook:Out.
Kalamazoo has been in business over a hundred years. Kalamazoo Sheet Metal began making custom food and dairy processing equipment in the early 1900s. The "Dairy Standard" required flawless fit and finish for stainless steel welding so equipment could be easily cleaned and kept free from bacteria. This craftsmanship transferred well to fabricating outdoor kitchens. For example, a small, seamless rain gutter surrounds the opening of every drawer and door to keep cabinets weather tight. This same design was used to protect electric enclosures on dairy equipment that needed to be washed down on a regular basis. It allows Kalamazoo owners to store items like towels, spices, trays, glasses and dishes outside regardless of rain. Their extensive outdoor kitchen line includes storage cabinets, warming cabinets, refrigerators, freezers, wine chillers, ice-makers, cook tops, sinks, keg tappers, a counter-top artisan pizza oven and a dishwasher. All are modular with uniform height, depth and adjustable legs to compensate for uneven surfaces.
Although beloved by chefs, you won't find many Kalamazoo cookers in restaurants. Their business is predominantly residential. And though they offer three grills on three different stands for a total of nine models, this is just a starting point. They don't pre-build and warehouse a lot. Most orders begin as a custom outdoor kitchen drawing. Then everything is built to order. When inspection is complete, each grill is signed by the people who made it, then packed fully assembled in large wooden crates and shipped direct from the factory in Kalamazoo. Grill prices range from around $10,000 to $20,000.
Built-in models are mounted on integrated frames with doors and adjustable legs. Legs may be concealed with optional Toe Kick Panels. We advise against permanent brick and mortar installations of grills and smokers and recommend using stand-alone systems which can be easily replaced should your needs change. However, the folks at Kalamazoo contend they strive to get it right the first time with all of their clients because, practically speaking, most don't elect to make changes after the project is complete. Kalamazoo views the grill as the heart of an outdoor kitchen and tries to match the cook with the cooker by asking questions like, "What kind of an outdoor cook are you now and what kind would you like to be in five years"?
Freestanding models use the same integrated frames as built ins, but heavy duty casters replace legs and side tables are added. Freestanding models are also offered with dual 16,000 BTU cook top burners on an additional attached cabinet. A side mounted offset smoker box is available as a factory installed option for freestanding models only.