The Profire division makes 10 stainless steel grills that can be dropped into outdoor kitchen counters or into rolling carts that ProFire makes.
First of all, their naming nomenclature is confusing. They make three lines of grills: The PFDLX Series, the Professional PF Series, and the LX Series. They sent me their Professional PF Series 36″, an infrared rotisserie burner in the rear, and two side burners to test. It is confusingly named DLX but it is not a part of the LX series and code named 48 because of the 48″ width of the body not the cooking surface. This unit's six main burners are said to produce 11,000 BTUs each (66,000 total), the rotisserie burner is an additional 11,500, and the two side burners are 15,000 each.
It came with the PFDLX Series stainless steel cart which took me about an hour to assemble, was not difficult, and I occasionally needed to call for an extra pair of hands, typical for a large grill of this sort. Made in the USA, the cart and the head are solidly built from high quality stainless steel and the welding and grinding are first rate. The four casters are good size and fairly heavy duty, and two are have locks. It has two well built doors on the cart and plenty of storage with a shelf and a nifty feature, a sliding shelf on ball bearings that makes pulling out the propane tank to replace it and putting it back super easy. There is also a natural gas version available. There are two side tables that can be folded down for storage and they are much more sturdy than folding side shelves on most other grills. The shelves are 22″ deep by 13″ wide making the whole unit with shelves 74″ wide. The Professional Series has a "Limited Lifetime" warranty against rust through for the body, top, lid, cart, grids, and burners. Other series have more limited warranties.
Rather than funnel grease to an easy to remove small collection pan as many other gassers do, the grease tray is almost the full 48″ wide, and very awkward to remove from the front. If you do not cover the grill when it is not in use, or if it rains while you are cooking, the grease tray can fill with water and it is almost impossible to remove it without spilling water and grease all over the place.
It is advertised as having a 36″ wide cooking surface totaling 714 square inches, but the cooking surface actually measures only 34″ x 20.5″ for 697 square inches, and only 16″ of the depth is fully usable because the rotisserie burner overhangs 4″ of the cooking surface leaving only 2.75″ clearance above the grate at the back, enough to fit a burger or steak, but not enough to flip it (see below).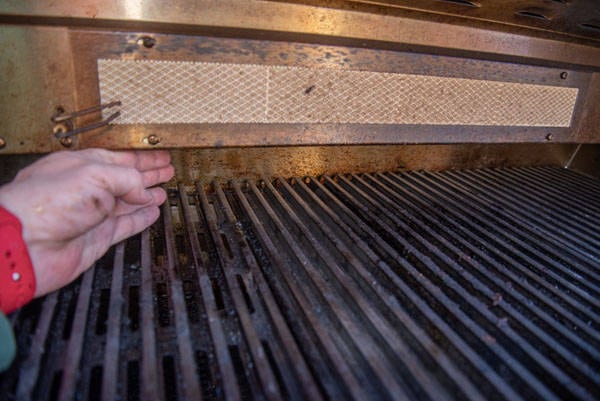 Realistically the fully functional cooking area is 34 x 16″ or 544 square inches, 76% of the advertised 714. There is an upper 200 square inch "warming rack" that is easy to remove. It has three knobs that control the six stainless steel burners with a manual push button battery-operated spark generator ignition. Ditto for the side burners and the rotisserie burner. The side burners are heavy duty cast iron and hot enough that I can put my cast iron griddle over them and fry potatoes easily.
It comes with three seriously heavy duty stainless steel grate sections or you can option to get their "Sear Magic" hard coated anodized aluminum grids which are very much like our favorite third party grids from GrillGrate. They can be flipped upside down to make a flat top with holes to let smoke through. I strongly recommend you get the "Sear Magic" grates if you buy this unit.
Below is a picture of the inconsistent heating pattern with the stainless grates.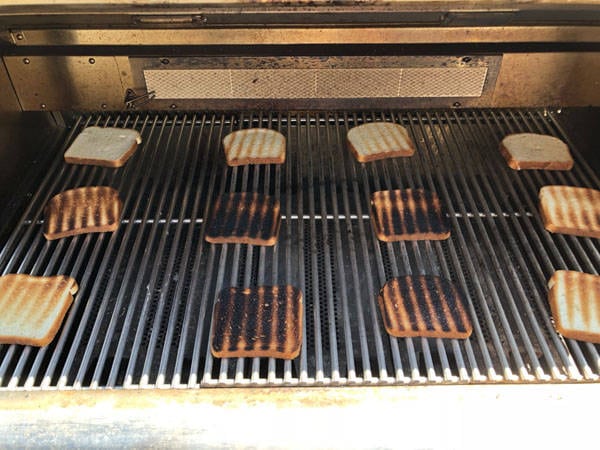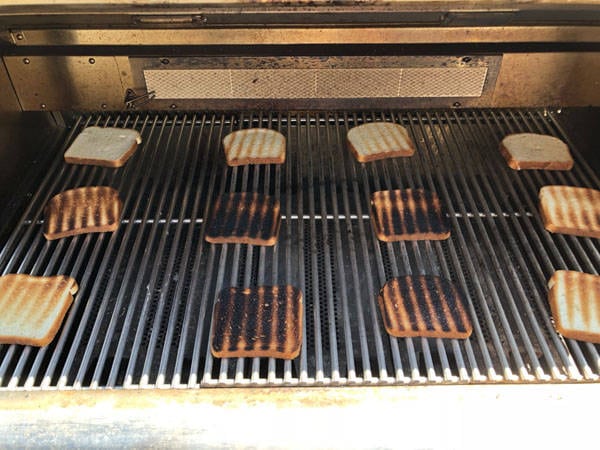 Here is a picture of the heating pattern with the Sear Magic grates. As you can see, they do a good job of distributing the heat and evening out the hotspots. If you buy this grill you should upgrade to the Sear Magic grates.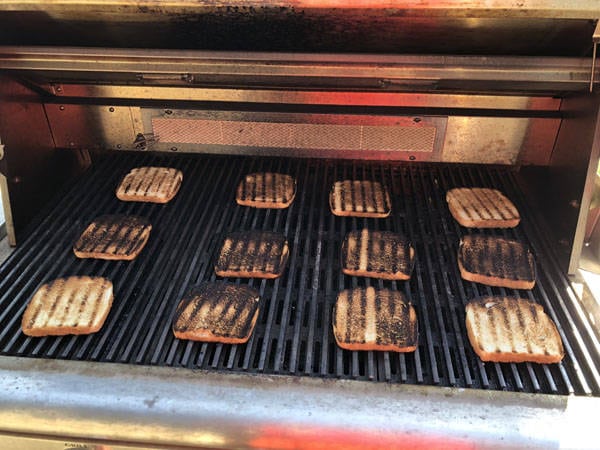 The roll top hood is double thickness on the top for insulation, but there are huge air gaps in the back and sides so if you want to smoke you will need to add lots of wood. This is typical of gas grills due to gov regulations. There are two halogen lights inside the cooking chamber but they are not battery operated so you need to plug the unit in to use them.
The rotisserie motor is heavy duty but mine was very hard to slide onto and off the mount. Some rotisseries come with a counterweight to balance the load, like balancing tires. This does not.
The dial thermometer is mounted low near the cooking surface on the far right, an excellent location so it might be useful if it was accurate. It was high by 40°F when it read 325°F, but then most bimetal dial thermometers are inaccurate. I discarded mine and inserted a digital probe. That is why we strongly recommend you Best Thermometers For Food And Cooking for all grills.
Cooking instructions are flawed, but then most cooking instructions that come with grills are not expertly written. They perpetuate the myth that searing seals in juices. It does not. Click to learn more. They tell you to salt after cooking not before because salt dries out meat (salting before is the concept behind brining and it helps retain moisture), and they recommend target temps sure to result in shoe leather (145°F for steak, almost well-done). Please don't use their recipes.
As is the case with most gas grills it is not good at creating an all-over dark sear on a steak. The Sear Magic grates make lovely well defined grill marks, but as we explain in this article we want more Maillard reaction than that.
We thank ProFire for providing this model for our tests.