Arizona BBQ Outfitters Scottsdale Cooker Review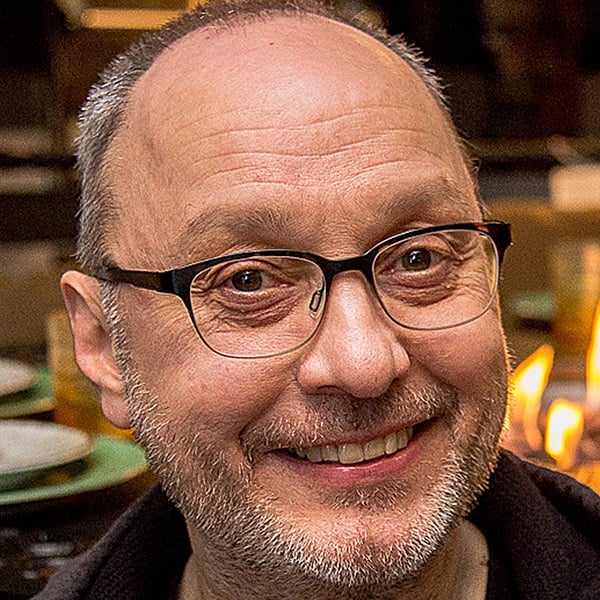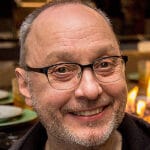 By: Max Good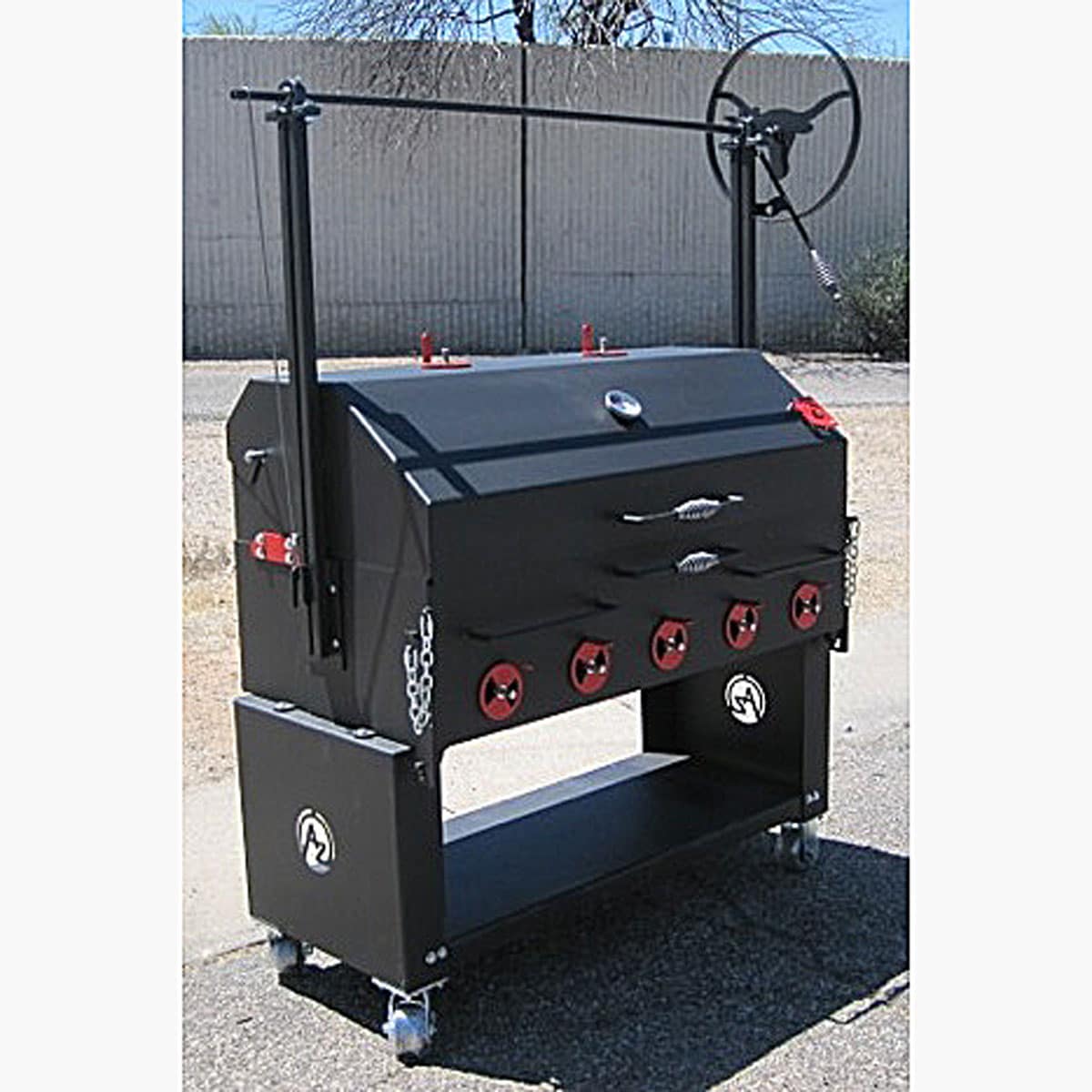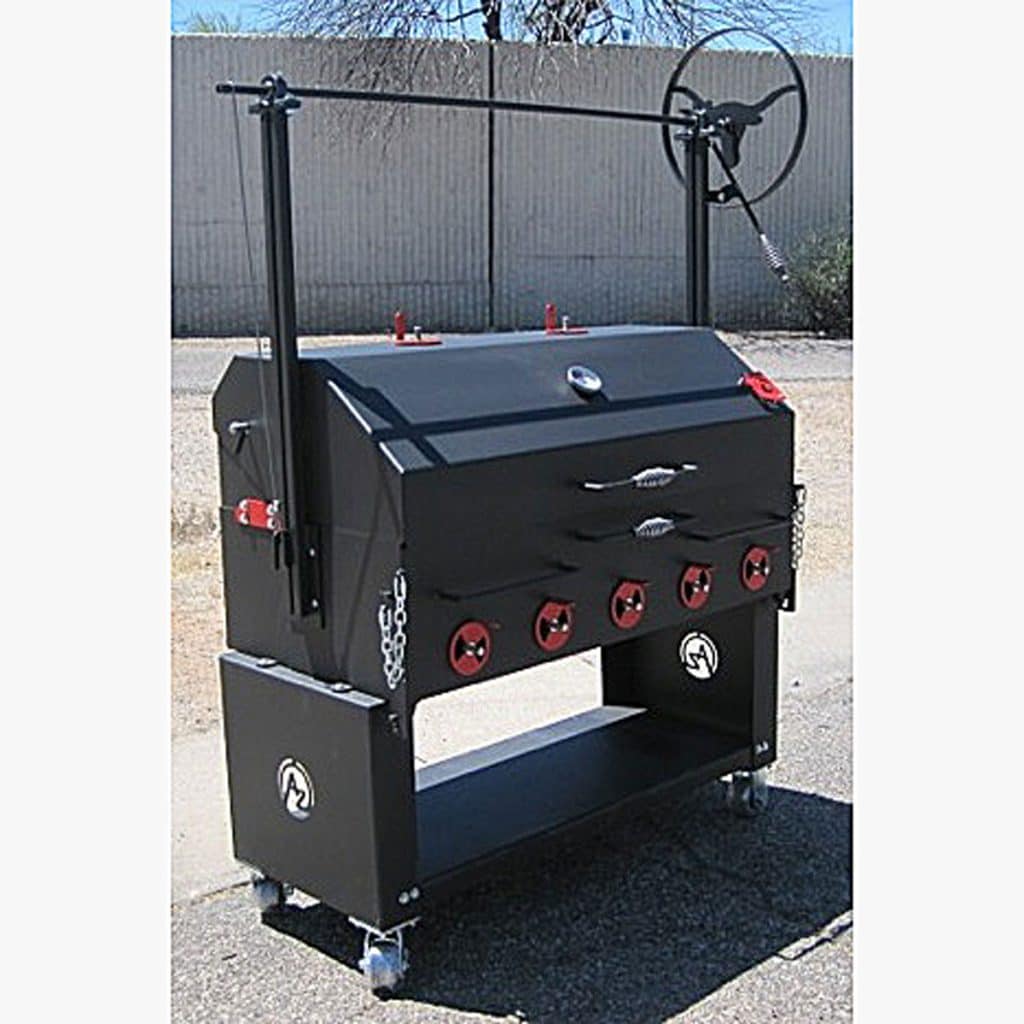 Arizona BBQ Outfitter's Scottsdale Cooker is a clever design that melds an adjustable height charcoal grill with a Santa Maria, vertical lift grill. Most vertical lift grills have no hood, which limits their capability to some degree. Scottsdale employs a removable hood and back windbreak to provide the best of both in one. Hood off for grilling Santa Maria style moving the vertical lift cooking grate closer to or further from the heat, hood on for BBQ roasting and smoking. Either way the grate height can be adjusted with the large wheel suspended above the cooker. The entire front of the firebox drops down so one can easily tend the fire.
The firebox is constructed of 3/16″ steel and the rest of Scottsdale is 10 gauge. It can be removed from the frame should you decide switch from free standing to built in. Our posted MSRP is for the 24″ x 48″ model, a 24″ x 42″ "Shorty" is available for a couple hundred bucks less. The cook surface is split into two grates for additional versatility. Use Argentine V-shaped grates that divert fats and juices into a removable trough on one side, then remove and replace the second grate with Arizona Outfitters custom fit WOK or cast iron skillet on the other side. Standard wire grill grates are also available.
Five dampers run across the front and two are positioned on top of the hood. Use wood, charcoal or a combo of both. ABBQO will even make a, *gasp*, gas model at your request!
Arizona owner, David Gonzales, shows off his wares below.
Model:

Scottsdale Cooker

Item Price:

$ 2461.00

Made in USA:

yes

Review Method:

Researched it from Afar
We have researched this product from afar by gathering info from the manufacturer, owners, and other reliable sources, with our BS meters on high.

Primary Function:

Grill, Smoker, Combination Grill and Smoker, Pig or Lamb Roaster, Drop Ins

Fuel:

Charcoal, Logs

Primary Capacity:

1152 square inches
Published On: 10/15/2014 Last Modified: 2/22/2021
Max Good - Max Good, AmazingRibs.com's Vice President of Product Reviews & Keeper of the Flame, is the man in charge of finding the best products for the AmazingRibs.com Equipment Reviews section. Max bottles his own barbecue sauce recipes and now sells them around the country.

---