Meadow Creek PR36 Review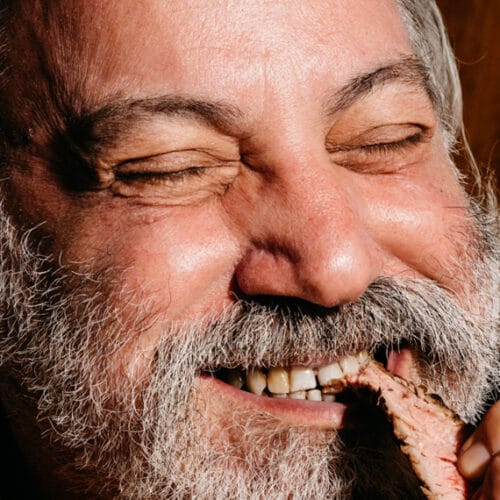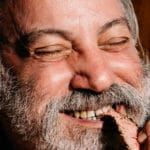 By: Meathead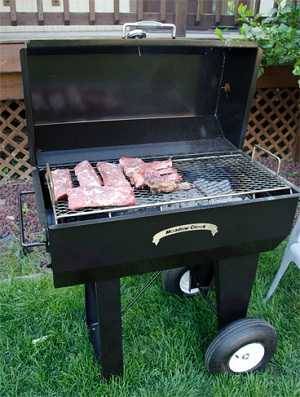 Although it can handle a small hog, Meadow Creek's PR36 does much more. This is one versatile cooker. There is a deep trough and a tall lid with a solid strong hinge. A tray for charcoal hangs inside the trough 6″ below the grate. Load it up and you can bring coal very close to the food for a quick hot sear. Or, if you wish, coals can be placed right on the bottom of the trough. You can then place the empty coal tray above coals for indirect cooking, or even fill the tray with water for steaming. Push the coals to one side and you have a fine 2-zone setup and put wood on the coals and you can smoke as well as any offset smoker. The coal tray lifts out easily so ash disposal is a snap.
There is an inverted V shape bar that runs the length of the bottom of the coal tray and it has large holes in it. It can be used to divide the charcoal bed and improve airflow to the embers. One can even lay unlit coals in a C or U shape and put hot coals on one end and it will burn slowly around the bend like a fuse, ideal for low and slow cooking.
The cooking grate is 15 x 35″ for a whopping 525 square inches of primary cooking surface. It comes with a duplicate second grate that can be placed above the main grate, doubling you cooking capacity.
There are six simple flap covered vent holes, two on each side of the bottom, and one on each side of the lid. They don't seal perfectly nor does the lid, but a perfect seal is overrated. Temp control and airflow are more important. The large inflatable tires make it fairly easy to roll it on uneven surfaces such as grass, dirt, and even sand. It is painted with heat resistant black enamel. Powder coated would have been better. The seriously large dial thermometer in the hood is one of the few we've seen that actually works well.
Model:

PR36

Item Price:

$ 1435

Where to buy (buying from this supplier supports this website):

Made in USA:

yes

Review Method:

Cooked On It
We have hands-on experience testing this product. We have also gathered info from the manufacturer, owners and other reliable sources.

Primary Function:

Grill, Smoker, Combination Grill and Smoker, Pig or Lamb Roaster

Fuel:

Charcoal

Primary Capacity:

525 square inches

Secondary Capacity:

525 square inches
Published On: 2/14/2013 Last Modified: 2/10/2022
Meathead - Founder and publisher of AmazingRibs.com, Meathead is known as the site's Hedonism Evangelist and BBQ Whisperer. He is also the author of the New York Times Best Seller "Meathead, The Science of Great Barbecue and Grilling", named one of the "100 Best Cookbooks of All Time" by Southern Living.

---