Sterling Ball, owner of Big Poppa Smokers, saw the need for a really good smoker for very little money. He knew that many pitmasters love using 55 gallon drums that they have turned into smoker/grill combos with a little ingenuity. The internet has many pages devoted for designs and photos of homemade Ugly Drum Smokers (UDS). But the UDS requires welding and metalworking skills. And time. Here is a link to a discussion, complete with photos, of how to build your own UDS on the BBQ-Brethren.com. You'll see, it's a project.
So Ball and his team have created a kit that you can buy from him for $140. You supply the drum. We are told that food grade drums can easily be found for as little as $20, so for well under $200 you can have a fine smoker. This kit significantly reduces the cost, time required, and probability of error. And the results can cook BBQ competition worthy meat. Really. Much better than a cheap offset smoker, and just as cool looking.
To assemble it you will need an electric drill, an adjustable wrench or a 7/8″ and a 7/16″ wrench, a tape measure, and a straight edge.
There are several features that you just can't get on a homemade UDS. Most important, the sliding bottom vents make it easy to manage air intake which is crucial for temperature control, far better than the homemade kluges that people use all time. The top vent is easy to use, too. The charcoal basket is stainless steel, and, when empty, it can be raised to grilling height or lowered with a hook tool. Sure wish there was an easy way to raise it when it is full of glowing coals.
The cooking grate is also stainless. There are two handles on the side with wood grips, and the lid handle also has a wood grip (but it can still get hot). There is a hook to hang the lid, three tool hooks, and a decent quality temperature indicator. Options include a second cooking grate which can also hold a water pan or a pizza stone as a heat shield.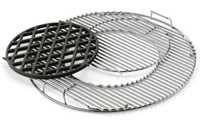 Meathead took the Weber Gourmet BBQ System Sear Grate Set (above), which he did not find necessary or desirable on his kettle, and dropped it on the bottom shelf. Then he dropped a bowl into the hole and voila, a water pan, something he really likes in a smoker.
You will also want to buy a cover because water will get in through the top vent in the rain. The diameter is close to a Weber kettle, so he just bought a Weber Kettle Cover and it fits great.
Cooking with it is almost as easy with the venerable Weber Smokey Mountain Charcoal Smoker, although adding coals is a bit trickier. You have to remove the food and the grates to access the charcoal basket. On the WSM, there is a door in the side. If you are handy, you might want to cut a door yourself.
The charcoal basket will probably last a while, but, and now we're quibbling, it would be nice if the wire from which it was made was a bit heavier. Regardless, Ball has sized it properly. Meathead found that a chimney of cold coals topped by a chimney of hot coals, can be easily dialed down to his favorite smoking temp of 225°F, and it will hold that number steadily for hours. If you just use hot coals and raise the basket, you can easily sear a steak.
For more ideas on cooking with a drum, check out DrumSmoking.com. If you are handy, this is absolutely the best bargain on the market. Oh yeah, there's a bottle opener included. Ball didn't miss anything.
Finding a drum
I asked BigPoppaSmokers.com for tips on buying an open top 55 gallon food grade drum for their kit. There are numerous suppliers across the country and there's a good chance one is near you. if not, Lexington Container Company is one that a reader told me about. Brian Spoeneman gave me these tips for selecting a drum:
New drums. New open top 55 gallon drums can be found for as little as $80.
Reconditioned drum. Open top 55 gallon reconditioned drums can be found for as little as $50, not including delivery. The supplier needs to be a state licensed re-conditioner and you must require that the drum has not held chemicals. Believe it or not, metal is porous and chemical residue is hard to remove. State employees will visit licensed reconditioners on a regular basis to ensure that the company is following proper cleaning procedures and that the equipment being used is operating within state regulations, which vary from state to state.
The usual procedure requires that barrels are burned out, blasted with steel shot, and washed out with a water based rust inhibitor. The rust inhibitor is important, without it the barrels will rust quickly, although they will rust eventually.
A new plain lid with no bung holes. Get a new lid if you can to make sure it is flat.
No gasket for the lid. You don't need a gasket, it could melt, and it is also an added expense.
No ring and bolt. The ring and bolt normally keep the lid tightened to the drum itself. This is not required for cooking and is also an added expense. If you are obsessed with precision air control, go for it. But the kit does a great job of controlling oxygen to the fire.
Unpainted. Since you don't know how their paint will react to high heat, get the barrel unpainted. Then paint the exterior only with Rust-Oleum High Heat Enamel Bar-B-Que Black.
It's good up to 1,000 degrees. Many people paint the interior, but I'm wary of fumes, so I recommend leaving it unpainted. Yes, it will rust, but it won't rust through for many years. Get over it.
Dollies. Ball says that dollies with wheels are available from the barrel supplier. If you can't find a dollie set, he can tell you where to get them when you place your order.
For those who don't want the hassel of tracking down a food grade drum and drilling it out, Big Poppa teamed up with Bubba Barrels to offer the complete smoker, ready for assembly.
Initial burn-in. Regardless of whether you buy new or used, it is important that the customer does a high temperature pre-burn prior to the first cook.