Brinkmann All-In-One Gas & Charcoal Smoker, Grill & Fryer Review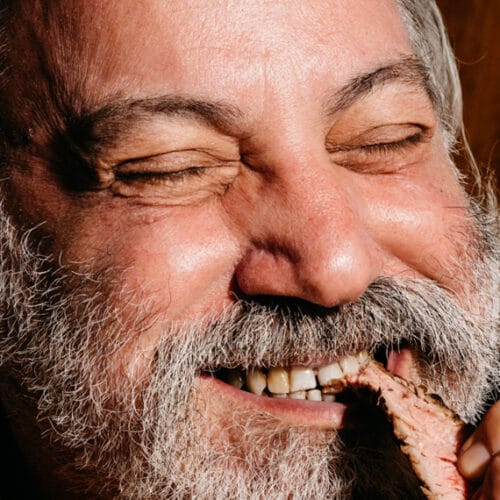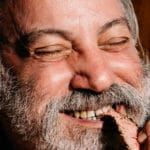 By: Meathead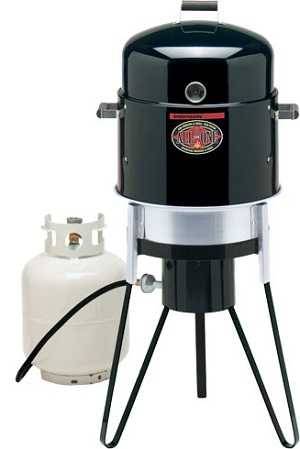 On October 8, 2015, Brinkmann filed for Chapter 11 under the US bankruptcy code.
The Brinkmann All-In-One Gas & Charcoal Smoker, Grill & Fryer is a cheapo versatile bullet that is best when cooking with gas, but can be adapted to cook with charcoal. Read more about setups for Charcoal Bullet Smokers. It can also be used as a smoker, brazier, or deep fryer. This was Meathead's first smoker, and it lasted several years although the base eventually rusted out and the aluminum firebox corroded. As always the thermometer is cheap and inaccurate. Adding water is awkward because it must be poured from the top and can easily get on the food or the lava rocks. Adding wood is downright dangerous because the whole upper unit must be slid partially aside.
It can be removed from the stand for easy transport when camping and tailgating. The newer Masterbuilt 7-in-One is modeled on this unit and is a lot better BBQ for just little more money.
Model:

All-In-One Gas & Charcoal Smoker, Grill & Fryer

Item Price:

$ 189.00

Made in USA:

no

Review Method:

Cooked On It
We have hands-on experience testing this product. We have also gathered info from the manufacturer, owners and other reliable sources.

Primary Function:

Grill, Smoker, Combination Grill and Smoker

Fuel:

Charcoal, More Than One Fuel

BTU:

16,000

Heat Flux:

35.32
Heat Flux is the BTU per square inch and is a more useful measure of how much heat a grill delivers than BTU alone.

Primary Capacity:

453 square inches
Published On: 3/25/2013 Last Modified: 2/24/2021
Meathead - Founder and publisher of AmazingRibs.com, Meathead is known as the site's Hedonism Evangelist and BBQ Whisperer. He is also the author of the New York Times Best Seller "Meathead, The Science of Great Barbecue and Grilling", named one of the "100 Best Cookbooks of All Time" by Southern Living.

---