Horizon 20 Inch RD Special Marshal Review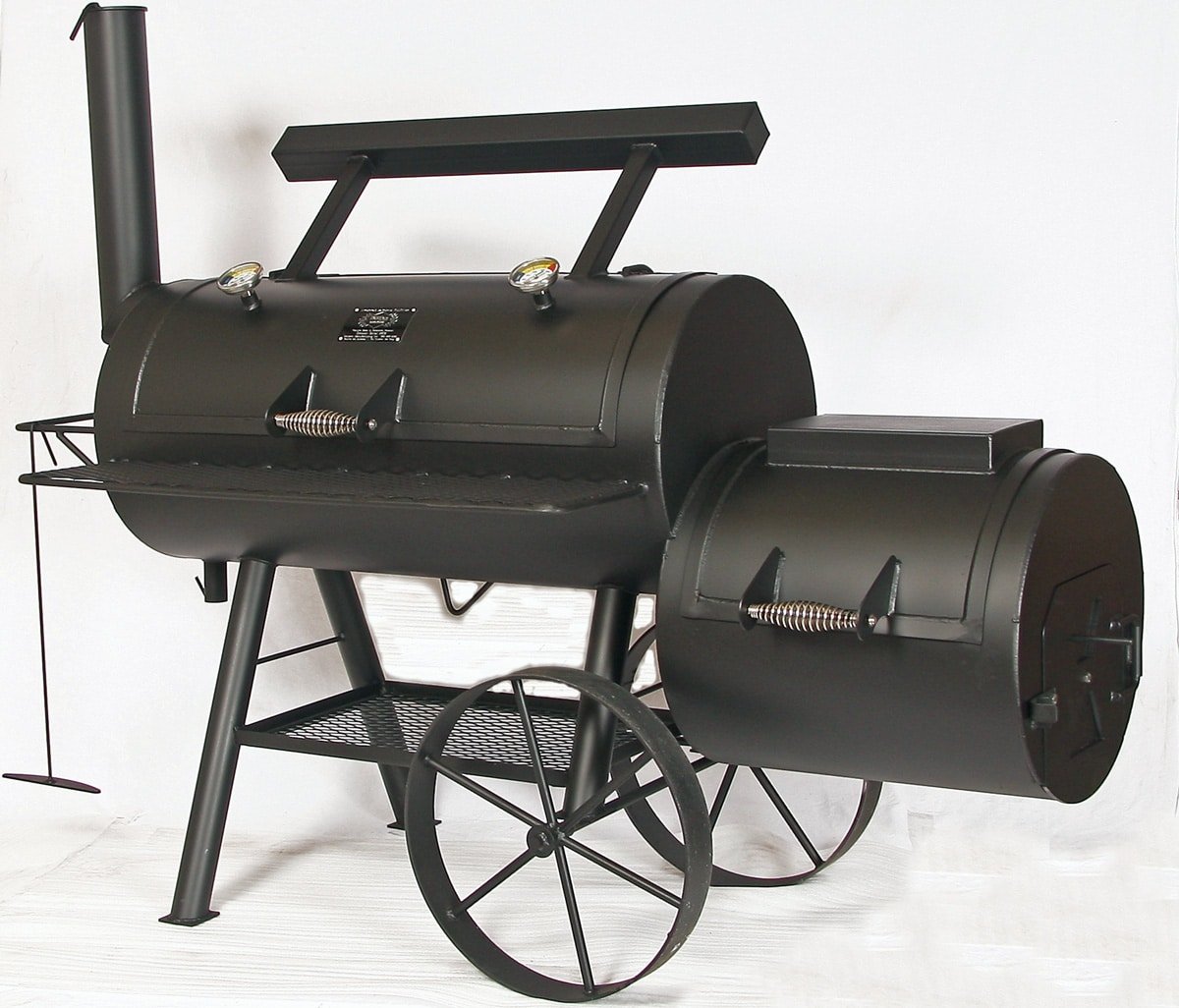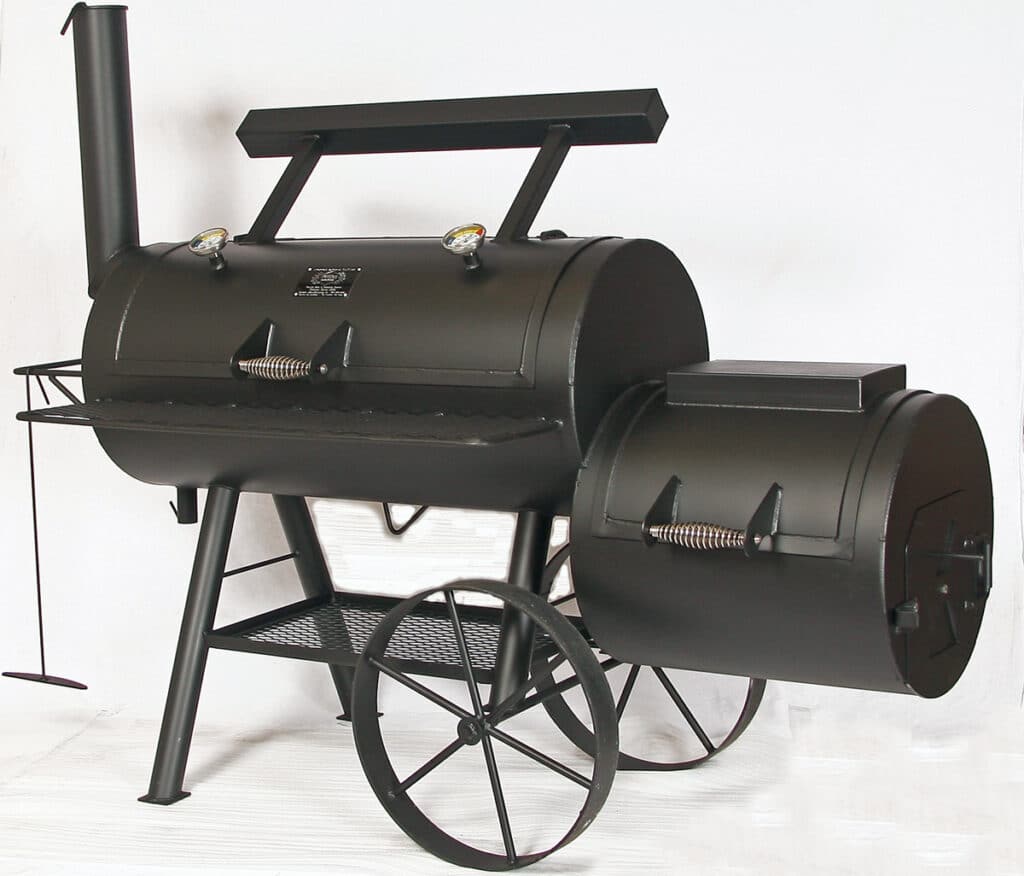 Horizon manufactures excellent, tight, well-built, heavyweight, heavy duty, horizontal offset firebox cookers that carry a lifetime guarantee against burnout! They are constructed from all new, high grade steel and cooking chambers are built from 1/4″ thick structural pipe to tight tolerances. Remember, heavy steel holds heat longer, distributes heat more evenly, cooks better, and uses less fuel. But Horizon smokers go beyond heavy metal. They are a culmination of design and manufacturing ideas gleaned from decades of cooking, cutting and welding. Even so, any offset design intrinsically causes the cooking chamber to get hotter near the firebox and cooler on the other side. So Horizon makes a clever "sliding convection plate" (below right). It is a heavy steel plate which deflects heat and smoke downward and disperses it more evenly through the chamber.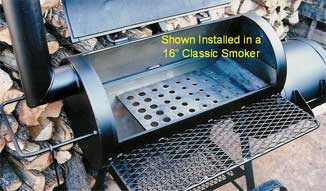 Horizon owner, Roger Davidson, feels the larger his BBQ smokers get, the better the heat spreads from side to side and front to back. For this reason he steers people away from their 16″ pits. His RD Special features a 20″ diameter and a few nice extras:
– Counterweight for the heavy hood for easier lifting
– Oversize 20 inch Wagon Wheels
– And their Sliding Convection Plate
These convection plates are Horizon's most popular accessory. They are offered as an option for most factory direct orders and can be retrofitted onto all Horizon 16 and 20 inch smokers and some 20 inch Oklahoma Joe Longhorns. They can also customize these plates for many other offsets. Call 866-468-4066 for more information on additional sizes and prices. You might even get to talk to Davidson.
Horizons have framed cooking grates made of 9 gauge expanded metal welded to square tubing. The expanded metal is flattened with rollers to create a smooth surface. Horizon claims each individual rack will support over 100 pounds. All models come with chrome spiral handles that are cool to the touch. Built in heat indicators, a lower storage rack for charcoal and wood, hinged firebox door for removing ash, and an ash rake are also included.
No assembly is required on current models whether purchased direct or through a dealer.
Model:

20 Inch RD Special Marshal

Item Price:

$ 1825.00

Made in USA:

yes

Review Method:

Cooked On It
We have hands-on experience testing this product. We have also gathered info from the manufacturer, owners and other reliable sources.

Primary Function:

Grill, Smoker, Combination Grill and Smoker

Fuel:

Charcoal, Logs

Primary Capacity:

880 square inches

Secondary Capacity:

440 square inches
Published On: 3/22/2013 Last Modified: 1/23/2023
Meathead, BBQ Hall of Famer - Founder and publisher of AmazingRibs.com, Meathead is known as the site's Hedonism Evangelist and BBQ Whisperer. He is also the author of the New York Times Best Seller "Meathead, The Science of Great Barbecue and Grilling", named one of the "100 Best Cookbooks of All Time" by Southern Living.

---