M Grill's M1 charcoal/wood cooker plants a reverse flow smoker and charcoal grill under one lid. Weighing in at 385 pounds of thick 10 gauge coated steel and high quality 304 stainless steel, this versatile, heavy metal machine should hold temperature stabile and remain in service for many years. There are two choices for fuel placement: the firebox for smoking, and a separate adjustable height charcoal cooking grate for grilling. Two intake dampers and one exhaust damper control air. The primary cook surface is two 13″ x 18.5″ 1/4 inch thick 304 stainless steel rod grates for a total of 481 square inches.
M1 underwent substantial design changes in 2019. Travis MaGee, M1 owner, unveils the new version below.
The old M1 was fully welded with few fasteners. M Grills decided to use stainless steel fasteners for some parts so owners can easily repaint and replace parts. M1's sealed design allows few opportunities for uncontrolled air to enter or leave, enabling effective air/heat management. On the down side, when grilling there is no easy access to the charcoal grate and no removable ash pan, so one needs to take off food and grates to tend the fire and clean up. Two grate lifter tools are included for this purpose. M Grills recommends laying a sheet of heavy duty aluminum foil under the charcoal tray, on the heat baffle above the firebox before grilling. When finished, knock down the ash into the gunky foil, roll it up and dispose.
Use the firebox for reverse flow smoking
Below is a cross -section graphic of the previous M1.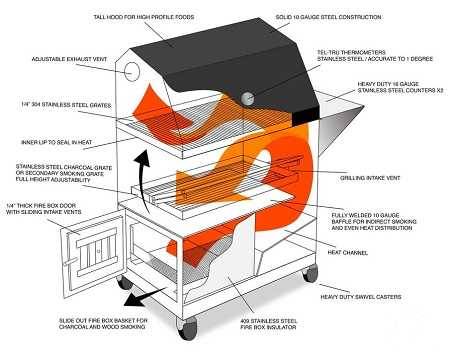 Located bottom left, the firebox is double walled with one inch of ceramic thermal insulation between the firebox and outer body. A bigger, 13 inch x 17 inch slide-out charcoal/wood basket and ash pan can be accessed via the 1/4 inch thick firebox door featuring a large sliding air intake damper with a pre-cut hole for air controllers like Flame Boss.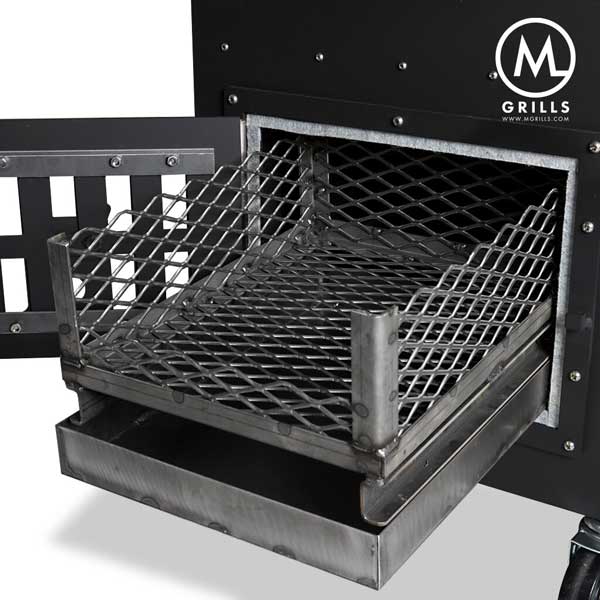 As the fire draws air through the damper, picking up heat and smoke, it flows from left to right and immediately hits a slanted "Heat Channel" that directs the flow upward. A chimney on the left side of the lid replaces a damper. Heat and smoke exit directly above the fire in a backward C-shaped pattern, hence the term, "reverse flow". BBQ proponents of reverse flow smoker designs believe they create a more even heat pattern in the smoke box than traditional offset smokers where air flows from one side to the other, pulling heat through the hot firebox, then exiting out the chimney on the opposite end.
M Grills feels the new chimney provided enhanced airflow and enabled them to completely remove an additional adjustable damper that used to be on the right side. This benefits owners who would like to use their M1 for built in applications by not having to allow so much room on the right side of the M1 for airflow. They can just control the airflow from the firebox door vent and the chimney which are both located on the left side.
Flavor and aroma of wood smoked foods are hard to beat, but you'll need to learn a few tricks for holding low, smoking temps without letting the wood smolder and create bitter, dirty smoke. Click here to learn more about Stickburning.
Use the charcoal grate for grilling
The adjustable height charcoal grate lets you drop the fire down low for roasting, or use a hand crank (below) to bring it up right under the cook surface for super searing. This design is reminiscent of the classic Hasty-Bakes that have been smoking and grilling across the USA since the 1948.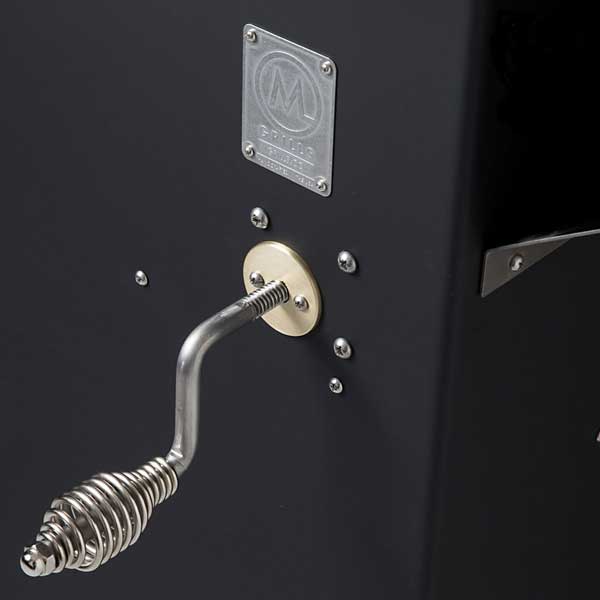 The large rectangular charcoal grate can easily be set for 2-zone cooking by loading fuel on one side to create distinct direct and indirect heat zones. We believe this is an essential technique for grilling. Click here to learn more about 2-Zone Cooking. The adjustable charcoal grate is made of the same 1/4 inch stainless steel rods as the cooking grate and can be scraped down to double as a secondary cook surface when smoking with the firebox.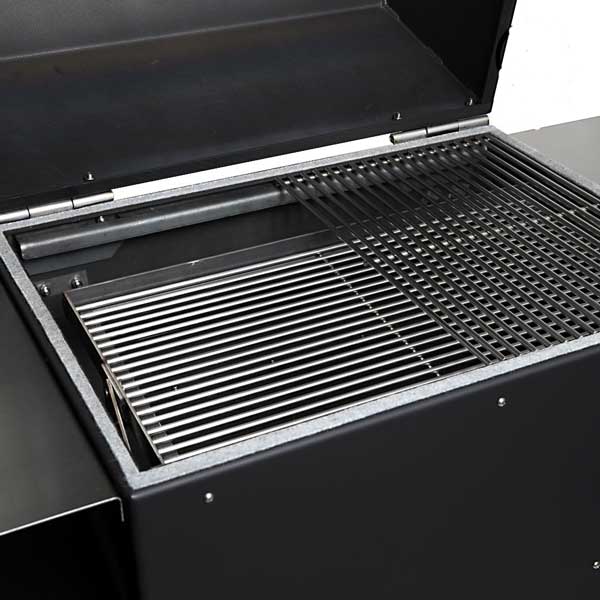 An optional extender grate that rests on the primary cook surface is available to further increase capacity.
M1 straddles the territory between a rugged traditional Texas wood burning smoker and an attractive charcoal grill that fits right in on any patio without taking up a lot of space. Even with a relatively modest footprint, (about 26″ x 26″ not counting the side shelves), the primary cooking grates can hold two 12 to 15 pound briskets and smoking capacity can be easily extended by using the 328 square inch stainless steel charcoal grate as a secondary cook surface. Furthermore, this 2 in 1 device eliminates the need for a separate grill and dedicated smoker.
M Grills offers a non-transferable, Limited Lifetime Warranty.