Texas Original Pits Luling Offset Smoker 20″ x 32″ x 18″ Review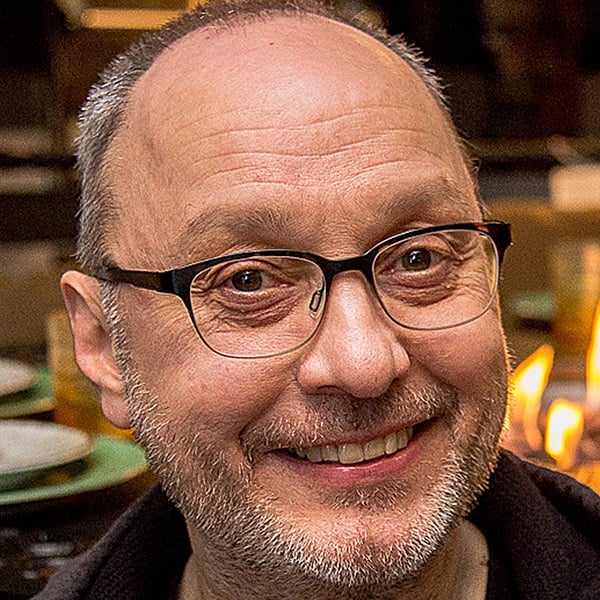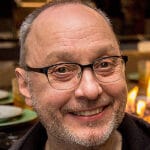 By: Max Good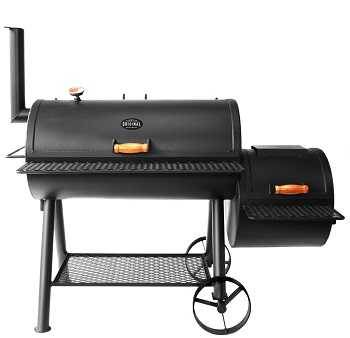 Texas Original Pits Luling Offset Smoker 20″ x 32″ x 18″ is their most popular model. Yes it looks like those cheap offsets sold in big box stores, but this is the real deal: a classic, no-frills, 1/4″ thick steel Texas BBQ Pit named after the Luling Oil Field northwest of Luling, TX. It is available in smaller and larger sizes. All grates are expanded metal. The 20″ x 18″ firebox has a charcoal rack and cooking grate for high temp grilling. In addition to the primary cooking grate, the 20″ x 32″ smoke chamber comes standard with a 6″ x 32″ upper grate. The upper grate is not included with smaller models. For marathon burger sessions, an optional coal rack is available for direct grilling in the large smoke chamber.
There is an intake damper on the firebox door and an exhaust damper on the chimney. Click here to learn more about controlling temperature with dampers, and here to learn about smoking with wood.
A two inch drain hole with a can hook is located on the left underside. Legs on the left are about a half inch shorter than the right side to pitch the barrel and direct grease to the drain. Rustic hickory wood handles have a UV resistant coating, and are positioned far enough away from the metal to stay relatively cool. The Luling is fully welded with no fasteners and coated with 1000° high temp paint.
Work shelves are welded to the front of both the smoke chamber and firebox, and a large storage rack rests underneath. The firebox also has a flat warming surface on top for pots of beans and sauces. Large metal wheels come in handy when moving this heavy device.
Limited Lifetime Warranty. Be sure to clean out ash with the included ash rake. Left over ash can absorb moisture, causing the metal to pit and eventually rust out.
Model:

Luling Offset Smoker 20" x 32" x 18"

Item Price:

$ 2400

Made in USA:

yes

Review Method:

Researched it from Afar
We have researched this product from afar by gathering info from the manufacturer, owners, and other reliable sources, with our BS meters on high.

Primary Function:

Grill, Smoker, Combination Grill and Smoker

Fuel:

Charcoal, Logs, More Than One Fuel

Primary Capacity:

640 square inches

Secondary Capacity:

552 square inches
Published On: 8/28/2015 Last Modified: 11/19/2021
Max Good - Max Good, AmazingRibs.com's Vice President of Product Reviews & Keeper of the Flame, is the man in charge of finding the best products for the AmazingRibs.com Equipment Reviews section. Max bottles his own barbecue sauce recipes and now sells them around the country.

---