The Weber Smokey Mountain Cooker 22.5″ is the newest and largest version of their popular charcoal smoker. WSMs are high quality, charcoal fueled, bullet-shaped smokers. They can often be seen competing head to head with large commercial cookers at practically every BBQ competition. And winning. They take very little time to master, and there are a lot of tricks the experts use to produce incredible food.
Like the original 18.5″ WSM, this big unit cooks at a remarkably steady temp for hours and raising or lowering temp is fairly easy by opening and closing the vents. Problem is we had difficulty getting it down under 275°F. We like to smoke at 225-250°F. At 275°F meat can get tough. There are tricks you can employ to get it down, but it is tricky. That's why we gave it a silver medal. The smaller model loves to cook at 225°F, and it gets our gold medal.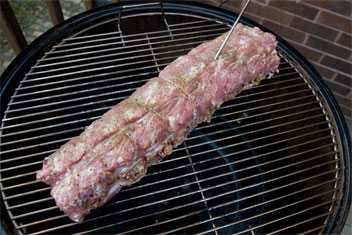 The big advantage to the 22.5″ model is capacity. The grates are 21″ across compared to 15.5″ on the little unit. You can actually get a few slabs of ribs to lay comfortably on the grates without cutting them in half or bending them. You should be able to fit up to eight five-pound pork butts with plenty of room for smoke to circulate. Above is shown a whole center cut pork loin with room to spare.
Construction is solid and finish is beautiful. Weber really knows how to make long lasting porcelain and chrome coatings. The legs are sturdy and there is a bowl-shaped aluminum heat shield attached to them. If you cook on a wood deck, we recommend setting your WSM on a grill mat.
It has an inaccurate bi-metal thermometer built into the lid, but in 2014 they added a soft grommet on the right side for easy insertion of your digital thermometer. There is a side door for adding coal, wood, and water, although adding water and lit coals through the door is tricky. The door leaks smoke and lets in oxygen, making it hard to shut down the supply of oxygen and kill the coals. We bent ours slightly to make it fit better, but wondered how Weber could craft the door so poorly after crafting the other parts so well.
The water pan in this big guy is huge, and you need to add more water than you think it needs because of the increased surface area. Also, it is waaaay to large to fit flat in a standard sink for cleanup, and you can't line it with foil easily because it is wider than even the largest sized consumer grade foil. Hopefully someone will market a disposable pan liner.
We also wish WSM had a wider lid. It rests inside a lip in the center section allowing rain and melting snow to get in. We would prefer that the lid overlap the center section, just like the lid on the Weber Kettle.
If you are trying to decide between the Smokey Mountain 18.5″ and the 22.5″, keep in mind that a full slab of ribs will not fit onto the cooking grates of the smaller unit without some trickery, and if the meat gets too close to the sides the heat rising around the water pan can scorch it. On the other hand, it is hard to get temp down below 275F on the 22.5 incher.
The WSM has a fanatical following and a good independent website devoted to its use.