THIS MODEL HAS BEEN REPLACED BY THE WEBER SUMMIT KAMADO CHARCOAL GRILLS.
Introduced on 4/6/2016, the Weber Summit Charcoal Grill is a radical departure from George Stephen's original Weber Kettle and Weber's first major upgrade to the kettle in decades. It is bigger, badder and more versatile with a price tag to match. Aimed squarely at people who are serious about both grilling and smoking and priced to compete with high end charcoal grills, it carries the Summit name that adorns their top of the line gas grills. It is at once a superb high temp searing grill even better than the original kettle, and an effective dedicated low and slow indirect heat smoker reminiscent of a kamado. So is it a kamettle? Kettlelado? Here it is beside the classic 22″ Weber Kettle.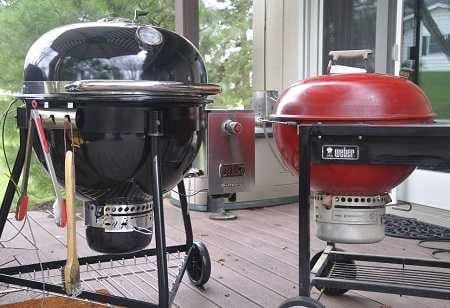 Two models shown below
There are two models with the same kettles in different carts. Our test model, provided by Weber, was the "Summit Charcoal Grill", mounted on a sturdy three legged stand with two large plastic wheels and one locking caster. A triangular storage shelf rests at the bottom. MSRP is $1699, but most sellers will go with the Minimum Advertised Price of $1,499, comparable to a Big Green Egg XL kamado with a stand and diffuser plate at over $1,500 list. The "Summit Charcoal Grilling Center" has a large cart on the side with a stainless steel work surface, a lower shelf, a slide out basket, a coal storage bin, on top of two large plastic wheels and two locking casters. Here again the MSRP is $2299, but street price is $1,999, comparable to a BGE with a cart. Here is a video of our test unit and a picture of the cart version.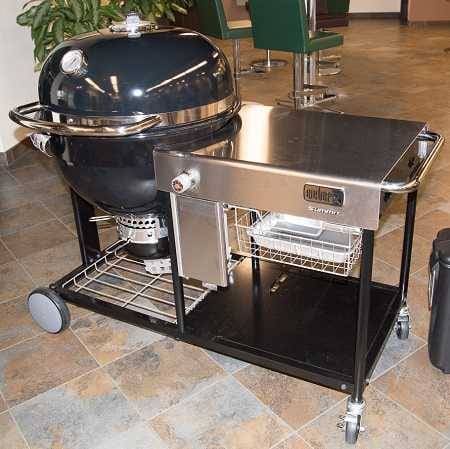 Innovations
Summit Charcoal Grills are double walled and air insulated. Many kamados are heavy ceramic ovens with thick walls that hold temps steady for long durations, a blessing if you nail the desired temp, a curse if you overshoot because they take forever to cool down. With air insulation between the outer and inner walls, Summits hold temps well yet they can switch gears much faster than ceramic or fiberglass insulated kamados, providing both agility and forgiveness when temperature changes are necessary.
Summit's outer body is Weber's signature black porcelain-enameled coated steel that has proven it's durability for more than 60 years. The lining of the lower bowl is also black porcelain-enameled steel. It terminates, open-ended, at the lower coal grate position allowing hot air to be trapped between the outer and inner walls. The inner wall of the lid is aluminum and there is also an air gap between it and the outer wall. Though considerably lighter than a ceramic dome, Summit still employs a heavy duty spring assisted hinge making it easy to open and leave open. A gasket made of thin stainless steel thread woven into a braid runs along the lip and seals the top and bottom halves.
One new feature that really got us stoked is the movable charcoal grate. It can sit at the bottom directly above the air intake dampers for medium temperature cooking, or be raised to four inches below the cook surface for hot grilling. With a couple of layers of briquets, you can have scorching infrared heat within 2″ or less of your steak. We've long wished for Weber to provide a way of bringing the coal closer to the cook surface for improved searing. This design, coupled with the hinged stainless steel cooking grate allows you to easily add more charcoal and features "Weber's Original Gourmet Barbecue System" which has a removable round center that can be replaced with various inserts like a pizza stone, griddle or wok. Click here to learn why we love thin stainless steel rod grates better than any other, even cast iron.

An optional extender grate is available to increase capacity.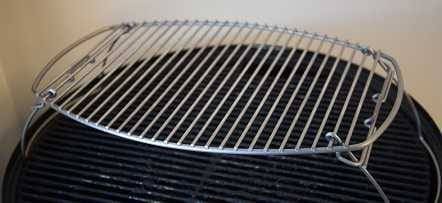 A slick "Rapidfire" damper crests the dome. It functions like a standard Weber disc-shaped damper but it is on a hinge and can be flipped up and out of the way for maximum exhaust to increase temps rapidly in conjunction with the lower vents. When we first fired up Summit the damper was stiff and was difficult to spin, but after three or four cooks, it worked perfectly. Weber said they had not encountered this issue on their test units, and indeed, previous to receiving our test model, we cooked on Summits at the Weber Grill Academy and they worked fine.

Both models include a piezo electric "Snap-Jet Gas Ignition System" that runs off a 16 oz. propane cylinder to start your charcoal with a gas flame. The gas ignition burner is located just beneath the lower charcoal grate. It can be used to start coal with the grate in either the upper or lower position, but burn times are slightly different: 7 to 10 minutes lower grate position, 12 to 14 minutes upper grate position. You always leave the lid up during ignition. After turning off the burner, you close the lid and pre-heat.
Both models have Weber's "One-Touch Cleaning System" with a snap on/off pot at the bottom that collects ash for easy removal and metal sweeps that push ash into the collection pot. The sweeps also can cover the intake vents and so they double as an air intake damper at the bottom. This makes them the most important tool for temperature control. The vents are shaped a little differently now, a sort of keyhole, that allows better air control. They also added better markings on the side to help us pick the right damper setting. We started out following their directions, but soon found Summits, like most charcoal smokers, require some degree of practice.
Both models come with tool hooks and a black plastic charcoal measuring cup with recommendations of how many cups to use in the Instructions. Two cups are roughly the equivalent of a Weber chimney, 80 briquettes.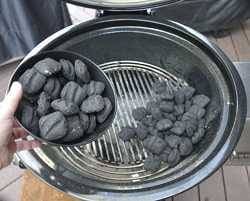 Packaging was excellent. One learns a great deal about a cooker during assembly. The elegant design and quality construction of the Summit Charcoal Grill was evident at every step. Warranty is 10 years on the bowl and lid (no rust though/burn through), 5 years on stainless steel cooking grate and One-Touch System (no rust though/burn through), 5 years for plastic components and 2 years on all remaining parts.
Grilling & searing
Grilling with the charcoal grate in the upper position is very similar to grilling on a standard Weber 22″ kettle, only a lot hotter because the charcoal is much closer to the food. Grilling with the charcoal in the lower position is more like the 22″ kettle. The 24″ wide cooking surface provides a surprising increase in capacity, and makes 2-zone setup really easy. We consider 2-zone cooking a crucial technique for outdoor cooking and it is our biggest complaint about most round kamados. Because their cooking surface is smaller and the charcoal is farther from the food, they are not well suited to this method.
Because the coals are so close to the meat you need to make sure they are distributed evenly, and if some coals are burning red hot while others are just getting started – you got hot spots. We made this mistake when testing it with chicken wings and as a result had to move them around a little to get even cooking and crisping.
But we were in for a real treat when it came time to reverse sear 2″ thick steaks. Click here to learn about Reverse Searing Steak and 2-Zone Cooking. With the coal grate up high, we piled two scoops of charcoal on one side for hot direct radiant heat and left the opposite side empty for a warm indirect zone. We slowly cooked our thick steaks to about 110°F internal temp over indirect heat, then seared the snot out of them over the charcoals, flipping often to create an even dark brown crust. As eagerly anticipated, the red hot coals just 2 to 3″ inches beneath the meat browned the steaks beautifully.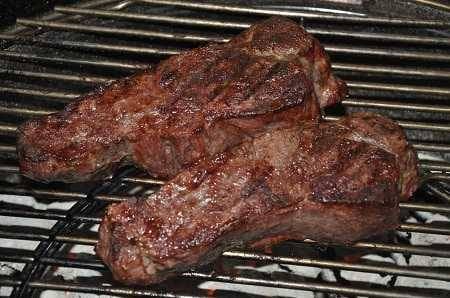 Smoking
Kamado cookers typically use a ceramic disc between the charcoal and the cook surface to block direct radiant heat and even out temps for low and slow cooking, especially smoking. Weber reimagines the diffuser as a double walled hinged stainless steel disc. The hinged sides allow easy access to tend the fire and add charcoal.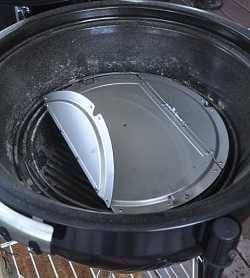 Weber wants to ensure success right out of the box for new owners so the manual offers detailed instructions for direct heat grilling, indirect heat grilling, and smoking. It provides a "Charcoal Quantity for Smoking & Cooking Times" chart that lists instructions for various types and weights of meat. They give, "guidelines rather than hard and fast rules". We prepared a pork butt and, referencing the manual, set our sights for 8 to 12 hours of smoking with 2.75 cups of charcoal and 5 wood chunks. After running the ignition burner for 7 minutes we scattered the charcoal, tossed on the wood, installed the diffusion plate, positioned a water pan in the center of the plate, filled it with boiling hot water, installed the grate and placed a digital thermometer probe off center next to the meat. We closed the lid with the Rapidfire damper down and the intake vents open all the way. Following instructions, when the needle hit the 225°F to 275°F range we moved the intake vent to the "Smoke" setting. For the upper damper the manual instructs, "rotate the Rapidfire lid damper accordingly to maintain recommended smoke temperature." We took a chance at setting it halfway open. Within 20 minutes the temp climbed to 300°F on our probe. After some fiddling around, we decided to treat Summit like a kamado and shut both dampers down considerably. This is tricky with the lower damper as you can't see the vent openings, so it's a good idea to familiarize yourself with how far you can go without shutting it off completely. We settled on positioning it slightly to the left of the smoke mark. The upper damper ended up open about one third.
The temp never got out of control, but it was difficult to nail our desired target of 225°F without more practice. Summit seemed comfortable running in the 250° range. The medium size butt was done at 10 hours. After removing, we took a peek at the fuel. Surprisingly, there was nothing left but crumbs, yet the temp had not dropped. The duration fell within Weber's projection of 8 to 12 hours and, had we started with lower temps, it might have gone longer. The BBQ pork was delicious, very moist with beautiful bark.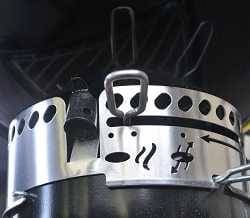 Armed with this knowledge we went for a second round with no meat. This time we chose the maximum charted duration of 12 to 18 hours using 3.25 cups of coal. After closing the lid, we closely watched the built-in thermometer. As soon as it hit the low smoke range of 225°, we moved the lower arm just left of the smoke mark, and set the upper damper to one third open. It ran a little hot, at one point reaching 260°. After another stretch of trying to finesse damper settings, we went back to the beginning: lower vents set just left of the smoke mark, and upper at one third. The temp settled in at 245° and stayed steady. Before trying this, know your bottom vents. If you go too far to the left of the smoke mark, you'll shut off air intake and temperature will plummet. Without replenishing coal, Summit ran for about 13 hours.
Obviously, if one adds more coal, the duration will increase. Since Weber provides easy access to the fire via hinged cooking grate and diffuser plate, we got up early the following day for one more test with a scheduled fuel stop. Once again we used 3.25 cups of coal, burned the ignitor for 7 minutes, then went off script from Weber's directions and shut the lower vents down to just left of the smoke mark and upper vent one third open. Just like with a kamado, we let the temp come up slowly into Weber's smoke range. Temp was more moderate and settled at around 235°. Several hours into the test we used One-Touch to clear the ash, and then flipped up the grate and diffuser to add a couple handfuls of coal to each side. At some point after refueling, temps started to climb and we had to shut down the top vent to a sliver. Ultimately it ran about 15 hours, long enough for a brisket with a long stall. In the graph below you can see it is pretty steady with minor fluctuations due to fiddling with the vents and refueling. With practice I am sure we can even out the bumps. Pretty impressive.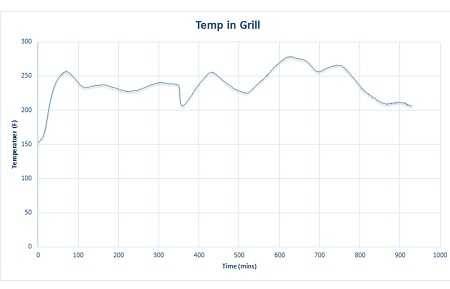 Other experiments await exploration, such as using firestarters instead of the gas ignitor to create a smaller initial fire. And Weber provides a built in port for thermostat temperature controllers like the popular BBQ Guru. Thermostat controllers become your smoke babysitter for long cooks, and are especially useful for ones that go overnight. You place a probe near the meat and close all the air intakes except one. The probe talks to a fan that goes over the open vent which turns on and off regulating the oxygen supply to the coals. They control the temp very effectively. Click here to check out our Temp Controller Reviews.
Although prices are in line with Summit gassers and premium quality kamados on carts, they're a big leap up from the kettles we know and love. Many who already smoke and grill on their kettles will shrug and wonder why spend more. At the end of the day, it's true that a regular classic Weber kettle can grill and smoke, but the new Summits are just plain bigger and better in every way. You get more capacity, ease of use and more versatility. It actually is a dedicated charcoal smoker by design, and we love the adjustable coal grate that burns directly under the cook surface for better searing. No doubt these new Charcoal Summits will shake up the backyard cooker market and you can bet kamado makers are winding up their counter punches.
Unlike Summit gassers, these new coal burners will not be sold in big box hardware stores. At least for now Summit Charcoals are only available through indy dealers. As mentioned above, MSRP is $1699, but street price is $1499. Scroll down for our Where To Buy Section to get yours.