The Broil King Keg 5000 is a high quality kamado cooker, at home in the backyard or hitched to a vehicle. It excels at smoking, roasting, baking and searing thin meats. While competitive brands charge extra for just about everything but the logo, The Keg comes fully equipped with stand, shelves, extender rack and a "Multi-tool" which helps handle the grate and dampers and doubles as an ash rake.
We tested the previous version called simply the Broil King Keg. The new 5000 models changes color from bronze to metallic gray and adds a neat combo lower damper and ash removal system described below.
Most kamados are molded ceramic BBQ ovens with some type of exterior finish, a design that's been around for thousands of years. One has to take care when handling these heavy ceramics because they can crack and even break apart if dropped or knocked over. BKK uses lightweight, modern fiberglass insulation clad with steel, and a powder coated exterior that remains cool to the touch while cooking.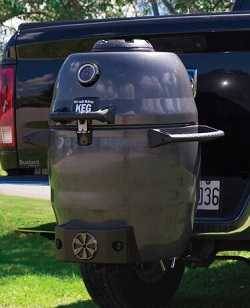 The fiberglass body reduces fuel consumption and the durable, lightweight design makes it uniquely suited for mobility when tailgating, competing, or cooking at any outdoor event. In fact Broil King offers an optional trailer hitch for 1 ¼" or 2" hitch receivers. The lid locks shut and side shelves are removable for transport. BK claims their Keg is so fuel efficient it needs only a small, football size pile of charcoal. This is fine for short cooks like chicken and fish. For long cooks, or high temp searing, you'll need a full load like any other round kamado, about half of the BKK fire bowl.
This steel cooker was originally The Bubba Keg, then The Big Steel Keg until bought by Onward Manufacturing/Broil King in 2010 and renamed The Broil King Keg then Broil King Keg 5000 in 2015. The interior is almost exactly the same size as the Large Big Green Egg and many BGE accessories fit it, although Broil King makes plenty of their own including an excellent heavy duty rib rack that doubles as a roasting rack. Their unique Diffuser Kit is a porcelain coated drip pan that rests in a cradle below the grate to catch drippings for gravy and help create indirect heat. It can also be placed upside down on the primary grate with a pizza stone on top to moderate heat on pizza crust and brown pizza toppings by bringing them closer to radiant heat from the dome.
The 2-position, heavy coated cast iron grate can easily be lifted – hot or cold – with the Muilti-tool to remove or reposition it closer to or farther from the coal bed. A plated steel rod extender rack on a steel post provides additional cooking capacity. The post pops into mounting holes in the primary cast iron grate and can be swung out of the way or removed as needed. Cast iron grates aren't our favorite because they brand meats with brown stripes from direct contact with the iron, (conduction heat), making it hard to get an even brown crust. The notched rim of the round grate, which facilitates the 2-position design, and mounting holes for the extender grate likely led to the choice of molded cast iron. However, Broil King wisely reduced food contact with the conductive iron by making the grate rails come to sharp points rather than flat or rounded bars. Watch out though. When cranking the Keg to Mach 10 for steaks, these sharp edged grates can sear through your meat surface like red hot blades, (see below). Not necessarily a bad thing, but to avoid this effect, flip meat like crazy for the first few minutes until crust begins to develop.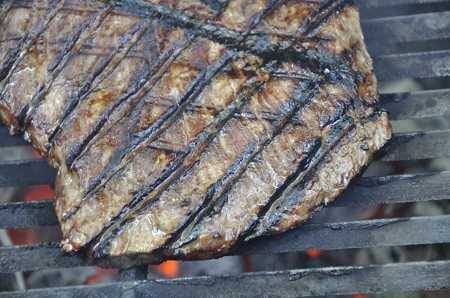 The top damper is heavy coated cast iron with numbered settings: a useful feature. Even better, it's the only damper we've seen on a kamado that doesn't move when you open the lid. Instead of the typical felt insulation to seal the lid, BKK used a single, thick fiberglass strip on the dome only.
The new lower damper/ash removal tray is a double duty design reminiscent of Weber's One-Touch system that enables air intake control while making ash removal easy. The front plate with damper is held tight against the body by two thumb latches.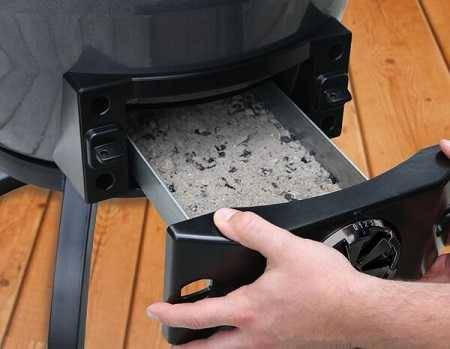 Two removable, black resin shelves with tool hooks are held in place on spring loaded pins and, fitting for a cooker once named Bubba, there are two bottle openers mounted under the hood handle.
Like most kamados, it cannot be set up for true 2-zone cooking, an essential technique easily done on other charcoal grills by piling coal to one side to create a direct and indirect zone simultaneously. One useful device that is a match made in heaven for any kamado is the BBQ Dragon, a well-made, battery operated, clip on, variable speed fan that can convert a charcoal bed from quiet gray to rip roaring red hot in a matter of minutes. Very good for switching gears from low and slow to searing hot. If you want to cook on 2-zones simultaneously, pick up an inexpensive kettle or hibachi for the hot direct zone and use the Keg for indirect. Click here to read more about Kamado and Ceramic Grills and Smokers.
Packaging was excellent with unpacking instructions printed on the box to get started. We quickly removed the outer box and found The Keg nestled safely in molded Styrofoam with an instruction manual conveniently inserted right on top.
This is a beautifully designed, well-made cooker that comes standard with some very useful features that must be ordered ala carte from other manufacturers. It's mobile, durable, effective, built to last and offers a lot for the price tag. The Broil King Keg has a 10 year warranty on the main body and stand, and two years on everything else.
Our test unit of the Broil King Keg was provided by Broil King.