Black Olive's patented design is billed as "The World's First Pellet Kamado Grill". The novel concept grabbed the attention of many who didn't pause to ask why one would actually want such a thing. While we love the fact that thermostatically controlled pellet smokers can be set to temperature just like a kitchen oven, even kamado owners of moderate skill find it relatively easy to hold steady temps for long durations without electronics. To learn more about how they work:
Click here for Pellet Smokers.
Be that as it may, IF Black Olive had worked as envisioned by the creators, and been brought to market for the right price, it couldda been a contender. Here are a few issues that caused it to stumble at the gate:
TOO EXPENSIVE
Listing for $1899, most dealers just haven't found enough consumers who see that much value in this hybrid. They generally opt for a better quality kamado, or pellet smoker for the same or less money.
BAD NEWS
Although we haven't tested Black Olive, there is bad buzz coming from very reputable sources. When slow smoking ribs, butts or anything with high fat content, the fat drips down onto the firepot and can start a grease fire.
Traditional charcoal burning kamados create way more ash, but most of it settles down to the bottom. In the Black Olive, pellet ash is blown by the controller fan into the smoke chamber where it naturally moves upward with hot air toward the exhaust vent at the top, and much of that debris ends up right on you food. This is exacerbated when cooking at high temps. Cranked all the way up for grilling burgers, the small 11 pound pellet hopper can be emptied within a few hours, while the fan provides a steady ash cloud.
NO THERMOSTATIC CONTROL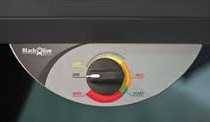 As mentioned above, the set it and forget it beauty of pellet smokers requires thermostatic control. In the early days, pellet smoker manufacturers could get away with using imprecise Lo-Med-High controllers that have no thermostat, and therefore no way of monitoring internal cooking temps. These cave era controllers can only issue pellet feed commands of low, medium and high regardless of what's happening under the dome. Black Olive employs a slightly more sophisticated infinitely variable dial controller, but with no thermostat, you need to use a digital thermometer to dial up desired temps. Claims that one can set temperature by referencing the antiquated heat estimator built into the dome are false. If this hybrid had gained acceptance in the market, Black Olive would likely have followed suit with the other pellet players and upgraded to digital thermostatic control. In this day and age, all pellet smokers in this price range have thermostatic control.
No one is buying Black Olives, so very few dealers are selling and servicing them. Those that have stock are likely eager to sell for whatever price you name. Do yourself a favor and get either a kamado or pellet smoker instead from an established brand that has earned a place in our BBQ backyards. Check our Searchable Equipment Reviews for options.
Black Olive also offers a charcoal kamado for a couple hundred bucks less.
Warranty is 7 years on the ceramic, 5 years for metal and cast iron grate, and 3 years on the electronics.