Kamado Joe Big Joe is a well-crafted ceramic cooker that presents strong competition to other 24″ models in the premium priced market. The new BigJoe improves on their previous version with a number of remarkable upgrades that exemplify the elegance and innovation that are hallmarks of Kamado Joe. Read on to get the details.
Kamado Joe first caught our attention in 2014 with their clever "Divide and Conquer," a unique multi-level grate and heat deflection system that lets you cook different foods at different temperatures at the same time. Round Kamados cannot easily be set up for 2-zone cooking, an essential technique that enables optimal temperature control by cooking on indirect moderate heat and direct hot heat simultaneously. Most Kamado aficionados concede the best way to create different heat zones in their round cookers is by moving foods closer to or further from the coals. This is typically accomplished using a variety of accessories that can be costly and awkward to use. Divide and Conquer integrates several of these accessories into a single system and comes standard with all full-size models (see below).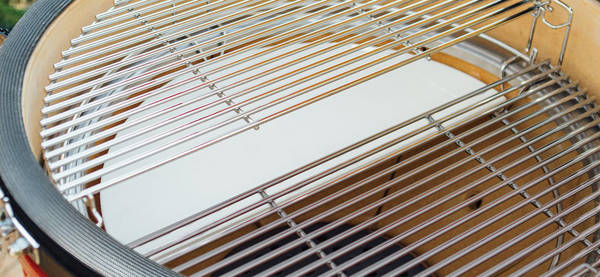 In the above photo, the split stainless steel grate at the top is positioned up high with a half moon heat diffuser underneath to create a moderate indirect cooking zone, while the other half of the grate is set down low near the fire for a hot direct zone. With 2-zones you can start chicken parts over the indirect zone at a low temp. When they are almost done, move them over to the direct zone to crisp the skin and finish cooking. Or use the indirect zone as a safe haven to transfer burgers and sausages one by one as they finish cooking. No more burned BBQ chicken or exploded hot dogs. Click here to learn more about 2-zone cooking.
While it's not a panacea for the 2-zone issue, the Divide and Conquer sure helps. Moreover, some kamado manufacturers charge extra for everything but their logo, so we appreciate KJ throwing in this feature as a package deal to offer consumers more value and versatility. Click here to read more about Kamado and Ceramic Grills and Smokers.
Big Bang for the Bucks
In the beginning, Kamado Joe muscled their way into the growing kamado market with high quality, beautiful, ceramic cookers loaded with extras and offered at prices just below the popular Big Green Egg. But KJ couldn't resist forward motion and began evolving into something bigger and better: a leader, an innovator, and one of the premier kamado brands.
Shifting Gears
"We decided to think of Kamado Joe as Mercedes Benz, or BMW, to keep making improvements and not be afraid of raising prices," says KJ's owner Bobby Brennan. "At first we had a little heartburn, but it's all coming together." Not to say Brennan and company threw price out of their equation, but now they are comfortable with MSRPs slightly higher than Eggs. So what do those extra dollars buy?
Air Lift Hinge
Ceramic kamados are heavy and you feel it when you lift one of their massive dome lids. Careful, don't let go when closing the lid or that big dome can come crashing down! Some kamado manufacturers put a small, spring loaded shock absorber at the lower front rim to prevent damage to the ceramic. Kamado Joe's answer is their proprietary Air Lift Hinge (below).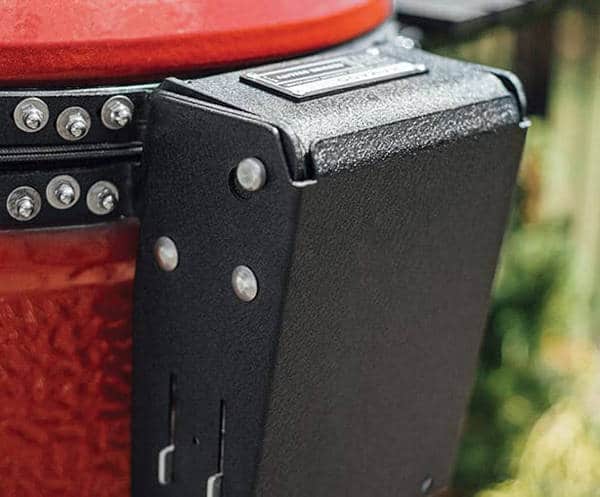 This hinge, said to reduce dome weight by 96%, allows you to lift the lid with a finger and stop it wherever you want.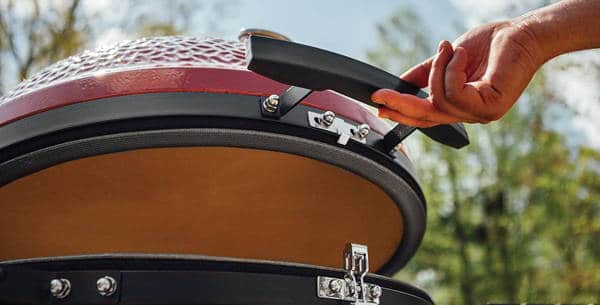 Tight Seal = Air Control = Temperature control
As with all charcoal burning cookers, kamado temperatures are controlled by opening and closing air vents. Shut vents down for low and slow smoking and open them up to feed the fire for high temperature grilling. Most ceramic kamados have a strip of felt insulation on the lip of the lid and the lower bowl to prevent unwanted air from entering. The felts need to be replaced periodically. KJ uses plush wire mesh, fiberglass gaskets that outlast felt gaskets. A stainless steel latch further seals the deal.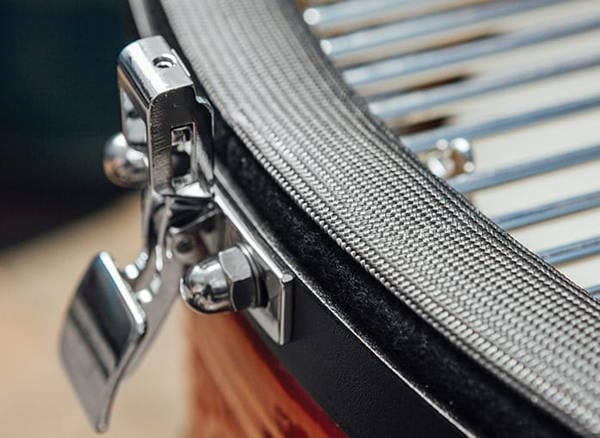 Lower Intake Vent
Kamados generally have an air intake vent at the bottom that slides from left to right to control the amount of air getting sucked in by the charcoal fire. Ash falls from the charcoal fire down by the vent where it is typically removed with an ash tool that scrapes it through the vent into a bucket. Kamado Joe is one of the few brands that include an ash removal system. It is a drawer that slides out through the vent for no muss no fuss ash removal.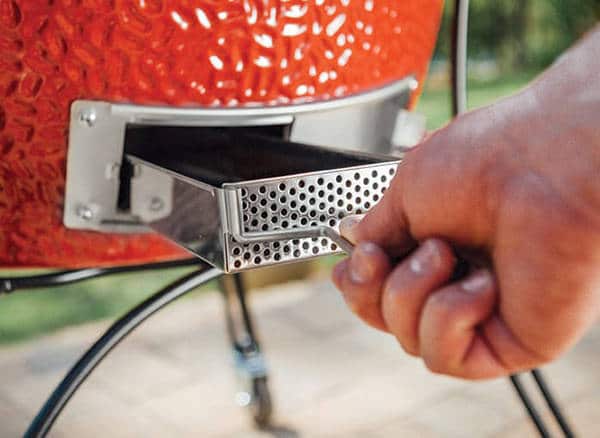 Upper Air Exhaust Vent
Dubbed "Kontrol Tower Top Vent" the top piece functions as both rain cap to keep water from getting in and a damper that spins from left to right to adjust air intake. The entire top can swivel out of the way or even be popped off completely for high temperature cooking with full air exhaust.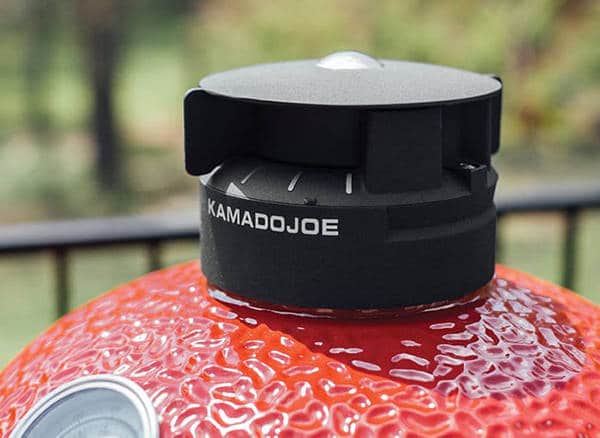 AMP Firebox
Ceramic kamados typically have a firebox bowl that rests inside. A charcoal grate is placed over a hole at the firebox bottom and charcoal is piled on and lit up. Ceramic fireboxes often crack from expansion and contraction due to dramatic temperature changes. While one or two cracks usually don't affect performance, it's still a big irritation that nobody wants to see when they lift the lid. The Advanced Multi-Panel Firebox (AMP) eliminates cracking. The segmented design allows each piece to expand and contract without damage.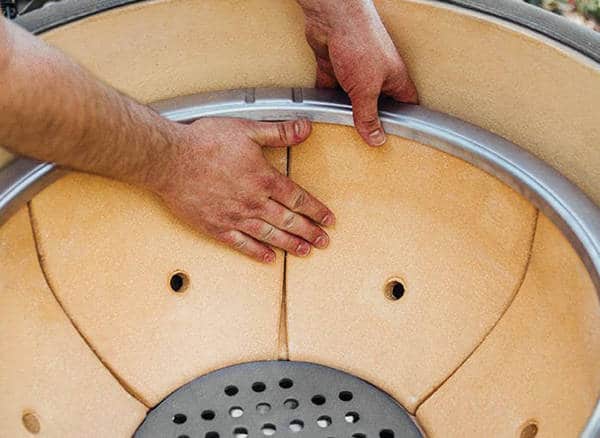 This model comes with a cast iron cart rolling on four casters. Two fold down side shelves with tool hooks are made of high density, marine grade polyethylene, as is the front handle. A grate lifter and ash rake are included. It can also be purchased as a stand alone with no cart.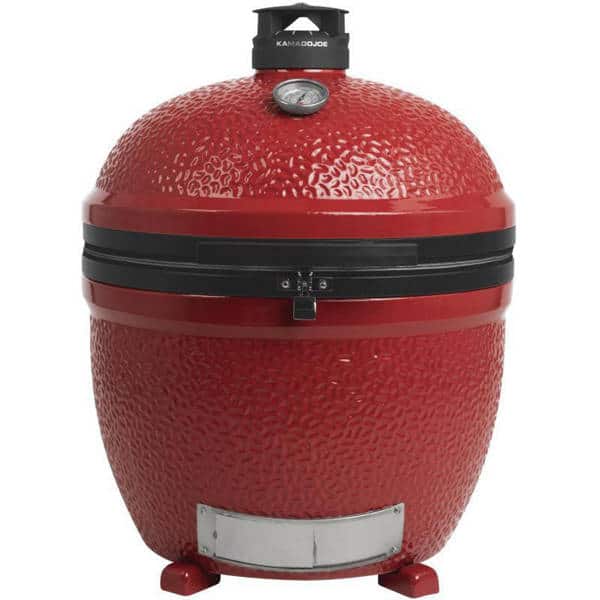 A useful optional device is the BBQ Dragon. Although not a Kamado Joe product, it is a match made in heaven for any kamado. BBQ Dragon is a well-made, battery operated, clip on, variable speed fan that can convert a charcoal bed from quiet gray to rip roaring hot in a matter of minutes. Very good for switching gears from low and slow to searing hot.
Warranty
All ceramic kamado parts are warranted to be free of defects in material and workmanship for as long as the original purchaser owns the grill. All metal and cast iron parts are warranted for a period of five years. The thermometer and gaskets are warranted for a period of one year.