The Monolith BBQ Guru Edition Classic is a ceramic kamado with an 18" diameter grill grate comparable in size to the popular Big Green Egg Large model. Monolith also offers a larger 21.5" model called Le Chef. While located in Germany, Monolith manufactures kamados and related products in China. The overall quality appears good and Monolith Kamados come standard with many useful accessories that are typically options with other kamado brands. After successfully establishing Monolith in Europe, the company is now working with BBQ Guru to bring its kamados to the US market. The special BBQ Guru Edition kamados sweeten Monolith's package deal by adding integrated BBQ Guru temperature controllers. BBQ Guru has exclusive rights to these Special Edition kamados and all sales are direct.
Some smokers require a high level of skill to maintain steady temperatures, but the heat-retention properties of kamados make temperature control much easier. Click here to learn more about kamados in general. Temperature controllers take that kind of functionality even further by enabling you to set and hold exact temperatures just like you would in your kitchen oven. See the BBQ Guru controller and fan on the left side of the Monolith below.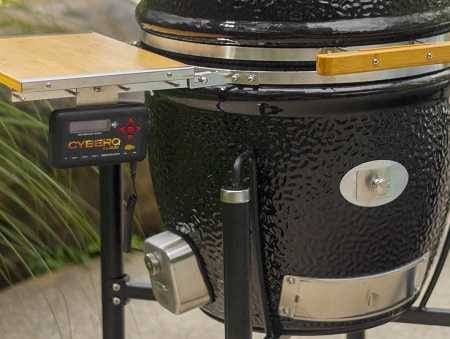 The BBQ Guru Edition Monoliths are being pitched as, "The Most Advanced Ceramic Grills in the World", ostensibly because of their integrated temperature controllers design. The truth is that BBQ Guru temperature controllers can be effectively mounted to just about any wood or charcoal burning cooker with great results. Here is one of their controller fans on a Big Green Egg kamado.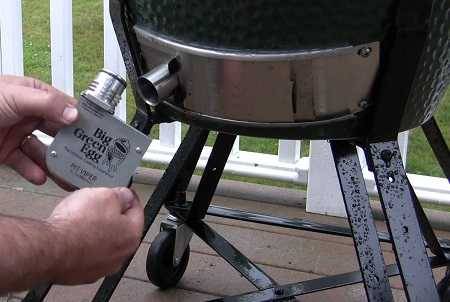 There are many options and methods for mounting the temperature controlling fans to your particular grill or smoker. In fact, BBQ Guru has a searchable "Help Me Choose Guru Guide" to help get you set up correctly. The Monolith BBQ Guru Special Edition eliminates the guesswork and hassle of setup by correctly pre-installing the appropriate fan and offering a selection of compatible controllers (See built-in fan below).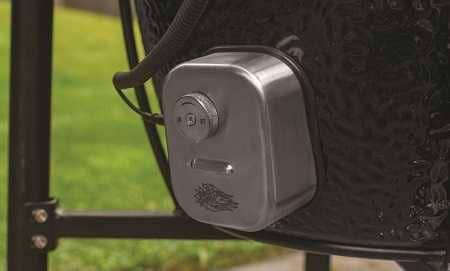 The built-in fan is elegant, but performance of an add-on BBQ Guru fan is likely similar.
Either way, temperature controllers function like thermostats in a home oven. As stated on the BBQ Guru website, "Simply attach your Guru control to your cooker, set your desired temperature, and, almost like magic, it consistently maintains your target cooking temperature". Temperature controllers regulate the amount of oxygen that enters the firebox. By controlling oxygen, you control cooking temperature. A thermocouple probe placed inside the kamado senses the ambient temperature and connects to a digital controller. A fan affixed to the air intake vent by the firebox also connects to the controller. Set the controller to a cooking temperature and it will cycle the fan on and off as needed to maintain your desired temp. This is particularly useful for long, low and slow, overnight smoking sessions. Click here to learn more about Digital Thermometers and Temperature Controllers.
Monolith BBQ Guru Edition Controllers
Classic 18" and Le Chef 21.5" Monolith BBQ Guru Kamados can be purchased in various packages. Choose from the BBQ Guru DigiQ Controller, or the more advanced CyberQ Cloud Controller with remote operation from a smartphone or computer via the internet. The controller attaches to the left side shelf and connects to the fan below. Click here for our reviews of the BBQ Guru DigiQ, and BBQ Guru CyberQ Cloud.
If you already have a BBQ Guru DigiQ or CyberQ Cloud, you can purchase Guru Edition kamados with no controller and hook yours up to the integrated fan. BBQ Guru does not recommend using any other controller with the built-in Monolith fan. However, you can use any temperature controller that mounts to Guru Edition's front sliding intake damper, or go the old fashioned way with no control system. In either case, the built-in fan closes off when not in use.
Big Green Egg vs Monolith pricing
The Big Green Egg Large 18" runs about $850 for the kamado with no stand or diffuser plate, (the flat ceramic disk that sits directly over the charcoal and allows you to do indirect roasting and smoking). Click here for more about indirect cooking. A basic Egg stand is $190 and the diffuser plate is $115: $1,155 total. The Monolith BBQ Guru Classic 18" without a controller is $1,160 and includes a stand, two fold-down bamboo side tables, a slide-out wood chip feeder, stainless steel cooking grate, stainless steel extender grate, a charcoal basket with built-in divider running through the center, a divided deflector plate consisting of two removable half-moon pieces on a steel frame, pizza stone, ash rake and grate lifter. For almost the same price, the Monolith BBQ Guru Classic 18" offers quite a few more accessories making it an attractive choice.
Check out this Monolith promo video.
Adding controllers increases the price to $1,299 for DigiQ and $1,399 for CyberQ Cloud. Our Our MSRP of $1,399 listed below is for the Monolith BBQ Guru Edition with CyberQ Cloud.
The Monolith BBQ Guru Edition with integrated fan is currently available only in the USA, and must be purchased direct from BBQ Guru. Free Shipping is offered throughout the lower 48 states.
Warranty is 10 years on ceramics, 2 years on electronics, and 1 year on wood.