Aussie Grills is owned by Meco Corporation in Greenville, TN. They are often referred to as Meco Grills or Meco Aussie Grills. Aussie manufactures three charcoal models: Swinger, Sizzler and their popular Walk-a-Bout grills. All three styles are very similar with about 340 square inches of cooking surface on nickel plated rod grates. Our posted MSRP is for the 4106 Swinger Square Utility model with two side shelves. All MSRPs are between $50 and $90 and they are often on sale for well below that range.
With Swinger and Sizzler models you can angle the grate from the top firebox lip down to the coal, theoretically providing three cooking zones at high, medium and low levels. Swinger models have two levers that tilt the grate mechanically. Swinger is offered with or without side shelves.
The charcoal grate is a thin, rectangular, shallow metal tray with air holes along each side and a steel mesh grate affixed on top. Sliding dampers are located in the front and back of the firebox with a rotary damper on top of the lid. Firebox dampers are positioned above the coal grate so the only air reaching under the coal comes through the air holes on the tray. There is no ash removal system. You must remove the cooking grate, and then dump out the coal grate.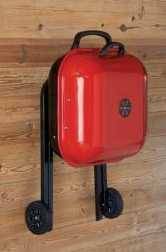 Aussies are great for searing burgers, but not so much for roasting larger cuts, or cooking over a long duration. They have a very shallow lid, little air control and no ash removal system. After a while you're bound to get a buildup of ash which will stifle air flow under the charcoal. Furthermore, when it's time to clear the ash and add more fuel, you need to remove the cooking grate and anything on it. They offer a rotisserie, but if roasting is on your agenda, you should reconsider Aussie. Even though they have a lid, unlike many Australian style grills, they are made with thin metal that won't retain heat, and the firebox is essentially a charcoal tray on four legs.
On the up side, they're inexpensive and portable. The legs lock in a standing position when in use or fold down flat and lock in a compacted position for easy transport and storage. The lid also locks shut enabling you to grab the handle, roll the compacted grill on its wheels to your vehicle and go! Many owners with limited space like the fold up design for storage.
The current Aussie BBQ charcoal models are lightweight with cheap construction and low pricing. Most buyers are happy with their Aussies and they should do a good job at straightforward grilling. But some long time owners, who bought a replacement for their old model, were disappointed in the new grill quality which they strongly felt was diminished. One such owner commented, "They aren't what they used to be".
Widely available in red and black online and at many retail outlets.