THIS PRODUCT HAS BEEN DISCONTINUED.
The Blacktop 360 Party Hub Grill Fryer is one of the more versatile, unique and fun compact portable cookers we've seen. It's a 360 degree party with an Infrared Grill, Griddle and Warming Tray wrapped around a Fry Pot. The colorful and inviting, come over here and fire me up appearance almost looks like a child's toy. Even BBQ challenged friends may be drawn to your new conversation piece and decide to join in. Form follows function and BT 360 is designed for both fun and food. Blacktop is a reference to tailgating, but this device has many applications because it's capable of cooking breakfast, lunch and dinner. If you want a portable kitchen for a couple hundred bucks that can be slung over your shoulder and set up quickly, we don't know of anything else like it.
Our test model was provided by the manufacturer. Assembly is minimal and requires no tools. Just unfold the legs and set the grill surface and fry pot assembly in place. Install the cutting board, grease pan, electronic ignition battery and 1 lb. propane cylinder then start cooking. It stands at full counter height so you don't have to bend over and cook on the ground. When you're done, the whole thing folds up and gets packed away in a large cloth carrying case with a handle and adjustable shoulder strap. Carrying weight is 35 pounds. Don't expect to win BBQ competitions with 360, but the fact that all of the above is included (except the battery) makes this a pretty good deal: especially since it can easily be found for well below our posted MSRP.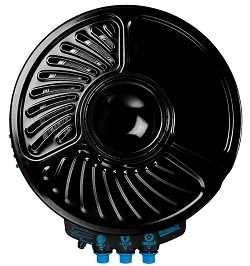 The cooking surface layout is pictured above: Fry Pot in the middle, IR Grill upper left, Griddle upper right and Warming Tray at the bottom. It has three, neon blue control knobs for the IR grill, griddle and fry pot. The warming section uses ambient heat from the other burners. The grill and griddle have pronounced hot spots directly above each burner that require extra flipping to cook foods evenly. You have to baby sit the 360, but it gets the job done. There is one lid for use with the warming tray or griddle. It can also be used on the grill when not cooking to protect the ceramic burner from rain.
All three cook areas have limited capacity. The grill can reach 650 degrees directly above the IR burner, but only cooks four good size burgers effectively because of the curved shape and temperature drop off. Griddle and warming area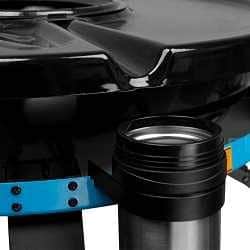 have the same surface capacity of about 150 square inches. The 16 oz. fry pot consistently worked great with the control knob cranked all the way up, so we didn't need the inaccurate heat indicator that came with it. After the oil cools it can easily be saved by pouring it into a channel that leads to an insulated catch bottle affixed to the side (above). Remove the bottle, screw on the lid and refrigerate to use again. Take note of the oil fill line in the pot. The hot oil splatters and can be extra messy if overfilled. The pot can also be used to sauté, stir fry and heat chili, beans and sauces. The cutting board is smallish but useful.
With a modest total output of 24,000 BTU for all three burners, even a 1 lb. propane cylinder can last for hours. If needed, a 20 lb. LP tank adaptor is available as an option. They also offer a silicone steamer that fits over the center pot. These are the only two extras. Everything else comes with the Blacktop package.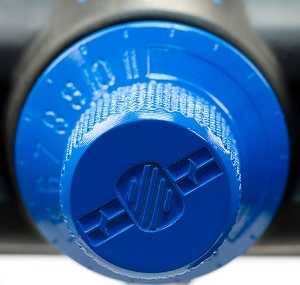 It's a party on four legs: a kitchen in a bag. The playful nature of 360 shows up in small details. Control knobs can be cranked to 11 (above), "Hell Fire" is embossed in the ceramic of the IR burner and instead of FAQ at their web site they have WTF. You can't cook large amounts of food all at once, but as long as you have propane, the 360 will churn out burgers and dogs all day long and the fun design may get non-cooks and grill shy friends to come on over and make their own. Everyone can join in and flip a few steaks, sizzle bacon and stir the pot with a couple hot dogs under the warming tray lid and a couple cold ones resting for a brief moment on the cutting board.
360s appear to be relatively well made but only time will tell. One year limited warranty and 6 months warranty for the burners.
Blacktop 360 won "Best Tailgating Product" and "Retailers Choice Award" at the 2011 National Hardware Tradeshow.